Sydney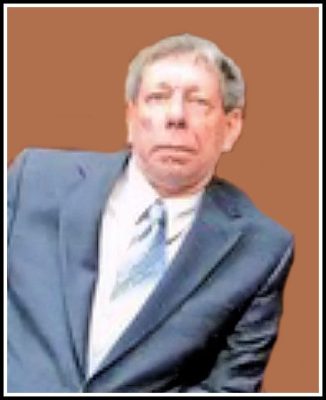 Kindness makes you the most beautiful person in the world. The world suddenly lost a true gentleman on Thursday, January 13, 2022, at age 67. Jim lived his whole life being kind towards others and funnily enough, he passed away because of an enlarged heart. He proudly displayed his accolades from organizations on the wall but rarely spoke of them.
Most people would remember Jim helping the seniors with their groceries or perhaps stocking shelves at Sobeys in Sydney River. He was well known, well respected and never missed a chance to say "how's she going, buddy" or a reply with "good, dear, good". All animals were his friends. His fridge was filled to the brim with the best of carrots and apples to feed his friend's horses and donkey as he experienced the repercussions of the electric fence!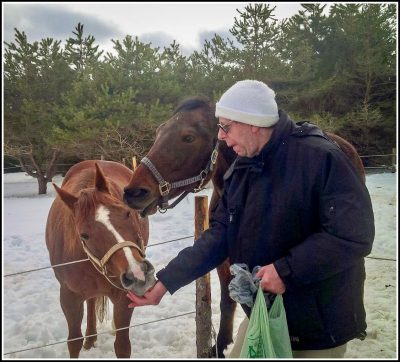 When he moved into his apartment, it presented the opportunity to meet all kinds of good-hearted Capers. Jim delighted in taking them out in his new SUV for their appointments, taking them to visit their families, treated them to a good meal, exchanged the newspaper, special attention was given to the ill tenants, or just a Sunday drive ending up with an ice cream cone.
Jim was the ninth child of ten children of Herbert (Bert) and Johanna (MacNeil) Shannon of Sydney River. He is survived by siblings, Greg (Cari), Palm Desert, USA, Joe, Long Point, CB, Steve (Judi), Ontario, Jayne Reid, New Glasgow, Frank (Hyewon), Toronto, David (Brenda), Black Point, Pictou County, John (Ingrid), Cole Harbour, Terry (Janine), Howie Centre, CB and sister-in-law, Mary Lou. Also left to mourn their Uncle Jim are many, wonderful nieces and nephews, cousins and one aunt.
Besides his parents, Jim was predeceased by brother, Herb; sister-in-law, Ruthie and brother-in-law, John K. Reid.
A celebration of life for the late Jim Shannon will be held at Pier Community Funeral Home, 1092 Victoria Rd. (entrance on Church St), Whitney Pier on Thursday, January 20, 2022, at 2 p.m. A private interment will take place at a later date. Covid protocols will be practiced.
Funeral arrangements are entrusted to the care and direction of Pier Community Funeral Home.
If you wish to honour Jim's memory, see the good in people, help them and be kinder today than you were yesterday.

Online Condolences
Terry/Janine & Family Sorry for your loss.
From:  Lorna MacKinnon
Terry, Janine, John, Ingrid and Shannon family, so very sorry to hear of Jim's passing. Please accept my heartfelt condolences. May the memories help you through the difficult days ahead, God bless.
From:  Anne Sullivan
Jim was a good man and friend to all. Our thoughts and prayers are with Jim's family
From:  Alfie MacLeod
So sorry for your loss.
From:  Doug Mac Leod
Our deepest condolences to the Shannon on the passing of Jim, Cindy & I worked with Jim for years & he was a true gentleman, Jim was everything said in his obituary & than some, Jim would put a smile on every customer's face he saw & the ones he didn't see would go look for Jim, we were so lucky to have Jim in our lives & to call him our friend, may you rest in peace. Joe & Cindy
From:  Joe & Cindy Fiander
To Jim's family and friends, my sincere condolences on Jim's passing. Yes, I do remember him from Sobeys and I remember all the help he gave us when we were getting ready for dog shows. Jim was such a kind person! From:  Barb Morrison
John Ingie and all the Shannon family please accept my sincere condolences on the passing of your brother. May he rest in peace.
From:  Peggy Margetti
My sincere condolences to all the family. My thoughts and prayers are with you all at this difficult time. God Bless
From:  Stella Walcott
Jim was a wonderful man. I remember as a child Jim putting groceries in my parents car. I remember his politeness and his laugh. I always said hello to Jim even though he did not know me. Rest in Peace!
From:  Paul Carrigan
I remember Jim very well, I always thought of him as a gentle giant. May he rest in peace. To all his family , especially Terry, my condolences.
From:  Daniel Small
My heart hurts knowing your gone. working with Jim for 30 years, I always knew he was there for me. Such a kind man. I will think of Jim often.
From:  Betty lou grant
Terry, Janine & the Shannon Family, We are so sorry to hear of Jim's passing ,We both worked at Sobeys Sydney River with Jim for many years and he was such a kind gentle person and couldn't do enough for people , Our condolences to his family
From:  Greg &Nancy MacDonald
I knew Jim while I was a kid. He lived right next door to us in Howie Center for at least 20 years, he was super nice, he always yelled hi to us when we would walk past his place, he always supported all the kids in the neighborhood when it came Christmas time and fun raising for school, he would clean the road in the winter so we could have road hockey. From about the time I was 10 up until the time it came when Jim moved I would always go over and shovel his driveway before he got hoke from work and when he came home he would always fix the mess I made in the driveway and just laugh before he tried to give us money which I'm proud to say we did not take, we were kids but even as kids we always knew we were just trying to pay him back for being a great guy, Jim is going to be so missed by so many people truly one of the greatest men I have ever known.
From:  Bill Burns
My sincere condolences to all the family.
From:  Stella Walcott
My deepest sympathy upon the loss of Jimmy for his Family and the community. I got to know him while living in Coxheath, and shopping at Sobeys, Sydney River. He truly was the essence of gentle kindness, an example to us all, and a good friend. My prayers are with you all. Thanks for his presence among us. Yvonne                          From:  Yvonne (MacDougall) Donahue, Calgary, AB,, transplanted Cape Bretoner.
I am so saddened to hear of Jim's passing. We have lost the kindest and of course most gentle man I have ever known!
From:  Janet Farrell
My sincere condolences for the loss of such a wonderful brother. I was very fortunate to know and admire dear Jim over the years. God has received a true angel. May he Rest In Peace. God bless you all.
From:  Sheila Sanson Phillipo
Family of Jim Shannon- My sincerest condolences in the passing of Jim.
Over the years when I would come home for a visit and went to Sobeys he
would always use his "infamous greeting" as he knew I was a "MacDougall". Very friendly. He will be missed- RIP Jim.
From:  Eileen MacDougall
Terry and family, I so sorry to hear of Jim's passing. He was a great gentlemen and will be missed by family and all who have had the opportunity to have met him and I countered his kindness and generosity. He passing will leave a emptiness in the world.
From:  Sandy & Linda Langer
John, Terry and the Shannon Family My condolence on the loss of your brother.
From:  Joe DeLazzer
Dear Terry, Janine and family
Please accept our sincerest condolences on the loss of your brother. Our thoughts and prayers are with you during this hard time.
From:  Archie and Lorna Gillis
Terry & Janine and the Shannon family, We were sorry to hear of your brother , Jim's passing. Our thoughts and prayers are with you at this difficult time. May god bless , sincerely Gordie and Mary
From:  Gordie & Mary MacDougall
Dave Brenda and families. So sorry to hear Jim Passed away. Thinking of you at this time of sorry.
From:  Harry and Katherine Mac Innis
To The Shannon Family, We are very sorry to hear of Jim passing. Our Vacations home we saw Jim at Sobeys and had great talks. Our thoughts and Prayers are with you. He was one of a kind he was a great guy.
From:  Allan and Beth LaRocque
Deepest sympathy to all the family. Jim was a great guy and will be deeply missed. The Sives Family
From:  Irene Sives
It is so hard to believe you are no longer with us Jim you were such a .large presence on the Sydney Boardwalk. Everyone knew you and loved you WHY NOT you were the poster child of all that was good , said and done.Mickey and I will miss you but we will know in our hearts you are still with us, we may not see you but we will feel your presence and we will smile a little wider knowing you are still with us on the Boardwalk. To your family we are so sorry for the loss of Jim,a great man so Jim may you forever R. I. P.. The Ludlow Family.
From:  Marie Ludlow
Condolences to Terry, Janine and entire Shannon family. I had the pleasure of starting my work career with Jim at Sobeys in the mid-1970's. Every time we crossed paths since, I was reminded of what a great mentor he was for all of us entering the workforce via Sobeys. Jim's gift of caring and communication have evolved within the business world to be known as good "customer-service", but for $0.75 cents/hour, that was just Jim!
From:  Barry & Sheila MacGregor
To All of the Shannon Family.
Jim was a kind generous guy, always a friendly smile.
From:   All of The Mahoney Family from Sydney, our condolences .
On behalf of Mahoney Family,
Wendell Mahoney
Jim was a kind spirited soul who was always quick to lend a hand and say a kind word to you. He will be missed by everyone who came in contact with him.
From:  Robert Gunderson
Sorry to hear of Jim's passing. I have known him for over 40 years while working at Sobeys. We shared lots of laughs and I have good memories of him. He had a good sense of humor and a very nice way about him, as he was the nicest and kindest person I have ever known. He will certainly be missed by all that had the pleasure of knowing him, as he was truly a good honest and kind soul. We will miss your presence hear on earth Jim, nice to have had you as my friend.
From:  Michael J. Phillipo