Westmount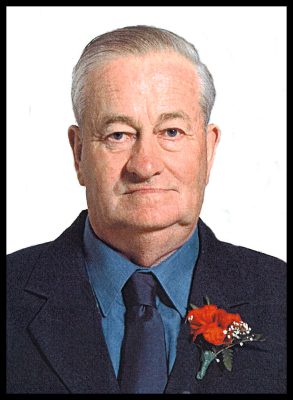 It is with great sorrow that we, the family, announce the passing of our beloved husband, father, grandfather, and great-grandfather at the MacGillivray Guest Home on Wednesday, December 29, 2021, with family at his side.
Born in Sydney on January 21, 1934, Rowe was the youngest son to the late Gordon and Dorothy (Cameron) Rudderham.
Rowe is survived by his wife of 63 years, Sally (MacMullin); daughters, Rowena Marie (Terrance) Scanlan, and Glenda Catherine (Richard) LeLievre; sons, Brent (Flora), Stewart, and Derek; sisters-in-law, Dawn Rudderham, Delores (Kevin) McIntyre, Danette (Guy) Chapados, and Lori (Brian) MacMullin; brothers-in-law, Joe (Sandra) MacMullin, Sandy MacMullin, Frank (Janet) MacMullin, and Donald MacEachern; grandchildren, Ryan Rudderham, Liam (Karen) Scanlan, Nevin (Crystal) Scanlan, Amber (Jeff) MacLeod, James (Jenna) Beaton, and Laura Rudderham; great-grandchildren, Cayden, Carson, Carter, Magnus, Teddy, Sydney, Parker, Allie Mae, and Ayla; as well as many nieces and nephews.
Besides his parents, Rowe was predeceased by grandson, Tyler Rudderham; brothers, Sam, Jerry, Bob; sister, Anna Taylor; brothers-in-law, Jimmy MacMullin, Al Taylor and sisters-in-law, Betty Rudderham and Mary MacEachern.
Rowe worked at Cape Breton Dairy, which later became Scotsburn Dairy, retiring in 1996.
Rowe and his family would spend their summers in Beaver Cove, where Rowe would take his yearly swim in the beautiful Bras'dor lakes and strolls to the falls to feed the fish. He loved picking blueberries, playing cards at the Boisdale Fire Hall. He ran card games for years at the Point Edward Hall, Westmount Fire Hall and Harbourside Seniors. Rowe was very community minded and a dedicated member to the Westmount Fire Hall for 35 years, serving as treasurer in his last years. Rowe received the Governor General medal in 1990 by Adrian Clarkson for community service. He was inducted into the Cape Breton Sport Heritage Hall of Fame in 2002 and was chosen Citizen of the Year in 1988. He also belonged to the Sydney Writers Circle.
Rowe's true passion was pitching softball. He played competitively for five decades. He pitched with teams that won six Cape Breton Island championships and teams that won two Nova Scotia provincial championships. Rowe's personal best pitch game "in his own mine" was in the 1960 when he pitched 15 straight innings against Halifax, (6 extra) and lost 1-0 on a bunt in the 15th inning for the Nova Scotia Provincial Championship. Softball was great entertainment and drew large crowds and fans back in the day. Rowe would always remind Sally to have an early supper on game day.
We would like to thank Cape Breton County Home Makers Agency, the staff at Rankin Road, MacGillivray Guest Home, Dr. Margaret Fraser and special thanks to Auntie Delores, for keeping our spirits up.
There will be no visitation, service, or burial for the late Rowe Rudderham at this time, he was donated to the Dalhousie Genetic study for research. Later cremation will take place and there will be a celebration of life in the summer when his family can get together.
Funeral arrangements are entrusted to the care and direction of Pier Community Funeral Home.
His good character
and the kindness of his heart
won the affection of his loved ones.
He was loved by all.

Online Condolences
Sincerely sorry for your loss. May he Rest In Peace.                                                                                                                                                                                                                                                            From:  Gerald & Sandra O'Handley
To Sally and Family Very Saddened to Hear of your Great Loss .Rowe was One of the Finest Most Decent Men I had the Pleasure of Knowing. To try and sum up Rowe and what he meant to me Personally and his Community would be next to Impossible. One of a Kind. He made a Lasting Impression on so many People including Myself. In Regards to his Athletic Abilities He Was and Always will be Remembered as A Legend. May He Rest in Peace                                                                                                                                                                                                                                                                                                           From:  Earl Rudderham
Dear Sally & Family, was so very sorry to hear of Rowes' death. He was a good man, & contributed so much to his community. May he rest in peace.🙏❤                                                                                          From:  Andree Hearn
Sincere sympathy Sally Glenda and families at this difficult time. Our thoughts and prayers are with you.                                                                                                                                                                         From:  Jim and Carol Anthony Manson
Our sincerest condolences.                                                                                                                                                                                                                                                                                                      From:  Eric and Theresa Coste
Very sorry to hear of your loss. I have many childhood memories of playing with Derek and hanging out at the Rudderhams…and some treats when Rowe was driving the dairy truck.                                               From:  Troy MacArthur
Sorry to hear of the passing of a life long friend and fellow baseball player. My sympathies to Sally and family thinking of you in this sad time.                                                                                                               From:  Willard Williams
I just got flashbacks from my childhood growing up in Westmount. Daily visits from milkman Rowe.
The actually glass bottles. Can't imagine the strength he needed for those constant moving heavy
crates. Always friendly. I went to school with Glenda. Truly sorry for your loss. Former MacDonald
From:  Tena Krajcovic ( MacDonald)
Sally & family,
So sorry to hear about Rowe. Nothing but fond memories of being neighbours. Memories of you and Rowe taking Billy & myself to the hockey games to watch Rowe play at the old Sydney Forum. Sending sincere condolences to you and your family.
From:  Raymond Kawecki
It is with deep sympathy that I hear about your husband, father and grandfather.
As a young man growing up in Westmount on Folton Avenue, I had the pleasure of watching him pitch for the Westmount Royals many of nights. He was by far one of the best I had ever seen. He was also our milkman for many years. He was truly a fine gentleman in all aspects of life.
I wish you, the family, all the best.
From:  Tim Bryn
My deepest condolences to Sally and family on the passing of your Husband and Father. Row was a dedicated community worker and could accomplish a lot in his own quiet way. He will certainly be missed by many in Point Edward and Westmount. May He Rest IN Peace. Hugs to you all.
From:  Judy Mac Arthur and Family
Dear Sally and family                                                                                                                                                                                                                                                                                                            Please accept our condolences on the passing of Thomas. Our thougths and prayers are with you.                                                                                                                                                                                      From:  Joe T. MacNeil and Family.
I would like to offer my condolences to Sally and all of Rose's family.
From:  Georgina MacDonald
Mrs. Rudderham, Izzy, Glenda and the rest of your family, I am sending hugs and prayers to you all at this most difficult time, you are all in my thoughts and prayers, my deepest condolences. 🙏 ❤                                From:  Margie Martin
I watched Rowe Rudderham pitch softball as a twelve year old spectator. He played for the Point Edward Cubs. This was back in the day, the 1950s when 6 families made up the team: Lewis, Fraser, Williams, Rudderham, Grant, Hill.
Rowe was about 19 when he pitched a 'softball' no-hitter. Unheard of then and now. Even the Halifax Herald reported it.
Years later, as a player myself, I faced Rowe many times. I can picture him now, big shoulders, and a big right arm…a cannon! His wind-up was deceptive. The slow roll of his shoulders, a slow start of his right arm…the release, seemingly at his ankles…low…as in LOW.
He's 50 feet away, and even a modest pitch gives the batter about a half second to see, judge, and swing at the spinning ball.
Rowe's pitch appeared quickly, a rising pitch with…it was just fast…real fast. I got my share of hits but, mostly struck out, swinging madly at a pitch that was sometimes over my head.
Rowe and I met on and off in the sixty-plus years since then…mostly at funerals of our relatives.                                                                                                                                                                                      From:  Roland MacInnis
I remember going to Westmount to ball games to watch Rowe Rudderham pitch. Man could he pitch. So sorry for your loss.                                                                                                                                          From:  Dannie
So sorry to hear about Rowe, he was a kind and gentle man. For many years we played cards together.
Stan & Judy Voutier                                                                                                                                                                                                                                                                                                               From:  Karen M. Voutier
He was one of the best person I ever worked with, he was a great guy.my condolences to his wife and family.                                                                                                                                                                 From:  Dennis Tobin