Sydney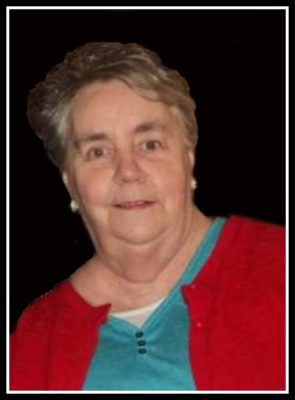 Our Dear Mom, Frances A. (MacNeil) Presseau passed away on Friday, December 31, 2021, at the Cape Breton Regional Hospital, Sydney, surrounded by her family.
Born on August 20,1940 in Sydney, Frances was the daughter of the late John and Marguerite MacNeil of Sydney.
Frances was immensely proud of her family and leaves behind nothing but beautiful memories. Her proudest accomplishments were her three girls. Mom loved nothing more than a good joke, with a contagious laugh to follow. Mom enjoyed cards with the girls, bingo and reading a good book. She will be missed by all who knew her.
Frances is survived by three girls, Natalie Blundon (Scott), Florence (Brent Sutherland), Roberta (Darren MacNeil); five grandchildren, Carl (Erin) Blundon, Spencer (Brittany) Blundon, Leah (Brad) Gibson, Erin (Matt), and Emma MacNeil; two great-grandchildren, Myles and Dylan Blundon, with one baby Gibson on the way; one sister, Kaye (Joe) Dominque; niece, Debbie and nephew, Jason, Glenn.
Besides her parents, Frances was predeceased by son-in-law, Warren Blundon and nephew, David Hudson.
Thank you to City Home Makers, the staff at the Cove Guest Home (her angels), Dr. M. Keating, Dr. J. Ritter, Emergency dept and 4A, for your care and compassion given to our mom during her time of need.
Visitation and memorial service to celebrate the life of Frances Presseau will be held at Pier Community Funeral Home, 1092 Victoria Rd. (entrance on Church St.) Whitney Pier on Wednesday, January 5, 2022. A gathering of family and friends will take place from 12:30 to 1:30 p.m. with the memorial service to follow at 1:30 p.m. in the All Faith Chapel with Fr. Bill Burke officiating. Interment will take place in Resurrection Cemetery, Sydney Forks.
Covid protocols will be practiced at the service and for those unable to attend, Live Streaming will be available on our website.
Click Here five minutes before the service:  https://www.facebook.com/35925689617/live/
Mom has done so may kind gestures throughout her life for others, as it was in her nature. In leu of flowers, do as mom would do "Brighten someone's day" by donating to your charity of choice.
Funeral arrangements are entrusted to the care and direction of Pier Community Funeral Home.
"…tears on our pillows tonight, will warm memories in our hearts"

Online Condolences
Natalie, Florence, Roberta and families,
So very sorry to hear of your mother's passing. May you all find some measure of comfort in your special memories!
Our sincere sympathies,
Dell and Barbara (Lund) Corbett
We are saddened to hear of Frances passing. We had so many laughs and fun together over the years. Prayers and thoughts going out to her family and friends in this time of grief. Fly high with the angels my friend . 🙏 🙏                                                                                                                                                                                                                                                                                                                                   From:  Francie & Greg Gillis
We are sorry for your loss. Frances was in my class in high school.
I will remember her fondly from the lunches we had with our
classmates. She was a lovely lady.
From:  Claudette Gray
So sorry to hear that your Mom has passed, our sincere condolences to all your family.
Sincerely John W. and Janice MacPherson
To Natalie, Florence, Roberta and family's I would like to express my condolences on the passing of your sweet Mother. She was such a friendly and fun loving woman. She will certainly be missed especially by you three girls. May she Rest In Peace. HUGS
From:  Judy Mac Arthu
We are so sorry for the loss of your Mom, Natalie, Florence and Roberta. Our condolences to you and your families. She was a fine lady who loved all of you unconditionally and was so proud of all of you as was evident by the smile on her face whenever she spoke of any of you. You were her treasures. Frances will be missed by all who knew her. Love, hugs and prayers, Sonny and Maureen
From:  Maureen MacLeod
Natalie my condolences on the passing of your Mother. I will always remember the first time I met her when she worked at MacGillvray Guest home. I have very fond memories of Frances God Bless You all.       From:  Mary Borden Hurel
Sorry for the loss of your mother, she is missed by all that knew her at The Cove.                                                                                                                                                                                                                From:  Michael Phillipo