Sydney Forks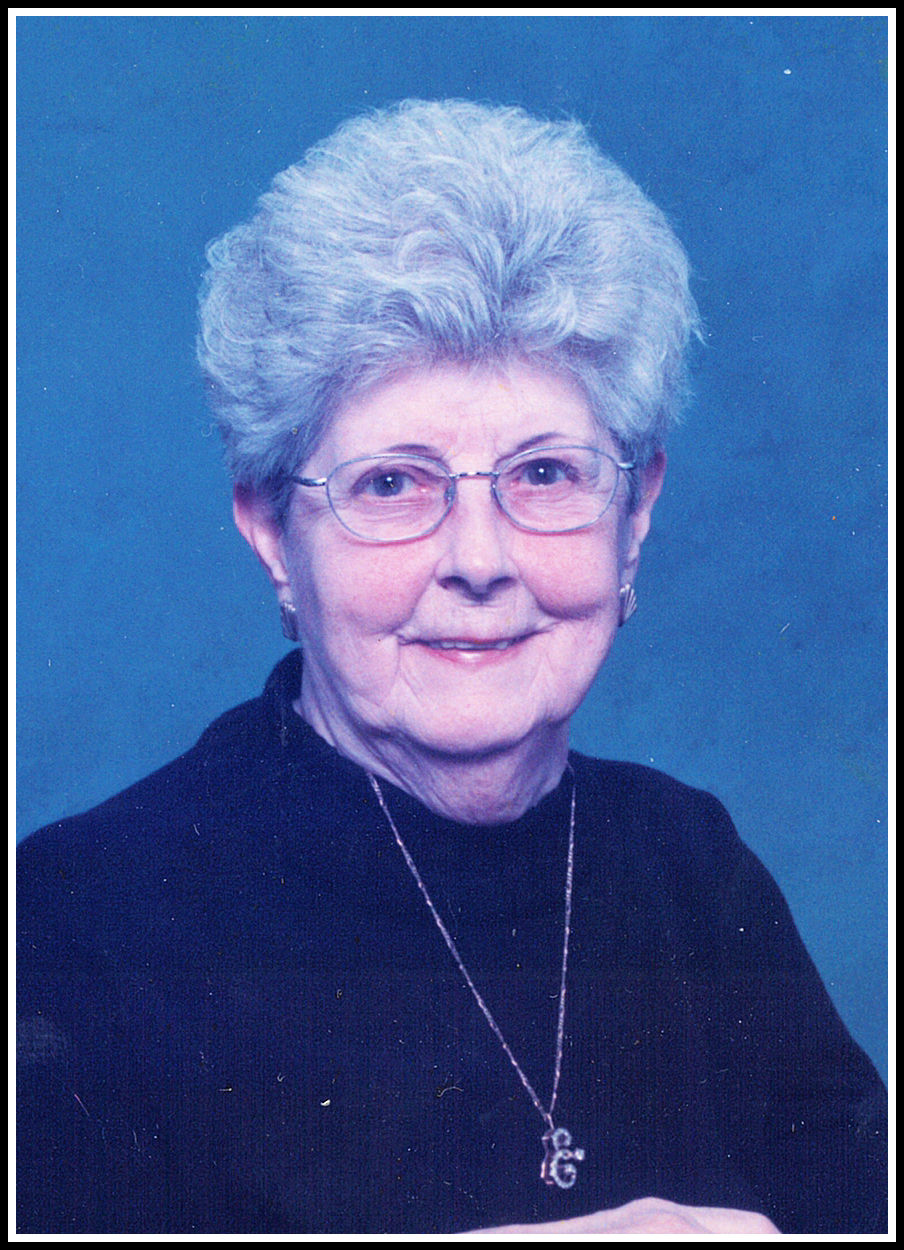 It is with profound sadness that we announce the passing of Eileen (Swift) Cook, age 98, on Thursday, October 14,2021 at the An Cala unit, Cape Breton Regional Hospital, Sydney.
We have lost an extraordinary mother, grandmother, great-grandmother, longtime Credit Union manager and mentor.
Born in Sydney, Eileen was the daughter of Edward and Eliza (Murray) Fewer, the third of six children. Eileen grew up in Whitney Pier, attended Holy Redeemer School, just behind the family home on Matilda Street. She learned typing and earned a diploma in business and, in 1939, started work in Sydney in the credit department of Robert Simpson Eastern, the department store that later became Simpson-Sears and The Bay.
As WW ll raged and the national economy shifted away from consumer goods the credit office was closed. She took a job at the CN Telegraph Office and continued to work there after her marriage and the birth of her daughter. She was a full-time parent until 1947. On June 16, 1947, as a single parent, she began work as a clerk at the Dosco Employee's Credit Union in a small office just inside No. 1 gate on the Steel Plant.
Just five years later, in 1952, upon the death of manager Tom Gallivan, she was promoted to manager, a position she held until her retirement in 1988. She was the first female manager of a financial institution in Nova Scotia, a remarkable opportunity for a woman in the 1950's. She signed up for night school, where she learned the fundamentals of bookkeeping. Later, in 1958 and 1960, she attended summer courses at the University of Wisconsin, Madison, and earned diplomas in management and family financial counselling.
The Credit Union had $350,000 in assets when Eileen took over as manager. By the time she retired, that figure had grown to 20,000,000. Gary Forsey, Eileen's successor as manager, said Eileen's legacy went far beyond that big expansion. "Eileen managed the Credit Union through some very tough times like the steel plant shutdowns, layoffs and strikes," he said, "The Credit Union was always there for members who were struggling financially and needed a hand up." That was something Eileen was proud of, asked about her most important achievement during a 2011 interview, she singled out the hundreds, and possibly thousands, of loans she approved to people in the community over the years "I think those loans helped people "she said 'And I never foreclosed on a single one."
She was a charter member of the International Credit Union Executive Society. She was a former president of the Cape Breton Branch of the Insurance Institute of Nova Scotia, a former of the board of directors of the Nova Scotia Credit Union Stabilization Fund and a last member of the provincial Water Resources and Environmental Control Council. Not only did she help blaze a trail for women who came later, over the years she helped oversee a steady expansion of operations at the Credit Union and earned a reputation as a respected leader in the Cape Breton business community.
In 1979 she married John Cook and moved to Sydney Forks where they lived together until his death in 1993. Eileen was a member of Holy Redeemer Church in Whitney Pier and then Saint Mary of the Assumption Church in East Bay. In November 2018 she was inducted into the Cape Breton Woman's Gallery at the New Dawn Center for Social Innovation in Sydney, which honours women who have made outstanding contributions to the community.
She is survived by her daughter, Margie Alteen (Michael) of Sydney Forks, with whom she had an extraordinarily close relationship. They shared a home for more than two decades. She also leaves behind a grandson, Douglas Alteen (Carole Landry) of New York City; two great-grandchildren, Louis Alteen of Toronto and Julia Alteen of Paris, France; a brother, Murray; sister-in-law, Leona (Donald deceased) and many nieces and nephews.
She was predeceased by her parents, Edward and Eliza Fewer, her husband, John Cook, and four brothers and sisters: Margaret Garland, William Fewer, Winnifred Chiasson and Donald Fewer.
Thank you to Dr. Paul Murphy for his many years of exceptional care, the nurses of 4A CB Regional Hospital, Dr. Saneea Abboud and the nurses of palliative care. There will be no visitation.
Funeral Mass will be held at Holy Redeemer Church, Whitney Pier, at 10 a.m. on Tuesday, Oct. 19, 2021. Mass will be celebrated by Father Paul Murphy. Interment will take place in Resurrection Cemetery, Sydney Forks.
Covid protocols will be observed in church and at the cemetery and for those unable to attend, Live Streaming will be available on the Holy Redeemer Facebook Page. Holy Redeemer Parish | Facebook
In lieu of flowers, donations to Hospice Palliative Care would be appreciated.
Funeral arrangements are entrusted to the care and direction of Pier Community Funeral Home.

Online Condolences
Condolences to all the family on the passing of Aunt Eileen. Losing a parent is never easy. May you find comfort in the legacy she has left behind. Take Care. From:  Nephew, Ron
Margie, Michael, and family, so very sorry to hear of Eileen's passing, she was a strong, amazing lady. My thoughts and prayers are with you all at this difficult time, cherish the memories.                                                From:  Anne Sullivan
Condolences to all family and friends of Eileen.
She was an exceptional woman and will be fondly remembered by all who knew her.
Sincerely, Donald MacLeod
My condolences to your family on the loss of an extraordinary woman. I was hired by Eileen in 1966 When I was just turning 18 and had finished a short business course. She actually gave me a test of finding out where 5 cents were missing out of the last days counter business. It took me about a half an hour to go through that whole long tape but when I showed it to her, her comment was "can you start tomorrow?" She certainly set a standard for women to follow. She was always fair and very generous at times. First time I had a uniform to wear and her standards were high. I consider myself very fortunate to have had my first job under her supervision and advice.
I know she will be missed indeed.                                                                                                                                                                                                                                                                                         From:  Carole Buchanan (Mahoney)
The world lost an amazing woman, mother and friend. Fly with the angels, Eileen and know you will be missed.                                                                                                                                                              From:  Geri and Lynn Morrison
Dear Margie and Michael
We want you to know how sorry we are for your loss. You're
in our thoughts and prayers.
Thinking of you                                                                                                                                                                                                                                                                                                                      From:  Bev and David Cooper
Dear Margie, please accept my deepest sympathy on the loss of your mom. She lived a good long life and touched many families in her years with the credit union. I wish you comfort and peace, and joy when you remember all of the good times you shared. She was so lucky to have you and your family looking after her and present with her for so many years. R.I.P. Eileen.                                                                                    From:  Kathy MacAdam
Margie and Michael: Please accept our sincere sympathy on your Mom's passing. You were so fortunate to have had her all those years and you guys were inseparable. Our thoughts are with you at this time. God Bless. Roddie and Judy.                                                                                                                                                                                                                                                                                                        From:  Rod Munroe
Margie so sorry to hear about your mother. Deepest sympathy to the family.                                                                                                                                                                                                                       From: Louise Honey Mann
Sorry to hear of her passing. I worked for her at the credit union in the late 1960s early 1970s. She was a great lady and a wonderful supervisor. I'm sure she will be sadly missed. I remember Margie well. Sorry for your loss.                                                                                                                                                                                                                                                                                                                                From:  Valerie (Coveyduc) Hunt
Condolence Message Dear Margie, Michael, family and relatives, our thoughts and prayers are with you all as you journey through Eileen's passing. We were blessed to have your mom as part of our lives, especially through the Steelworker's Credit Union. She was an amazingly strong, courageous and ambitious woman, who led the way for many others. In her long life she certainly enhanced the lives of many, many people. May Eileen Rest In Peace in her heavenly home. God bless you all!                                                                                                                                                                                                                                             Love and prayers, Viola and Ivan Doncaster
Our deep condolences on your loss. Eileen was good to my Dad Robert and myself over the years being customers of the Steel Centre Credit Union. Eileen was always so kind to us. Our hearts and Prayers are with you All at this time.                                                                                                                                                                                                                                                                                                                From:  David & Patricia Murray