Sydney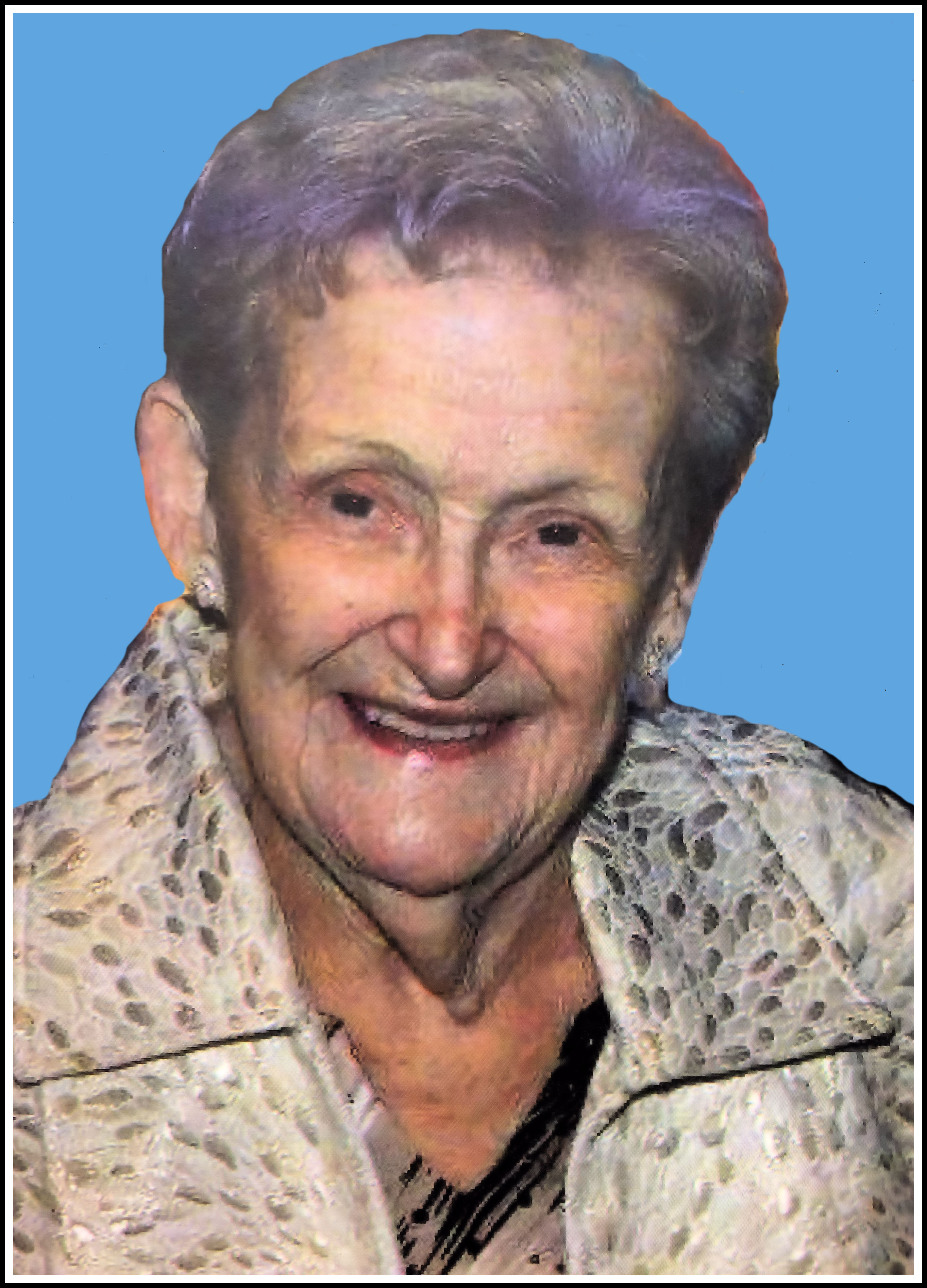 It is with great sadness that we, the family, announce the peaceful passing of our dear mother, sister, aunt, grandmother, Mary Eileen Gillis of Sydney, on Tuesday, September 28, 2021.
Born on August 13, 1926, Eileen was the daughter of the late Patrick and Anne (MacIsaac) Connolly.
Eileen is survived by sister, Barbara Matheson, Ottawa; brother, Fr. Owen Connolly, Halifax; children, David, June (Don) Cashen, Anne Marie (Francis) McCarthy, Dorothy MacDonald, Kitchener, Margie, Joe (Trish), Grand Prairie, AB, Barbara 'Becky' (Arthur) MacDonald, Peter (Rebecca), Blaise (Rose) and Paul (Kim), Hammonds Plains; 25 grandchildren; 23 great-grandchildren and one great-great-grandchild; as well as many nieces, nephews, cousins and their families.
Besides her parents, Eileen was predeceased by her husband, Patrick W. 'Paddy' Gillis; children, Claire Wall, Stephen and Allan Gillis; daughter-in-law, Charlotte Gillis; son-in-law, Charlie MacDonald; sisters, Louise Whitehead, Portland, Maine, Anne Culligan, Dartmouth and Kaye Connolly; brothers, John (Leah) Dennis (Mary) and Pat (Bette); brothers-in-law, Larry Whitehead, Ray Matheson, Joe Culligan, Robert and Danny Gillis; as well as sisters-in-law, Kaye Wall (Mike), Margaret 'Peggy' Rudderham (Gordon), Mae (Ned) Clark, Anne Frobese (Ernie) and Theresa Gillis.
Mom was an extraordinary woman who was steadfast in faith and concern for the wellbeing of others by always showing great generosity to all. Mom's heart and door were always open in welcoming friends and strangers to her table. Mom was a member of the former St. Gerard's Guild and was a 60-year member of the CWL. Besides caring for the needs of 13 children, mom was a business partner and accountant for P.W. Gillis Transfer. She completed a PCW course and worked for a short time for Nightingale Nursing Service.
Mom was a talented pianist who provided our family and friends with countless hours of musical pleasure. She was incredibly welcoming as a hostess for family gatherings both in our home in the Pier and at the family bungalow in Big Pond. We are most grateful for her kindness and care for all.
We would also like to thank her family physician, Dr. Steve Mac Dougall and staff for his kindness and care throughout her years. Mom received exceptional care from the staffs at both the Dominion Guest Home and in her final days at the MacGillivray Guest home, in Sydney.
Mom, we will miss your presence in our lives. So long until we meet again. Rest in peace!
In lieu of flowers, donations in memory of Eileen may be made to Hospice Palliative Care Society of Cape Breton.
Visitation for the late Mary Eileen Gillis will be held at Pier Community Funeral Home, 1092 Victoria Rd. (entrance on Church St.) Whitney Pier on Thursday, October 7, 2021, from 5-9 p.m. Funeral Mass will be celebrated in Holy Redeemer Church, Whitney Pier on Friday, October 8, 2021, at 10 a.m. with Fr. Owen Connolly officiating. Interment will be in St. Mary's Cemetery, Big Pond. Covid Protocols will be followed at the Mass and Masks are still obligatory.
Link to view service is as follows.
Funeral for Mary Eileen Gillis.MOV – pCloud
Funeral arrangements are entrusted to the care and direction of Pier Community Funeral Home.

Online Condolences
My deepest condolences to the Gillis and Connolly Families. Eileen was a kind, devout, sweet lady who welcomed all into her home. I spent many a day in her home in the Pier growing up. Rest in peace sweet lady.
From:  Judy Walsh
To The Gillis Family
So sorry to hear of your Mother passing she was a great Lady My prayers & thoughts are with you May God Bless you all
From:  Ada Hagen
My sincere condolences to the Gillis family. Your loss is felt by many.
From:  Joe Black
Our thoughts and prayers are with you at this difficult time
From:  Shirley Taylor and Claude Ramsay
Our sincere condolences to all the family. May all your happy memories help you at this difficult time. from Alex & Arabelle
From:  Arabelle Fougere
Our deepest condolences to all the family. Cliff and Renie Surette
From:  Irene Surette
Anne-Marie, I am very sorry to hear of your mom's passing, Thinking you at this most difficult time. I had the pleasure of doing her hair for many years ay the Mac Gillivary Guest Home. She was a kind thoughtful lovely lady, and will certainly missed by everyone whose life she touched. May her beautiful memories sustain you and your family during this difficult time.
From:  Donna Radtke
my deepest condolences to Eileen's family .May she rest in peace and sing. with the angels.
From:  Stephanie (Melnick) Black
Our sincere condolences to the entire Gillis family. Our thoughts and prayers are with you all at this difficult time. We have so many fond memories of Big Pond and I am sure they will be a great comfort to you all.
From:  John and Clare Walker
My deepest sympathy to all the family of Eileen. I am so happy to have met Eileen at the DCGH. It was nice to know her. I will miss our chats, listening to the classic country music with her, playing cards ( Crazy Eights) and she usually won, playing her keyboard after some encouragement and sing along together to some songs. I thought she was pretty amazing for her age. Thinking of you all. God bless.
From:  Florence Hopkins
June: I was very here sorry to hear of the passing of your Mom. I heard many, many Nanny Gillis stories from Lynn when we were together. She was clearly a lovely lady, a true family matriarch and heaven's newest addition to the choir. You and your family will be in our thoughts and prayers. Much love 💜     From:  Frances Cody
Gillis Family
Very sorry to read of the passing of your beloved Mother. Our thoughts and prayers are with you all. She will always be in your hearts.                                                                                                                          From:  Blair & Norma McDonald
Dear Dave, June, Ann Marie and all family, we extend our heartfelt condolences to you all at this difficult time. You are blessed with great memories of your Mom and loved one. She was a strong, caring, kind lady dedicated to her family. Your great memories are a treasure. God Bless. Sincerely, Ed & Doreen Tynski ❤ From:  Ed & Doreen Tynski