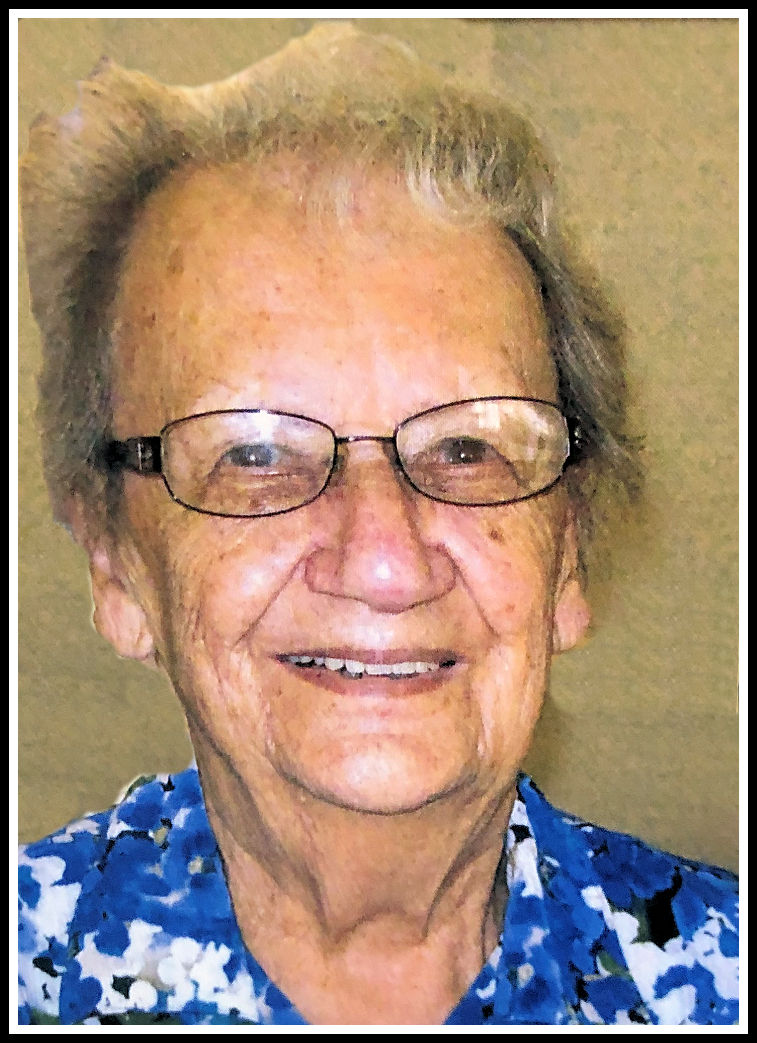 We, the family, regret to announce the passing of Barbara Edwina (Spence) Anderson, age 90, on Wednesday, September 29, 2021, at MacGillivray Guest Home in Sydney.
Barb is survived by her four children, Nancy, Laurie, Julie, Scott and their families; sister, Joan; brothers, Darrell and Bill Spence; 10 grandchildren; 12 great-grandchildren; as well as many nieces and nephews.
Besides her parents, Mabel and Arthur, Barb was predeceased by sisters, Lorraine and Gail.
Mom spent many years at Crowell's and Terry's/Donna's and enjoyed Tuesday Card Club, reading, genealogy and writing in her journals. She also loved walking and spending time with her family.
The family wishes to extend heartfelt thanks to the staff of MacGillivray Guest Home for their loving care of Mom these past three years.
As per her request, there will be no visitation or service for the late Barb Anderson and cremation has taken place.
Funeral arrangements are entrusted to the care and direction of Pier Community Funeral Home.

Online Condolences
So sorry for passing of Barb. She was so sweet to me. Going to miss her
From:  Sharon MacLean
I loved your Mom! She was my Sunday School Teacher for several years. As I got older, we became friends. We always greeted each other with a big hug and a long conversation that got us all up to date. I was cleaning out some boxes a few weeks ago and found a sweet letter from her. It was just before I was married and she made a lovely 'card' with such pretty wedding paper and a clear page protector. I love it. Somewhere along the line we discovered we were related through the Spence line. That made it even more fun. I am living in Dartmouth now, and rarely get to Sydney but one of the last times I was there she was at Church. We shared a hug and then she said, "So who are you now?" I told her, and a little light turned on and she remembered and we talked together like it was just last week. I love your Mom! I hope that her good life and her true beauty will continue with all of you and it will be a comfort to you. My most very sincere condolences.
From:  Jane Anne MacKinnon
My deepest condolences to the family of Barb Anderson as she was A very beautiful person and I was so Blessed to have known Barb and she was so good to me.
Barb lived in the same building as I did and many times she had cooked meals for me and always left little care packages at my door and she did have A great sense of humor and enjoyed it when she was able to come to our great room in the building for A card game as she would just have so much fun and enjoyed teasing with all of us.
She will always live on in the hearts and memories of those who knew and loved her.
From:  Edward Murdock MacPherson
Deeply saddened to learn of her passing. I remember her very well. She and my sister Joyce were close friends for many years. My condolences to the family and may she rest in peace. sincerely Harold Pretty, Ottawa, ON
From:  Harold a. Pretty
Dear Nancy and Family:
My deepest sympathy upon reading of your Mom's death. Be assured she has passed through the gates of heaven. I will pray for Peace on her life in eternity. May our Loving God continue to bless you and your Family Nancy, with Courage, Strength and Peace in this your time of sorrow and loss. May she rest in peace……Amen
From:  Audrey M. Brocklehurst
Nancy, Julie, Laurie and Scott: l was saddened to read of your mother's passing. We grew up on Dixon Ave and I hold very fond memories of the Andersons. My sincere condolences .
From:  Donna Matheson
Nancy, Laurie, Julie, Scott and families, very sorry to read of your Mother's passing. May the memories of her always be a blessing to you all. Rest in peace Barb
From:  Doug Ross, Dartmouth, NS
To Barb Family
So sorry to hear of Barbs Passing she was a great lady My thoughts & prayers are with you May God Bless you all
From:  Ada Hagen