(September 2, 1952 – July 24, 2021)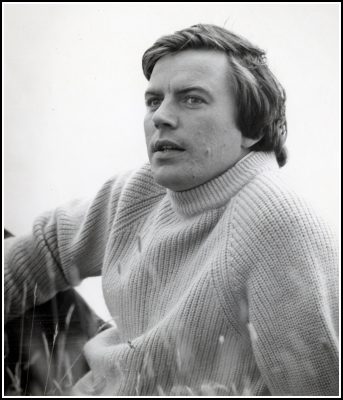 We lost our Kenzie so unexpectedly Saturday night but as he would have wished, with family, song, a full moon, and as little fuss as possible.
While best known for his song "The Island," which was declared the official Cape Breton anthem in 1985, Kenzie had a career in songwriting, acting, producing, directing, and writing for films, television, and radio for over forty years.
Kenzie inherited his love for family, music, and community from his parents, John Angus and Anastasia (Borden) MacNeil. As the youngest of seven, Kenzie learned the art of storytelling and the beauty of the Gaelic culture from his father's knee. John Angus, a Gael from Gillis Point, was an educator, field worker for Moses Coady, and a leading member of the Antigonish Movement.
Kenzie proudly grew up in Whitney Pier and studied at the University of Lesotho while accompanying his parents on field work with CIDA in Africa for three years. At Little X, he was greatly influenced by his professors, who became friends and colleagues, especially Charlie W. MacDonald, Donnie F. Campbell, and Harry and Liz Boardmore. Centred around the College Pub, a close group of the Island's greatest talents came together and formed the heart of the cultural renaissance of Cape Breton in the 1970s: poetry readings, plays, revues, skits, open mics, festivals – all of which laid the path for the Boardmore Playhouse and put Cape Breton story and song on the national stage.
Many people across the country grew to recognize Kenzie's distinctive voice through his contributions to Peter Gzowski's This Country in the Morning and Morningside on CBC Radio, and on some of the most popular television shows of the time: Singalong Jubilee, Ceilidh, Tommy Hunter, Ryan's Fancy, Ian Tyson, and many others. Kenzie had an active theatrical career performing in productions like Tom Gallant's Step/Dance and with Gordon Pinsent in John and the Missus, and was nominated for an ACTRA award for Best Supporting Actor for his work in Last Night in Town. He was integral to the production of the National Film Board's Empty Harbours, Empty Dreams, 12,000 Men, Scoggie, among others.
He served as the Artistic Director/Producer of the Rise and Follies of Cape Breton Island and the Cape Breton Music and Theatre Company, Director of the UCCB Press, and Editor/Publisher of The Cape Bretoner magazine. He was immensely proud of his work as Chair of the Nova Scotia Film Development Corporation and the creation of soundstages across the mainland and on the Island, and in particular, bringing Pit Pony and New Waterford Girl to Cape Breton. He loved the collaborative process of filmmaking.
The songs that Kenzie wrote were deeply rooted in his feelings about family, spirit in the face of decline, and the importance of storytelling and laughter to the Island's culture. On his beautiful 12-string Guild guitar, he composed songs such as "Johnstown Boogie," "The Bungalow," "Stubborn Spruce," and "The Barbarian." His soaring voice could fill a theatre just as it would captivate an audience around a bonfire on the Bras d'Or. His duet with Raylene Rankin of Stanley Collins's "Oh Do You Remember" will endure in the hearts of many Cape Bretoners. His booming laugh was unrivaled, so infectious you couldn't help but laugh yourself. Kenzie's girls always knew where to find him in a crowded room or outdoor concert by following his laugh.
Kenzie had some incredible adventures to points far and away, but he always came home to An Innis Àigh, for which he had a deep and unwavering love, full of stories and lessons and having shared his love for the Island wherever he was found.
Beyond all, his greatest pride was being a father to his four girls and grandfather to his eleven grandchildren. He was the 'sun in splendour' to his wife of 44 years, Lauren; the adored father of daughters, Caitriana (Juan Tun), Christie (Devon Morrison), Mary (Elias Rassi) of Ottawa, Anna (Gary Hatcher); and 'Papa Kenz' to his best friends Marcos Alejandro, Javier Santiago, Litza, Elsie, Elena, Samuel, Sadie, Sandy, John, and twin boys coming in August.
We are gratefully supported by his devoted sister, Mary B. Hureau and her son, Tom, brothers John and Angus, nieces and nephews, and his dearest friend, Father Ora MacManus. He enjoyed a wide circle of friends who shared his great love of Cape Breton, and who fought for its autonomy and its future. He loved his Margaree home and his friends and neighbours who made life there special.
"Bear me upon your wing and fly me to the Highlands, where heaven's birds sing.
There's a song there upon the wind, where the ocean meets the sky,
Sounding like my father's violin as he gently played a lullaby."
He was loved for his character, humour, good will, optimism, and generous spirit. While left with a tremendous grief, we will be forever grateful to our Dad for the gifts of song and stories for the generations to come and the extraordinary life he gave us all. We will host a gathering in the fall to celebrate together. In his memory, please donate to the Highland Arts Theatre, share a book with a loved one, sing one of his songs, watch the film Empty Harbours, Empty Dreams. There are no words to describe how much he will be missed.
"And if I should ever lose you, or if death comes upon our door,
And our lives have been lived well, I could not ask for more."
'Caitriana' by Kenzie MacNeil
Funeral arrangements are entrusted to the care and direction of Pier Community Funeral Home.

Online Condolences
Dear Lauren and Girls, My most sincere condolences on Kenzie's passing. I can hardly add to the many tributes to Kenzie. But you will know with what great respect I held for him, for his unwavering commitment to Cape Breton Island, the generous sharing of his many talents in the arts, his leadership, his wry sense of humour, so much to remember. You and all of Cape Breton will greatly miss Kenzie. But he has left a legacy that will last and last. You can be very proud of this great Cape Bretoner.
From:  ELIZABETH BEATON
I was shocked to hear about Kenzie's death. My condolences to Lauren his children, and all of his family. We spent some great afternoons together back in the 70s. I loved his voice and his writing. He will be remembered.
From:  André Chiasson
I remember Kenzie fondly at many gatherings at my mother and fathers. A true gentleman and an immense talent too soon gone
From:  David Butler
To Kenzie's Family, Friends & Relatives,                                                                                                                                                                                                                                                                                    Kenzie was a great artist, a true treasure to his family, community, Cape Breton Island and Canada. He will be missed, God Bless Him and his Family, May he eternally rest in the piece, love and grace of our lord Jesus Christ.
From:  Dan & Nancy Smith
I am so very sorry to hear of Kenzie's passing. I feel honoured to have worked with him and had his support in The Spirit Never Dies and Pit Pony.
A true supporter of Cape Breton talent. My sincere condolences to all Kenzie's family.
From:  Murdock Mac Donald
Lauren and Family,,,,so sorry to hear of Kenzie's sudden passing,,he will be truly missed however his memories will forever live on,
From:  Colleen and Blick Campbell
Lauren and the MacNeil Clan,
We were shocked and saddened to hear of Kenzie's passing. Our condolences on your loss. Cape Breton has lost an ambassador.                                                                                                                                From:  Chuck & Pat Drohan
So sorry to hear about the loss of your father Kat. I'm thinking of you during this very difficult time. Sending condolences and hugs to you and your family.
From:  Doreen Spicer
So shocked and saddened to hear of Kenzie's passing. I will cherish the memories of the many projects we worked together on over the years. His legacy will live on forever in the very important contributions he has made to the Cape Breton cultural community.
From:  Allie Bennett
To the McNeil family, I was saddened to hear of Kenzie's passing. He did so much for Cape Breton with his music and advocacy and his legacy will be remembered down through the ages. Please accept my deepest condolences.
From:  John and Helen (Fritz) King
Our sincere condolences to Lauren and the children. May Kenzie rest in peace.
From:  John Shannon
So sad to hear of Kenzie's passing. He was an amazing man and a legend in CB. His work and music and spirit will live on. Grateful for him. I wish to express my deepest condolences to all the family and many friends. He will live on in your hearts and mind forever. Bless you all.
From:  Bobbie
A vital member of Cape Breton's musical family. Kenzie's contribution will be remembered. Sincere condolences to his family.                                                                                                                                            From:  Allister & Beverly MacGilllivray
Dear Lauren and Family,
We are deeply saddened by the news of Kenzie's passing . He was an incredible man and will be missed by so many. We had many great conversations .
Please know that you are in our thoughts and prayers. May precious memories help bring you comfort for today , strength for tomorrow and peace in the days ahead.                                                                          From:  Greg and Avril Delaney
Mary B. Hureau,
My sincerest condolences to you, Tommy and families for the loss of your brother Kenzie.
From:  Rita Thelma Tompkins
Heartfelt Sympathy to the Mac Neil family on the passing of your loved one. I have fond memories of visiting with your family in your Johnstown home (the barrocks) following your return from living in Africa. Kenzie was there with pages of music that he was working on and just in his glory singing parts of all numbers for all to hear and they were very good. Later on in years the "Johnstown Boogie" was very popular with all us Johnstown folks but I have to say that "The Island" is everyone's song. RIP Kenzie
From:  Mary Josephine (Gerrior) Mc Namara
Dear Lauren and family
Please accept my heartfelt sadness at the untimely passing of Kenzie. I will always remember your visits to the library. May he rest in peace.
Donnie
From:  Donald Ward
We were friends at a young age in the pier ,we played hockey together at Holy Redeemer and Don Bosco .I always remember that his house then was next to the schools not long a walk to school
Condolences to his family he will always be from the Pier .
From:  Wendell Mac Cormack
My deepest sympathy to the family in your loss of Kenzie. We didn't meet very often, but it was always a joy to reconnect. He was named after my father and we always had that bond. His great big laugh and wonderful bear hugs will always be remembered. You have so many things to make you smile.
Please accept my condolences.
From:  Jean Marie MacNeill
To Lauren, Caitriana, Christie, Mary, and Anna and families we send our sincere condolences on the loss of your beloved husband and father.
From:  Rankin and Marie MacSween