Ottawa/Sydney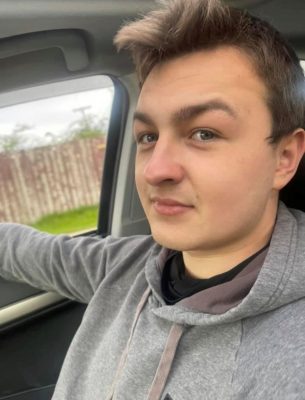 It is with very heavy hearts that we, the family must announce the sudden passing of our beloved son, brother and friend, Eric Hewer on his 19 birthday, Monday, July 26, 2021, in Ottawa, Ontario.
Born on July 26, 2002, in Sydney, Eric was the beloved son of Terri Hewer and the late Glen MacDonald.
Eric was a kind lighthearted energetic young man that loved animals, especially his cat, Garfield, that he referred to as his son. Eric was a very hard worker and had recently relocated temporality to take a job in Ottawa in the construction industry, his lifelong dream was to become a Police officer, which he planned to peruse once he arrived back home in Cape Breton.
He spent many Mondays' volunteering at the South Bar Fire Department, which Eric cherished and was so proud of. He was the type of person that loved helping others. Eric enjoyed fishing and off-roading with family and friends on his favourite toy, 'Big Red'. He was also so proud of his truck, 'The Old Girl' in which he spent many hours shooting the drag listening to county music in, especially his favourite song, 'Unwell' by Matchbox Twenty.
In the short 19 years that we had, we were blessed to have him, Eric had such a big heart and has touched many souls. He will be greatly missed and cherished forever by his family and countless friends. We would like to end this with his favourite quote "Wooo! Let's Go Baby!"
Eric is survived by his beloved mother, Terri Hewer; grandmother, Anna Hewer; younger brother, Aaron Hewer; older brother, Brendon Hewer and his wife, Michelle; nieces, Maddisyn, Hannah and nephew, Nathan. Eric is also survived by his girlfriend and best friend, Samantha Martin; aunt, Tracy (Robbie); cousins, Sommer, Jessie, Abby and Faith; also, especially close to Eric was his cousin/ brother, Lucas Weatherbee and uncles, Ryan (Alicia, Parker) and Kirk MacDonald.
Besides his father, Eric was predeceased by his grandmother, Julia MacDonald.
Visitation and memorial service to celebrate the life of Eric Hewer will be held at Pier Community Funeral Home, 1092 Victoria Rd. (entrance on Church St.) Whitney Pier on Saturday, August 7, 2021. An "Invitation Only" gathering of family and friends will take place from 11 a.m. to 12 noon with the "Invitation Only" Memorial Service to follow at noon in the All Faith Chapel with Rev. Sheldon Chant officiating. Covid protocols will be practiced at the service. Live Streaming will be available on our website and will be broadcast "Live" at Centre 200 starting at 12 noon, as this will accommodate the many who want to join the Memorial Service as a group.
Donations in memory of Eric may be made to a charity of one's choice.
Funeral arrangements are entrusted to the care and direction of Pier Community Funeral Home.
Missing you always
You never said I'm leaving
You never said goodbye.
You were gone before we knew it
And only God knows why.
In life I loved you dearly
In death I love you still.
In my heart I hold a place
That only you can fill.
It broke my heart to lose you
But you didn't go alone.
A part of me went with you
The day God took you home.

Online Condolences
My thoughts and prayers are with the Hewer family, especially Terry and Tracy. No words can express what your family is going through, a life taken so soon. I hope you find strength and lots of happy memories of Eric, love you all.
From: Madeline Colson