Sydney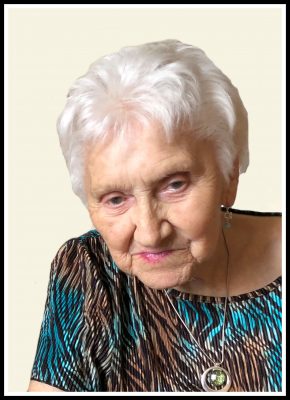 It is with broken hearts that we, the family, announce the passing of our mother, grandmother, great-grandmother, and sister, Alfreda 'Bidda' Confiant on Tuesday, July 6, 2021, just shy of her 100th birthday.
Born in Sydney in 1921, Bidda was the daughter of the late William and Leontine (Leon) Gaudet.
Mom loved to sing and spent many happy years with the St. Theresa's Church choir, Memory Lane Singers, and several other coral groups. She was a member of the St. Theresa's Ladies Aid and started the very first Cub Pack at St. Theresa's parish.
She loved to dance and couldn't sit still once the music started. She loved to laugh, and she was her happiest at her summer home. For over 50 years she spent her summers at the bungalow in Mira with her family and friends. Everyone was welcome and there was always food, drink, and music. It was here she taught her grandchildren how to have fun, thus gifting them with the most beautiful memories. But most of all, Mom loved to love. Every encounter began with a hug and ended with an "I love you". She was grateful for the joy in her life and accepting of the sorrow. Her life was a shining example of how faith and love can carry you through.
Bidda is survived by her daughter, Maureen (Steve) Sokol; sons, John (Jane), Wayne (Janet), Paul (Marlene), Douglas (Bernadette) and Gary (Arlene); daughter-in-law, Dorothy Confiant; sister, Sr. Lillian Gaudet; as well as 14 grandchildren and 15 great-grandchildren.
Besides her parents, Bidda was predeceased by her husband and the love of her life, Maurice; sons, Francis and David; grandson, Darren; sisters, Annie Bethune, Marguerite Maisonneuve, Georgette Adams, Marie-Jeanne Gaudet, Eliza Maxwell-Pitman and brother, Edmond Gaudet.
There will be no visitation for the late Bidda Confiant. Memorial Mass will be celebrated on Thursday, July 15, 2021, at 11 a.m. at St. Theresa's Church, Sydney with Fr. Everett MacDow officiating. Interment will be in Resurrection Cemetery, Sydney Forks.
Covid protocols will be practiced at the Mass.
Donations in memory of Bidda may be made to a charity of one's choice.
Funeral arrangements are entrusted to the care and direction of Pier Community Funeral Home.
A ship sails and I stand watching till she fades on the horizon and someone at my side says; "She's gone". And just at that moment, there are others who are watching her coming over their horizon and voices take up a glad shout; "There she comes".

Online Condolences
Gary and family sorry to hear the passing of your mother
From:  Gerald and Karen Pino
Maureen , Steve and family, so sorry to read of your mom passing . You are all in my thoughts and prayers . Bless all of u. May she RIP Pat Chase
From:  Pat Chase Porters Lake, Halifax, NS
We are thinking of you at this time of deep sadness. Our condolences to all. Take care of each other and know you are not alone.
From:  Kathy MacDonald
Doug, Bernadette and family,
Nicole, Matthew, Paula, Ella, and I are so sorry to hear of your Mom's passing. Matthew enjoyed meeting "Bidda" at the bungalow. Bidda must have been a lovely lady to raise such a kind, caring family. Our prayers are with you. Hugs
From:  Patricia Jacobs
So sorry for your loss. She was a special lady who always had a kind way about her. Hoping that with the help of family, friends and all your good memories of her help to bring you some comfort during this difficult time. Hugs and prayers .
From:  Linda Thompson nee Nicholson