Whitney Pier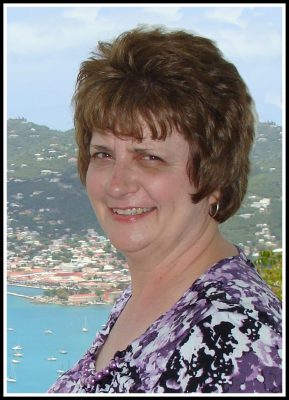 It is with profound sadness that we, the family, announce the untimely passing of Joan Elaine Poirrier on Saturday, June 5, 2021, at the Cape Breton Regional Hospital, Sydney.
Born on December 6, 1963, Joan was a 'Pier Girl' all her life. She was the daughter of Lennie and Lois (Palmer) Wludyka.
Joan was a graduate of Holy Angles High School and received a B.BA from UCCB in 1986. Joan worked for the past 30 years for the Cape Breton Victoria School Board in their finance department and spent the last 10 years as Payroll Supervisor. All those who worked with Joan will attest to her dedicated work ethic and acknowledge the pride she took in going above and beyond in performing her duties.
In her younger days Joan was an active member of the St. Mary's Polish dance troupe. She loved to travel and often told the tale of a trip to Boston with the dancers to preform before the Pope. However, the highlight of the trip was the bus breaking down and leaving them stranded on the way home.
Anyone who knew Joan knew that for her, family was the most important thing. She always put her family's needs above her own. Even in her time of illness she was taking care of her mother and father. Her children were her greatest pride and joy. She never missed a hockey, baseball, volleyball or soccer game. She never missed a dance, band, swimming or cheerleading competition. When the children were younger, she became involved in their soccer programs by coaching Tim Bits mini soccer and by spending 20 years on the executive of the Whitney Pier Soccer Club as its treasurer.
Joan loved to travel. When the children were younger it was to their many tournaments and competitions. Later she enjoyed attending Blue Jay games and of course she loved to go to Montreal to cheer on the Habs and to do a bit of shopping. She also attended many concerts over the years. But by far her favorite travels were to the Caribbean on any of several cruises she and David went on.
In 2014 Joan's life took a dramatic turn when she was diagnosed with Mylodyplastic Syndrome. To treat this cancer, she needed to have a bone marrow transplant. Although the transplant was a success the after affects led to dramatic changes in her health. The past seven years have been a rollercoaster ride with some ups but far too many downs. It was the side effects of the transplant that ultimately took her life. The transplant did give Joan enough time to mark many milestones in her family's life. She was able to see Rhiannon graduate first from high school and then to obtain two degrees (Bacs. and B.Ed ) from CBU. She also saw Marcel attend Acadia University where he earned a Bachelor of Kinesiology and then a B.Ed. She was able to see Marcel marry Holly Sampson in 2017 and then two years later witness the birth of her granddaughter, Annika. Annika has been a source of great joy and endless entertainment for the past two years.
Joan was predeceased by her mother, Lois; in-laws, William and Lillian; special aunt, Judy O'Keefe and her Godfather, Richard Wludyka.
Left to mourn her passing is her father, Lennie; brothers, Fran and Paul (Leah). Left to grieve the most is her husband of 34 years, David who was her constant companion through every step of her journey. Also grieving her passing are her children, Marcel (Holly) and granddaughter Annika, Glace Bay and daughter, Rhiannon (Logan) who lives at home. She will also be missed by her nieces and nephews and her closest cousin, Renee. Also left to miss Joan are her three fur babies, her cat, Roxy, Holly's cat, Rory and Marcel's dog, Rocket.
As per Joan's wishes there will be no visitation or service. Cremation has taken place and there will be a private family gathering at a later date.
Anyone wishing to make a donation in Joan's memory can do so to the charity of your choice, but she would recommend Every Woman's Centre or a local food bank. Joan would also ask all those who can, please sign up with the One Match Bone Marrow Program and to donate blood.
Funeral arrangements are entrusted to the care and direction of Pier Community Funeral Home.
In closing Joan would ask that you share an act of kindness with someone, and she asks you to follow the words of Jackie DeShannon:
"Think of your fellow man, Lend him a helping hand, Put a little love in your heart."

Online Condolences
Words fail me. My deepest condolences for your loss.
From:  Brad Rowe
My sincere condolences to the family for your loss. Joan was an amazing colleague and friend. She will be missed. My thoughts and prayers are with the family at this most difficult time.
From:  Anne Louise Milker
My heartfelt condolences to David, Marcel, Rhiannon, Lenny, Paul, Francis and family. May her memories live on in your hearts. I will remember her performance smiles , dedication, and her love for her family and friends. Fly high with the angels Joanie and be reunited with Mom.
From:  Stephanie (Melnick) Black
My deepest sympathy to the family, may God Bless everyone through this difficult time.
From:  Audrey F MacLeod
On behalf of my family, I'd like to take this time to offer my sincerest and heartfelt condolences to Joan's loved ones. I thought the world of Joan, we all did in our family. Her kindness to our kids growing up playing soccer for the Pier will never be forgotten. Joan would – and did – go to any lengths to help a friend, as I remember breaking down, somewhere between Louisdale and Port Hawkesbury, for a game my daughter was playing, while Joan & Dave coached. Joan got in her car and drove back to where we broke down and picked us up and took us to that game so we wouldn't be late! That is just one example I could tell you of her selflessness. You never forget things like that; she was a wonderful human being I feel privileged to have known. Love and hugs to her family; she will be missed.
From:  Betty Anne & Steve MacPhee (Ellen, Andrew & Joanna)
David & Family
Our most sincere condolences on Joan's passing. Words can't properly express the sorrow and loss of your lovely wife. Our thoughts and prays be with you at this time.
Take care & God Bless All.
From:   Gary & Paula Kennedy
Dear David and family, we are very sorry to hear of the passing of Joan. Please know our thoughts and prayers are with you during this difficult time, God bless, Allan and Julia Townsend
From:  Julia Townsend
Dear David and family, we are very sorry to hear of the passing of Joan. We all experienced her kindness and are truly saddened. Please know our thoughts and prayers are with you during this difficult time.
From:  Joe, Mary, and Margaret MacPherson
So sorry to hear of Joans passing . Our prayers and thoughts are with you and you family at this difficult time
From:  Judy & Kenny AuCoin