Whitney Pier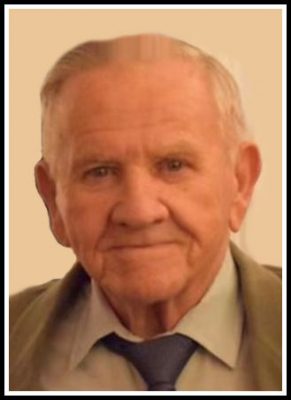 We, the family of Angie Mombourquette, painfully announce his passing at the Cape Breton Regional Hospital, Sydney on Tuesday, June 8, 2021.
Angie was the son of the late Peter and Annie (MacNeil) Mombourquette and was the last surviving member of his family.
Dad lived his life in Whitney Pier and after a brief stint on a boat convinced him that life at sea wasn't for him, he followed his father and brothers and went to work at the steel plant where he spent 40 years primarily in the rail finishing mill.
Also in the Pier, Angie met and married the love of his life, our mom, Andzia (pronounced on-ja for those that didn't know her) and their marriage lasted 52 years until her untimely passing in 2004.
In his youth Angie enjoyed sports, where he played hockey (Junior Millionaires) and baseball. He also enjoyed fishing, hunting and a good game of tarabish. He especially looked forward to the yearly hunting getaway 'out the country' with good friends, Lloyd, Ray and Tom.
Things we will remember about our father is his sense of humour, especially when he is teasing someone (a friend once asked for his oatcake recipe and after trying it stated that their cakes didn't taste as good as his, Dad replied: "you didn't think I'd give you the whole recipe, did you?"); trips to the beach, blueberry and mushroom picking; his complete set of 'whachacallits' ("go downstairs and get me the whachacallit, you know what I mean"); his flower garden, baking, rug hooking (which he started during one of his many post-surgery recuperations) and his love for mom (the only time we saw him cry was the day she passed away).
Angie is survived by his children, Tony (Debbie), Jim (Marie Rose), Anne Drover (Bill) and Linda; seven grandchildren and eight great grandchildren.
Besides his parents, Angus was predeceased by his wife, Andzia; brothers, Louis, John Willie, Roddie, Danny, Neil 'Cubie', Alex, and sisters, Mamie, Catherine, Janie, Helen 'Sussy' and little Mamie.
By request there will be no visitation and due to Covid, a private graveside service will be held at a later date.
Donations in memory of Angus may be made to a charity of one's choice.
Funeral arrangements are entrusted to the care and direction of Pier Community Funeral Home.

Online Condolences
Rest in peace, Angie. You will be missed but not forgotten!
From:  Joe Hollohan
So sorry for your loss. He was a wonderful person. I will miss seeing him sitting out on the veranda watching what's going on. I called him the mayor of Lingan road. He will be missed
From:  Lynn young
Words will never express what your family is going through at a time like this, my deepest condolences to all the family, my thoughts and prayers are with you all, Angie may you rest in peace, you will be dearly missed by all who knew you,
From:  Donna French
Anne and Family
We wish to convey our deepest condolences for the loss of your beloved Dad.
From:  Joe and Joanne Chisholm
Heartfelt condolences to Tony, Jimmy, Anne and Linda and families. Uncle Angie. will be dearly missed but will live on in the wonderful memories we all will cherish. The cleanest and biggest blueberry picker and baker around!!! Lots of Mombourquettes and Siwaks will be waiting for him. May he rest in eternal peace. Steve, Steffie and family.
From:  Stephanie (Melnick) Black
My sincere condolences. I worked with "Angie" in the Rail Finishing Mill at the Steel Plant. Also, I was married to one of the Martin girls (his next door neighbours) so I was familiar with his whole family there. Angie and I shared many laughs at work as well. Again, my condolences.
From:  Irven Hillier
Deepest sympathy, I always loved his sense of humor
From:  John Pearson. Ronnie's oldest son.
Dear Anne and family,
I was so sorry to hear of your dad's passing. You have so many happy memories to hold in your heart.
From:  Sincerely, Jane MacInnis (Mombourquette)
Dear Tony and family, So sorry to hear of your dad's passing. Just know that our thoughts and prayers are with you during your time of grievance.
Sincerely, Archie and Susan McLean
From:  Archie and Susan McLean
Prayers and Condolences to the family. Rest in peace ole friend..
From:  Paul Mullins
Dear Anne and family, so sorry to read of your Dads passing. I remember the goodies he baked and his wicked sense of humour. Your wonderful memories will help at this difficult time. Wanda
From:  Wanda MacKinnon
I was so sorry to hear about Uncle Angie's passing. I have fond childhood memories of time spent at Uncle Angie and Aunt Andzia's home when I was a child visiting Cape Breton, my mother Helen (Sussy) always took me to visit, their kindness and goodness were memorable.
From:  Susan Ientile (Rudderham)