Whitney Pier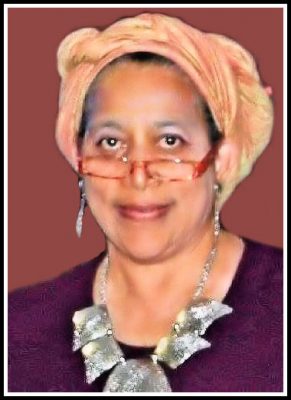 The angels in Heaven are singing with joy today, Sunday, June 6, 2021, as they open up their gates to welcome home one of their dedicated servants, Reverend Mother Phyllis Marsh-Jarvis of Whitney Pier, Nova Scotia.
Born on January 21, 1948 in Annapolis Royal, Phyllis was the daughter of the late Eleazer and Violet Muriel (Moore) Marsh.
Reverend Mother or 'Ms. P' as she was so lovingly known, carried the passion of the word deep within her heart. Her true love was sharing her gifts of guidance and the Lord with her beloved St. Philips African Orthodox Church Community in which she had the pleasure of ministering since October 2015, after answering her call to faith, being ordained in 2015. She took over as Rector of St. Philip's African Orthodox Church upon the retirement of her mentor, the late Archbishop (Patriarch) Vincent Waterman in 2016.
Community Giving was the "blessing" Reverend Mother gave to the many community boards and agencies that she served over the past few years. Giving back is something she did without hesitation or remorse. Her love for fellowship and community action was something she was dedicated to until her passing. She was instrumental in starting a seniors activity program at St. Philips, served as a board member past and present on the Community United for Black Education, The African Nova Scotian Service Provider Network, Aids Coalition, Whitney Pier Outreach, Health Association of African Canadians – Provincial Liaison, Facilitator of Dialogue of Peaceful Change, Lay Leader Chronic Disease and Self Management Program, Champlin for the Whitney Pier Legion Branch 128, KAIROS and served as an ongoing community advocate and support.
If Reverend Mother wasn't sharing her wisdom with community organizations, local charities or government agencies through her African Heritage Month Talks she was developing health programs, and working on her next Christmas Concert, Easter Vigil or enjoying the young voices of her Sunday School group. Her words were contagious.
Her life was lived with kindness, giving and in the loving spirit of the lord. "Church is not the building, it's us the children of God. God loves us unconditionally let us love one another the same". God Bless.
Rev. Phyllis leaves behind her son, Tyrone, whom she loved dearly; his father, Gerald Moe; siblings, Gardner (Annabelle), Halifax, Mona, Halifax, Gordon, Ontario, Marlow, Preston, Willoughby Jr. (Collette), Dartmouth, Aletta (Allison), Preston, Regina (Manuel), Halifax, Claudia, Dartmouth, Sandra (Allan), Preston, Jaunita (Earnest), Preston, Virginia, Dartmouth and Darlene, Ontario; as well as a large extended family.
Besides her parents, Phyllis was predeceased by Bill and Leah.
As per her request, Phyllis has been cremated. Due to Covid, a Celebration of Life will take place at a later date.
In lieu of flowers, donations in memory of Rev. Phyllis may to be made to St Philips African Orthodox Church, Whitney Pier.
Special thanks to the doctors, nurses, home care and VON who looked after Phyllis in her time of need.
Funeral arrangements are entrusted to the care and direction of Pier Community Funeral Home.

Online Condolences
Condolence to the Johnson and Marsh Jarvis Family. You were Rev. Phyllis Blessed by God and prayed with many during your illness. Got up everyday and praise God. Whether it was a good day or bad day you always gave thanks. I remember encouragement, and deep conversations. I smile because of your love for community and family. She was a tremendous woman of God. Grounded. You were covered by the blood or Jesus Christ as he poured into you daily. Cousin Rev. Phyllis May you rest in perfect peace. I love you, and we will meet on the other side. Some sweet day. May your legacy live on through your friends and family. Your living was not in vain. Jesus put a fence around the family and communities who are being affected.
From:  Bridget Williams
We've lost more than words can say, with the loss of Rev. Phyllis. Joining you and wishing you Peace in your grieving. May we carry on the legacy of kindness, fearlessness and hopefulness that we were blessed with by the privilege of having Rev. Phyllis in our lives.
From:  Vicki
So sorry to hear this sad news. REST IN PEACE.
From:  Joan C Macintosh
Reverend Mother Phyllis Marsh-Jarvis
She was a beacon of light and we will miss her dearly.
From:  Joann Chin Yet and Yvonne Stephenson
Deepest condolences to those who had the pleasure of sharing Phyllis' last days. Matthew 25:21 says it best "well done, good and faithful servant"
From:  Yvonne Dorrington-Spencer
To: Tyrone, siblings, family and friends I send my sincere condolence. Phyllis was a wonderful friend and confidant. I know how much you will miss her because I will miss her the same way. But I am happy knowing that she is at peace with no more pain, living with the Lord. God Bless you all.
From:  Maxine Colley-Wongus
So sorry to hear of your passing. You served the Lord to the end. Angels in Heaven are rejoicing as they welcome you through the gates of heaven. Rest in peace
From:  Corlene Leslie (Halifax)
I was very sorry to hear of the Rev. Mother's passing. I have only known her for a short time from going to bingo at the church. She was one of the finest ladies I have ever known. I remembered her father Eleazar, who ran a store on Tupper years ago, when I was just a child. I can see where she got her kindness from; her dad. He was such a kind man. I kinda remember Phillis way back then. My heart is sadden with her passing. Sending heartfelt condolences to her family. May she Rest Peacefully. God Bless
From:  Debra Grace
My sincere condolences to the family of Phyllis. My thoughts and prayers are with you in your time of grief and always. May your memories forever provide you with comfort and love. Phyllis, I will miss you dearly for you have touched my life greatly and have been my source of inspiration for strength, grace and perseverance. Love from Sherri.
From:  Sherri Tutty
Sincere condolences to the family and friends of Reverend Phyllis. She aspired and was an inspiration. Her smile and her life were true testimonies. Once committed she was totally in. . We will miss her – from Preston to Cape Breton and beyond. She rests in peace from her labours but her works do follow her. To those who remain: Cherish the memories, pick up the torch, and be thankfully blessed. God bless.
From:  Dr. Carolyn G. Thomas and Family