North Sydney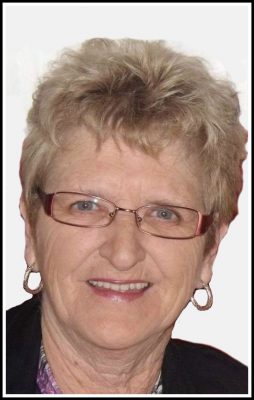 It is with broken hearts that we, the family, announce the passing of our mother, grandmother, partner and sister, Cecelia Farr, who passed away on Friday, June 18, 2021 at home surrounded by her loving family, after a brief battle with cancer.
Cecelia was born on November 26, 1949 in Ingonish, but made her life in Sydney where she married her husband, Tom Farr and raised their family.
Cecelia married the love of her life, Tom, who at the young age of 40, tragically lost his life at the Sydney Steel plant in 1983. She was left at the young age of 34 to raise her two children on her own. Cecelia worked hard to provide for her family and had 36 years with the Cape Breton District Health Authority prior to her retirement. She made many dear friends over the years while working and has remained close to so many.
Cecelia was a devoted mother who loved her children and grandchildren above all else. She was extremely proud of her five grandchildren as evidenced by her many Facebook posts proudly displaying their photos and accomplishments. Not to mention her love for her many grand fur babies. Cecelia enjoyed going on shopping trips with friends and family. Cecelia was blessed to have shared a loving relationship with her partner, Donnie Green for the last 10 years. Her and Donnie enjoyed spending time at their trailer in Baddeck sitting around the evening campfire with dear friends. They enjoyed going in their campervan to the Cape Breton Highlands to camp and fish in the summer months as well as time ice fishing throughout the winter.
Cecelia shared a special friendship with her friend, Maylene Ferguson, who was with her by her side and provided support to our family throughout her illness. She had a special bond with her sisters, cousins, nieces and nephews.
Cecelia is survived by her son, Tom Farr (Heather), Sydney; daughter, Joanne Farr (Kent), Sydney; partner, Donnie Green; grandchildren, Nathan MacLeod (Mary Jo), Riley MacLeod, Jade Farr, Lia Farr, Summer MacLeod and Ryley Hawco, who was like a grandson to her and sisters, Eileen Hawley, Barbara (Murdock) Herridge, Gertrude Whitty, and Evangeline Hawley.
Besides her parents, Tom and Rachel (Donovan) Whitty, Cecelia was predeceased by her loving husband, Tom Farr; brother, Thomas Whitty and sisters, Edna Whitty and Leona Royal.
Cecelia will be greatly missed by everyone who knew her. "Mom, you were a sweet ray of sunshine in all our lives. We all love you and will miss you so much. Until we meet again…"
A special thank you to the Palliative Care team and the VON for their support and care of Cecelia in her time of need.
Memorial service to celebrate the life of Cecelia Farr will be held at Pier Community Funeral Home, 1092 Victoria Rd. (entrance on Church St.), Whitney Pier on Saturday, June 26, 2021 at 3 p.m. with Rev. Sheldon Chant officiating. Interment will take place in St. Joseph's Parish Cemetery, Albert Bridge.
Covid protocols will be practiced at the service and for those unable to attend, Live Streaming will be available on our website.
Donations in memory of Cecelia may be made to a charity of one's choice.
Funeral arrangements are entrusted to the care and direction of Pier Community Funeral Home.

Online Condolences
Our sincere condolences to the family. Cecilia was a beautiful person and will be greatly missed. Keeping the family in our thoughts and prayers during this difficult time.
From:  Sheila & Bruce Burke
Our deepest sympathy to the Farr family on your loss Cecelia will be missed Sincerely. Carol Dicks and Dianne Barr
From:  Dianne Pino Barr
My condolences to Donnie and all cecelia s family , so sorry for your loss
From:  Judy Sakalauskas
Donnie & Cecelia's Family
My sincerest condolences to each and every one of you on Cecelia's passing. My thoughts & Prayers are with you all. May God give you strength at this most difficult time…..RIP Cecelia
From:  Doris Clarkson
So sorry to hear the loss of your mother. Prayers to the family at this sad time…
From:  Sharon MacNeil
Our sincerest condolences to our brother-in-law Tom, and his entire family, on Cecilia's passing. We know she loved her family deeply, and was deeply loved by them. Your memories will keep her alive in your hearts.
From:  Wayne and Helen Forster
Prayers are with you. Our deepest condolences                                                                                                                                                                                                                                                                            From:  Ruth Ann, Kim and Cookie
Dear Donnie and family, so sorry for your loss. Take care
From:  Terry and Wanda
To Donnie and family our deepest sympathies on your loss
From:  Penney O'Handley-Sibley