Sydney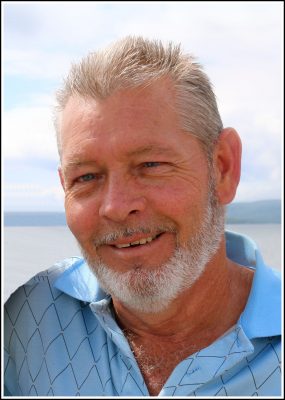 It is with broken hearts that we, the family, announce the sudden passing of our beloved husband, father, and grandfather, Nick, age 69, on Tuesday, May 18, 2021 after a courageous and hard-fought battle with cancer.
Nick was the son of the late Ernest and Lillian (LeRoy) MacDonald.
A member of Holy Redeemer parish, Nick was born and raised (and lived most of his life) in Whitney Pier. He worked at the Steel Plant where he made many friends who he always told stories about. Nick married the love of his life, Colleen, and they just celebrated 48 years of marriage. Their "Happy Place" was Ben Eoin Beach where they spent the last 40 summers making beautiful memories.
Family was most important to Nick; he was especially proud of his three children and five grandchildren. Nick was such a fun-loving guy who delighted in pulling pranks; he always loved a good laugh. He had a happy heart and loads of patience, always available to help anyone who needed it. Through the years Nick volunteered with both the Diabetes Association and the MS Society, even taking on a leadership role in both. He was also an avid gardener, a skilled woodworker, a great cook, and was involved in the Sergeants' Mess and Ben Eoin Beach dart leagues for many years.
Nick is survived by his loving wife, Colleen (O'Reilly); son, Terry (Danielle), Sydney; daughters, Shauna (Trevor) Simmons and Nicole (Gordie) Pettipas, both of Halifax; grandchildren, Sheila, Clara, Monica, Nicholas, and Sage; sisters, Ernestine, Winnipeg, Yvonne (Ron), Sydney, Bobbie (Byron), Kingston, Dee-Dee (Bob), Kingston and Patricia (Greg), Sydney; brothers, Blaine, Kingston and Ronnie, Sydney; sisters-in-law, Suzanne, Montreal and Kathy (Barkley), Sydney; brothers-in-law, Ned, Sydney, Dan (Dorothy) and Kevin (Karen), both of Lower Sackville; as well as many nieces and nephews.
Besides his parents, Nick was predeceased by his in-laws, Edmund and Bridget O'Reilly; brothers, Ernie and Glenn; sister-in-law, Cheryl MacDonald, and sister-in-law and brother-in-law, Sheila and Michael Lukeman and favourite furry friend, Buddy.
Cremation has taken place. There will be no visitation for the late Nick MacDonald. Memorial Mass will be celebrated on Friday, August 13, 2021 at 10 a.m. in Holy Redeemer Church, Whitney Pier with Fr. Paul Murphy officiating.
Donations in memory of Nick may be made to a charity of one's choice.
Funeral arrangements are entrusted to the care and direction of Pier Community Funeral Home.
"Death Leaves A Heartache No One Can Heal; Love Leaves A Memory No One Can Steal"

Online Condolences
So sorry to hear about Nicky passing away .My prayers are with the family .
From:  Colette Thistle LaVigne
Colleen. I am so sad to hear of Nick's passing. David and I offer our heartfelt sympathy to you and your family for your loss. It was easy to see that you and Nick had something very special together. Our thoughts are with you.
From:  Brenda (Matheson) Sawler
To Colleen Macdonald and family, sorry to hear that Nicki passed away, my prayers are with you and your family, with deepest sympathy, Barbara Thistle and family. God be with you
From:  Barbara Thistle
So sorry for your loss
From:  ROBERT and Ellen chiasson
Dear Colleen,
Gary, Deanna and I offer our sincere condolences to you, Terry, Shauna, Nicole and families. I will keep you all in my thoughts and prayers as you navigate these very sad days.
From:  Gary and Elaine Evely
Colleen my love and prayers go out to you and your family.
From:  Alice McNamara
Colleen and family,
Sincere condolences.
From:  Rosalie and Dave Lionais
Coleen and family.
My very deepest sympathy to you all during this very difficult time.
We met Nick a few times over the years and remember his keen sense of humour and kind smile. Please know that my prayers are with you.
From:  Iylah MacLeod
Colleen and family, I am sorry to read of Nicks passing. I Knew him from Ben Eoin. He was always smiling and joking. Please accept my condolences. You are in my prayers.
From:  joan murphy
Colleen, I was so saddened to hear of Nicks passing, My heart and prayers go out to you and your family. Nick was a good friend and workmate. A man of Faith and principle, he will be missed. You are in my prayers.
From:  Joseph Smith
Colleen and family i am so sorry to hear of nicks passing thinking of you all prayers
From:  Debby Murray
We were so sad to hear of Nicks passing. He was such a nice person. Always stopping to chat. He took such care of his loving wife and family. He will be definitely missed in Ben Eoin
From:  Joanne and George MacDonald
Sorry to hear of Nick's passing…rest in peace! I've not been in touch for a very long time. Actually, Bobbie, Nick's sister, and I went with each other for awhile many years ago which is why I know Nick.
From:  Irven Hillier
So sorry to hear of the passing of Nick. He was such a nice man who went too soon. Our prayers and thoughts are with you Colleen, Terry, Shauna, Nicole and all your family. Regina and Colleen Gillis
From:  Regina Gillis
We would like to send our sincere condolences to Colleen and family. Our thoughts and prayers are with you.
From:  Greg & Judy Hynes
Colleen,Terry,Shauna and Nicole…. we were very saddened to hear of Nicks passing. Our thoughts and prayers are with you all at this very difficult time. God Bless. The DeGiobbi Family
From:  Janet and Michael DeGiobbi