Whitney Pier / Sydney River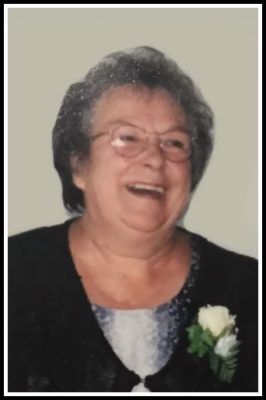 It is with great sorrow, we the family, announce the peaceful passing of Margaret, on Monday, May 17, 2021 at the palliative care unit, Cape Breton Regional Hospital, Sydney, after a brief illness.
Born October 23, 1929 in Dalhousie, New Brunswick, Margaret was the eldest daughter of Charles and Cecile (Dionne) Grosset.
At the age of nine, Margaret and her family moved to Sydney. She worked at several retail stores in the Pier and then retired from the Shoe Tree. Mom was an excellent cook, seamstress, and in her later years, oil painting, all of which brought her much joy and praise. She loved a good game of tarbish and cribbage.
Margaret is survived by her daughter, Carlotta (Ken Gillis), with whom she lived; son, Wayne (Susan); stepchildren, Brooke, Megan and Derek, Ontario; granddaughter, Amy (Jason), Hong Kong; great-grandson, Ben; great-granddaughter, Alexis; sisters, Mary Jane, Las Vegas and Mary Cecilia, Ontario; brothers, Roger (Theresa) Halifax, Richard (Patricia) British Columbia; as well as many nieces and nephews.
Besides her parents, Margaret was preceded by sisters, Theresa and Irma; brothers, Roland and two in infancy.
Cremation has taken place. Due to covid restrictions a memorial service and burial will be at a later date.
Donations in memory of Margaret may be made to a charity of one's choice.
Funeral arrangements are entrusted to the care and direction of Pier Community Funeral Home.

Online Condolences
Carla, I am so very sorry to hear of your Mom's passing. She was such a lovely person. Enjoy the memories and I'm sure there are many.
From:  Carol Hickey
My deepest condolences to all of Margie's family . She was a kind gentle lady. Carla, I send a big hug your way. Heaven has another special angel.
From:  Anne Marsh
Sincere condolences from former neighbours, the Lundrigans
From:  Dorothy Lundrigan Moores
So sorry to hear about your mother's passing. Thoughts and prayers are with you all during this difficult time.
God's blessings.
From:  John and Janet Wylde (Callaghan)
Carla, just want to express my sincere condolence on the passing of your mother. Her cinnamon rolls were delicious. You gave me the recipe for them but mind did not taste as good as your moms.
From:  Rita Rudderham
Condolences to the families of a dear woman. God Bess you all.
From:  Valerie Levesque
My dear big sister has left us, may her soul be at peace with our heavenly Father. We know that death is inevitable still it leaves us in a state of emptiness. Margie was the oldest in our family and I was the youngest. We shared a lot of good times together and we loved and respected one another. I was not alone in that love, for Margie was loved and did love her family and all those that she encountered. We are going to miss her laughter and generous spirit. To Carlotta and Wayne, the loss of a Mother is never easy. Your mom was a truly extraordinary woman and was admired by everyone who knew her. Please know we share in your sorrow and are praying for your comfort in your loss. Richard and Patricia Grosset, Victoria, BC
From:  Richard Grosset
We are so sorry to hear about your Mom , Carla. She had so many wonderful years with you and Kenny in your loving home. You , Kenny , Amy and her family are in our thoughts and prayers . Love and hugs, Sonny and Maureen
From:  Maureen Mac Leod
Carla and family so sorry to hear of your mom's passing, may all your wonderful memories help you get through this very difficult time.
From:  Ann Marie (Maher) Libbey
My sincerest condolences to Wayne, Carla, and family. I am very sorry for the loss of sweet Margaret. She was such a caring soul and step Grandmother. Sending my strength and condolences during this difficult time.
From:  Megan Thrasher