Whitney Pier/Glace Bay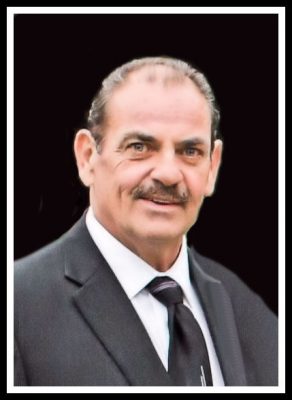 "Any man can be a father, but it takes someone special to be a Dad."
It is with broken hearts that we, the family, announce the passing of our Dad, Andrew Richard Gilyan. Dad passed away peacefully with us, his children, by his side on Saturday, May 1, 2021 at the Cape Breton Regional Hospital, Sydney.
Andy was born on February 9, 1962 in Sydney. Dad always held his parents in high regard as they provided a strong, loving home to raise their family here in Whitney Pier after they made their entrance into Canada from Hungary back in 1957.
Dad, 'Joe' as the boys called him, began work as an Auto Mechanic at Scotia Chrysler in 1981 at the age of 19. His oiled and greased hands revealed years of hard work. There was never a dull moment in the shop or while on break with the boys when the coffee truck pulled up.
Dad loved the game of hockey. He was an exceptional player for many years himself. His joys and frustration came during watching the Leafs games. Although they pulled through and won for him one last time on Saturday evening!
You could find Dad enjoying his down time with neighbours (turned friends) in the garage. Fire warm and Oland's in hand, there was never a dull moment.
Dad was a kind, soft spoken, sweet hearted man. He had his wits and loved to hear a good joke. He was happiest when spending time with or speaking with his children whom he loved dearly and spoke about to all frequently. He couldn't have been more proud of them.
Besides his Mom, Mary (Szklenar) Gilyan, whom he loved very much, he is survived by his sons, Andrew (Jen) and Tyler; daughter, Shari (Brad); their mother, Joann Larade; siblings, Ildiko (Paul) and Robbie (Tammy); brother-in-law, Roger; as well as nieces, nephews and great-nephew, Christian.
Andy was predeceased by his father, Andrew Gilyan; sister, Mary Gilyan and great-nephew, MacKenzie.
Due to Covid restrictions, there will be no visitation or service for the late Andrew Gilyan at this time.
Donations in memory of Andy may be made to a charity of one's choice.
Funeral arrangements are entrusted to the care and direction of Pier Community Funeral Home.
~Always remembered never forgotten, we love you Dad~

Online Condolences
To my good friend passing. I'll miss you kiddo. Most soft spoken man I've ever knew. Condolences to the kids & Joanne
From:  Debby Hartigan Walker
To the Gillian family, my condolences on the passing of Andy. I am so sorry for your loss.
From:  Paul Douglas Carrigan
Dear Ildie and Family
Deepest condolences on the passing of your brother. Keeping everyone in my thoughts and prayers during this very difficult time. Big hugs
Judy
From:  Judy Sampson
Sincere condolences on the loss of sweet Andy. During the short time I knew Andy, it was truly evident the love he had for all of you. The mention of your names brought an extra sparkle to his eyes. He was one of the kindest people I've met. His intelligence and wit were obvious during every conversation. We continued to stay in touch as we teased each other relentlessly over his Leafs and my Canadiens. Prayers and thoughts to you and his friends. His loss is truly grieved by many.
From:  Janet Gallivan
To The Family So Sorry To Hear Of Your Loss Andy Was A Great Guy And A Good Friend You Are All In Our Thoughts And Prayers Dave MacKeigan and Debbie MacIvor.
From:  Debbie MacIvor
Dear Mary, Robbie & members of Andy's family
I am so sorry to learn of the loss of your son, brother and dad. I knew Andy as I was his grade 5 teacher and also from Matilda St. Andy was a wonderful, polite, very smart student. I'm sure he was a great mechanic and probably one of the best as he was an excellent student and a hard worker. He came from a great family. Please accept my deepest condolences.
From:  Margie MacNeil
Ildi, Rob and family- sincere condolences on such a profound loss
From:  Betty Anne & Steve MacPhee
Stan and I are saddened to hear of Andy's passing. We have great memories of being your neighbours . To Andy's family , our condolences on your loss.
From:  Stan & Elaine Kozera
Family of Andy, so sorry to hear of your great loss.
We grew up a few blocks away from your Dad and attended same schools. He definitely was a very kind quiet speaking guy. Certainly gone too soon! May he Rest In Peace!
From:  Deneyse & Terry Johnston
Sincere condolences to all the family on hearing the news of Andy's death , may he Rest In Peace
From:  Pat and Maureen Sutherland
I am so sorry to have heard of Andy's passing. My deepest condolences to the Gilyan family at this difficult time. My thoughts and prayers are with you all.
From:  Karen & Kenny MacDonald
Our sincere condolences to the Gilyan family on hearing of Andy's passing. Many great memories will be remembered of our neighbors across Matilda street.
From:  Mike and Hughena MacDonald
Mary, Ildi, Robbie and family
Bob and I are so heartfully sorry to hear of Andy's passing. Our hearts are broken for all of you. Andy was a very sweet person and will be missed by all who knew him. You all, are in our prayers. Take care of each other and God Bless.. Andy is resting now with his Dad and Sister Mary RIP Andy….
From:  Bob and Joanne (Katryk) Beaton
Robert and family: Leo and I are so sorry to hear of Andrews passing. Sending sincere condolences and prayers. God bless you and your family.
From:  Jenn and Leo Tomko
My condolences to Mary and the rest of the Gilyan family on the loss of your son, brother, father, uncle and brother in law. I was so sorry to hear about Andy and my prayers and thoughts are with you all.
From:  Sadie Walsh and Family.