Sydney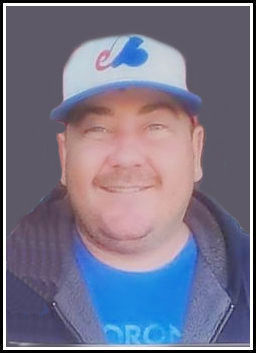 It is with heavy hearts and much sadness that we, the family, regret to announce the sudden passing of Sheldon 'Spanky' Dorko on Sunday, May 23, 2021.
Born on February 18, 1979 and raised in Sydney, over the years Spanky was known to be a member of many communities; "The Rockcliff Kids", "The Hardwood Hill Gang" and most recently he was a "Pier Boy". Spanky was the manager of the Henry Street Pub; "The Pub" will not be the same without him. Spanky was an avid sports fan. He loved a good game of darts, horseshoes, tarbish and baseball. He had a passion for harness racing and grew up learning about horses and racing at Tartan Downs. He loved the Montreal Expos and had a love/hate relationship with the Montreal Canadiens, The Toronto Blue Jays and Pro-Line. Since 2013, Spanky dedicated a large portion of his time organizing the Annual Dorko Slow-Pitch Baseball Tournament in memory of his brother, Stephen 'Dorko'. With the help of his friends and the baseball league, over the years, enough money was raised to create an educational trust for his nieces, an annual bursary at Sydney Academy, as well as numerous donations to many local charities.
Spanky loved to share a joke and have a laugh. His easy-going nature allowed him to make friends easily. As Leaha Mulrooney said… "If you knew him, you loved him… everyone did"! He was kind, caring, giving and forever loyal to his family and friends. Over the years many of these friends were more like his family. Cara Legge-Mulrooney, Nicole Haddad, the Ellis's, the Mill's, LeBLanc's, and the Gray's, as well as his family at the Steel City and the Henry Street Pub, are just a few of the families that he considered to be lifelong friends. The true love of Spanky's life was his daughter, Jessica. She was everything that was right in his world. His kindness, sense of humour and love for his family and friends will live on through her.
Sheldon was predeceased by his father, John Dorko; brother and best friend, Stephen Dorko; maternal grandparents, Phyllis and Abe Oxford; as well as his paternal grandparents, Katie and Louis Dorko.
Left to remember Spanky are his mother, Jocelyn Dorko-Giles; daughter, Jessica Dorko; sister, Veronica Grosset (Stewart MacDonald) and twin sister, Samantha Dorko; nieces, Ella and Adrianna Wintermans, Allie Aucoin and Samantha Grosset; nephews, Nathan Grosset and Kyle MacDonald, and Jordan Blunden, Sault Sainte Marie, who he thought of as a son.
We are heartbroken over the loss of our son, father, brother and friend. There will forever be a missing piece in our hearts and in our community at large. Spanky always had an appreciation for how short our journey is on this earth, as he leaves us to be reunited with his brother, Stephen, we remember the good times and sing "We can't all stay here forever. So, I want to write my words on the face of today…And then, they'll paint it". #69
"Invitation Only" Memorial Service for the late Spanky Dorko who passed away on May 23, 2021, will be held in the All Faith Chapel, Pier Community Funeral Home, Whitney Pier on Tuesday, August 24, 2021 at 3 p.m. with Rev. Sheldon Chant officiating. Interment will be in Resurrection Cemetery, Sydney Forks. Covid protocols will be practiced at the service and for those unable to attend, Live Streaming will be available on our website.
In lieu of flowers, donations in memory of Spanky, can be made to a charity of choice.
Funeral arrangements are entrusted to the care and direction of Pier Community Funeral Home.

Online Condolences
My condolences to you Jocelyn and to your family, my thought and prayers are with you at this very difficult time. Stay Strong ,Hugs
From:  Audrey (Oxford) Durnford
Spanky, you will be missed and thought of often. Condolences to your family at this grievous time. Rest in peace my friend.
Respectfully,
From:  Joe Hollohan
My Deepest condolences to Jocelyn, and family. I just loved Spanky, he was the best. I will miss him dearly. Rip Slacky, you were one of a kind. God you hated when I called you Slacky.The laughs we had. .
From:  Joann Turner