Whitney Pier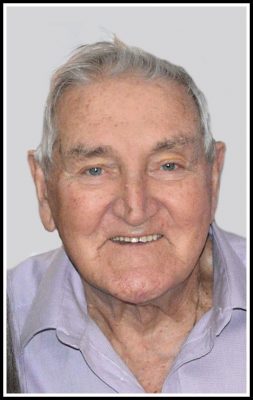 At the age of 91 years, Leo Snow of Sydney, passed away peacefully on Monday, January 25, 2021.
Born on November 2, 1929 in Sydney, Leo was a son of the late Bernard and Sarah (Norcott) Snow.
Leo enjoyed a good life, living in a little bungalow in Whitney Pier surrounded by his loving wife of 68 years, Colleen, and their five children. Leo was a fun-loving, kind, and caring man who loved camping, dancing, and family, not necessarily in that order. His fondness for black & white Westerns was only surpassed by his love of tea and cookies.
Leo had a long and happy retirement after working in the scrap yard at the Steel Plant for 42 years, retiring at age 57. He wintered on Gatacre Street, where he loved to snow-blow the neighbourhood, and summered at Plage St-Pierre Campground in Cheticamp, where he enjoyed beaches and campfires.
Besides his parents, Leo was predeceased by his siblings, William, Bernie, Frances, and son, Allan, who we know had the teapot on when his dad arrived at the Pearly Gates.
Leo will be deeply missed by his devoted wife, Colleen; children, Michael (Debbie), Belinda (Trish), Aldon (Mary Ann), Philip (Jean) and sister, Marie (Abe). Pops will be missed by his cherished grandchildren, January, Crystal, Kirk, Mitchell. His great-grandchildren will learn about him through our many shared memories.
Leo's stubbornness served him well throughout his life; even in his last months, his strong will and sheer determination kept him strong right up until the end of his journey. Our father was a simple man; he went to work, paid the bills, showed kindness to others and his sole purpose in life was to provide for his family. He was a good man who tried his best.
There will be no visitation for the late Leo Snow. Memorial Service will be celebrated on Thursday, January 28, 2021 at 10 a.m. in Holy Redeemer Church, Whitney Pier with Fr. Paul Murphy officiating. All Covid-19 protocols will be adhered to.
In lieu of flowers, Leo would hope that you do an unexpected and unsolicited act of kindness in his name.
Dad, our hearts will never stop missing you. Give Allan a hug and give all the dogs a treat
Funeral arrangements are entrusted to the care and direction of Pier Community Funeral Home.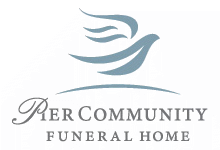 Online Condolences
Colleen, Aldon, Phillip, Mike and Deb, Belinda and families, I'm so sorry to hear about Leo, sending you all my condolences, know I am thinking of you all, Leo was a kind and gentle man who will be greatly missed, RIP Leo
From:  Sandra Power Wall
Our deepest condolences to Colleen and family on the passing of a truly wonderful and caring neighbor for over 40 years. We had many chats over the years. Leo always loved to reminisce about his drive to the summit of Mount Washington. RIP old friend.
From:  Frank and Delores Starzomski
My deepest sympathies are extended to Mike and his family on the passing of a wonderful father and friend. My heart goes out to you all at this time. May he RiP.
From:  Ann (Lewis) Dancsecs
Mike, Debbie, January, Crystal and Mrs. Snow – so sorry for your loss, please know our thoughts are with you at this difficult time. Keats & Brenda Biron
From:  Keats & Brenda Biron
Colleen and family. We are so sorry to hear of Leo's passing. I know how special Leo was to everyone and what great memories he has left behind. Wishing you all the best in these hard times,
From:  Gen MacLeod-Kevin Primmer
Colleen & Family, Our deepest sympathy on hearing of Leo's passing! He was such a fine man and so good to the kids who would go to your campsite to play ring toss. He will be missed!
From:  Roger & Mary Lou Chiasson, Cheticamp Island
Belinda and Trish. I was very sorry to read the passing of your father Belinda. My thoughts and prayers are with all of you.
From:  Monica AuCoin
Colleen, I am so sorry for your loss. Leo was such a pleasant man.
He will be missed and fondly remembered by many.
Our thoughts are with you and your family.
Cecil and Beulah Ash
From:  Beulah Ash
Sorry to hear about the passing of Mr Snow. your old neighbor.
From:  Elaine Ryan.
Coleen and family…so sad to hear of Leo's passing. I am sure he is in heaven dancing now.
Deepest condolences
From:  Mary McInnis. (Ed Kane)
My deepest condolences to you Colleen and your family. Please know I am thinking of you always and I will keep you in my prayers
From:  Myrna Brown
Our sincere condolences to the Snow Family. Leo was a true gentleman. We will miss him at the campground. Thinking of you all.
From:  David and Jenny Tighe
My sincerest Condolences to the family of Leo. He was sweet man to me. Always had a joke for me .He was so kind I'm sure he will be missed deeply..
From:  Lucy Devoe
Colleen and family,
So sorry to hear about Leo's passing. We know he is in good company now and our thoughts and prayers are with you all.
From:  Karen and Darcy Church
Dear Coleen I'm sending my deepest condolences to you and your family. I'm keeping you all in my thoughts and prayers.
Love Mae
From:  Mae Mac Lean
Colleen & family, So very sorry for your loss. Leo was such a kind, sweet, and funny gentleman, who always had a joke to tell us. He will be missed. May all the happy memories you have of Leo help you through this sad and difficult time. Our thoughts are with you and your family. Janice and Keith
From:  Janice Davidson
My sincere condolences to Coleen and family. May he Rest In Peace.
From:  Marie Chiasson
So sorry to hear of Leo's passing, my sincere condolences to the Snow family.
From:  Steve Horechuk