Main-a-Dieu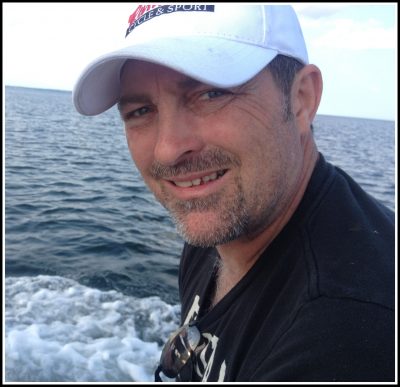 It is with profound sadness that we announce the sudden passing of Blair 'Brown Cow' Lahey, loving husband, father, son, and brother, on Monday, January 18, 2021 at the age of 53.
Born on March 29, 1967 to Iris (Phillips) and Philip Lahey, Blair grew up in Main-a-Dieu with a close-knit family and community of friends.
Blair loved his children to the moon and back and he was so proud of their accomplishments. He loved each of them dearly for their own unique and beautiful personalities. He was blessed to meet his soulmate, Alison, later in his life who he adored and cherished. Blair's zest for life combined with Alison's adventurous spirit led to many lasting memories.
Blair enjoyed stock car racing and going for long, carefree rides on his Harley Davidson, where he felt most at peace. He excelled at lobster fishing and was most admired by his faithful crewmate, Mom. Playing the guitar and jamming with his friends and family were also very special to him. Blair was always willing to lend a helping hand and share a good laugh with his friends. He had a huge heart, which he wore on his sleeve.
Blair had many skills and used them in various jobs throughout his life, such as heavy equipment operator, tractor trailer operator, and ice road trucking. No matter how far away his jobs took him, he was happiest when he returned home to the place and the people that he loved.
Left to mourn are his loving wife, Alison (Hillman); children, Taylor, Mason, and Kali; parents, Iris and Philip, and brother, Eugene, whom he loved, respected, and valued dearly; only niece, Paige; "Special Brothers", Stuart, Jimmy, Anthony, and Frank; the Mira boys; mother-in-law, Marilyn Hillman; fur buddy, Sadie; as well as many aunts, uncles, cousins, and in-laws.
Due to the COVID restrictions, the immediate family will have a private memorial service to celebrate the life of Blair Lahey at Pier Community Funeral Home, 1092 Victoria Rd. (entrance on Church St.), Whitney Pier on Monday, January 25, 2021 at 2 p.m. with Sheldon Chant officiating.
Online condolences can be forwarded to the family at www.pierfuneralhome.com and for those not attending the service, a live streaming link will be available. Choose the Live Stream Link from the drop-down menu on the website.
To honour Blair's memory, we ask that you be kind, not judge others, and to support local charities that help those in need.
Funeral arrangements are entrusted to the care and direction of Pier Community Funeral Home.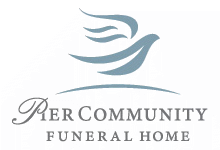 Online Condolences
My deepest condolences to Blair's family & friends! Sending love & light ♡ RIP Blair!!
From:  Cindy Boutilier
Sorry for your loss
From:  John Cechetto
Saddened by the news of Blair's passing Alison. You are in my thoughts and also my deepest condolences his family.
From:  Heather Robson
Sending our deepest and sincerest condolences Phil, Iris and Gene. Thinking of you all through this difficult time and sending you lots of love.
From:  Shirley Peters (on behalf of Albert & Maureen MacDonald)
Please accept my most heartfelt sympathies for your loss. My thoughts are with you and all your family during this difficult time. Condolences to all of Blair's family and friends. May he Rest In Peace.
From:  Brenda Goyetche
So Sorry for your loss.
From:  Stewart and Sandra Kennedy.
So Sorry for your loss. RIP Blair.
From:  Harold and Judy Wadden
Dear Uncle Philip, Iris and Gene and the rest of the family. My thoughts and prayers are with you all. I wish I could could be home with you all. Rip Blair you are with Nanny and Big Robert, now you have your wings. Im sure you are at the racetrack with Dale sr. Your idle for so many years.
I love you all so much .
From:  Nadine
Our deepest condolences Alison,you are in our thoughts & prayers. Howard & Sis Kenny
From:  Sis Kenny
Sending our heartfelt sympathy to the entire family our thoughts and prayers are with you all. May God Bless you and give you strength though this devastating time.
From:  Ross & Cheryl Lewis
So sorry for your loss. Brown Cow always had time to have a little chat whenever he saw you and of course a giggle or two. RIP Blair. Condolences to all the Family.
Nelaon & Darlene Kaiser
From:  Darlene Kaiser
Dear Glenna, Taylor, Mason and Kali; I am so sorry for your loss. My thoughts and prayers are with you.
From:  Mabel Holland Troke
Iris, Philip and family, I am very sorry for your loss.
From:  Lillian (Dawe) Goyan
I'm deeply saddened for your lose Blair was a great buddy and friend he will be sadly missed forever
From:  Darrell Mac Macleod
Sincere sympathy is extended to the family of Blair's passing. Our thoughts and prayers are with you at this difficult time.
From:  Jim and Theresa Hiltz
Our condolences to the Lahey family on Blair's sudden passing. Thoughts and prayers to you during this difficult time
From:  Darlene and Kevin Bates
Dear Alison: It is with sincere sympathy we mourn the loss of Blair. What a terrible thing to happen to a beautiful, wonderful person as you again our condolences.
From:  Greg and Ann Mac Sween
Iris, Phillip and Gene,
Words can't begin to express our sadness for your loss. Blair was such an awesome guy with a huge amazing heart!!
Please know we are close by if you ever need anything….
"Where lives pass, memories carry on forever!"
RIP Dear Blair….
Love Bonnie & Robert
From:  Bonnie & Robert Tutty
Thoughts & prayers to Alison & all of Blair's family & friends. Blair always took the time whenever I ran into him to have a chat. Not growing up in Mira it meant a lot to me that he took the time to stop and say hi. He new my husband Tracy and because of that he made me feel comfortable in the community by taking time out of his day to do so. All your special memories will be everlasting!
Sincerely, Jo-Ann MacDonald
From:  Jo-Ann MacDonald
Thinking of you all today. So very sorry for your loss. Blair was an amazing person and a wonderful friend. My prayers and thoughts are with you.
From:  Nicole Haddad
So sorry all Blair's family. May your memories of him carry through this time of sadness and sorrow! 
From:  Stan and Judy Dicks
So sorry for your loss. He will be greatly missed.
From:  Ruth Ann Madden
Our sincerest condolences on your loss. Blair was a terrific fellow and will be missed by all who had the pleasure of knowing him. Our thoughts and prayers go out to his family.
From:  Cyril and Marena Coish and family