Sydney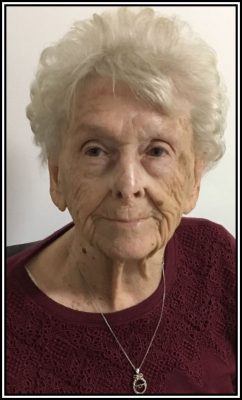 We are saddened to announce the passing of our mom, Janet Doran, who passed peacefully on Friday, January 29, 2021 at the Cape Breton Regional Hospital in Sydney.
Born on November 12, 1925 in Sydney, Janet was the daughter of the late George and Mae (Beach) Wambolt. She was a lifelong resident of Grand Lake Road.
Janet was loved by all who knew her. She was fondly known as Momma Mouse with a heart of gold and a gentle soul. She loved going to bingo and going for a drive, stopping along the way for a sundae. Her teapot was always on and she never wanted you to leave the house hungry.
Janet is survived by her sons, Charles, George (Jane), Ray (Catherine) and Richard; daughters, Ida (Robert), Erna, Shirley (Jack) Laffin, Margaret Fitzgerald, Charlotte (Keith) Pyne and Charlene Pope; 15 grandchildren; 17 great-grandchildren; three great-great-grandchildren; brother, Gordon (Monica) Wambolt; sister, Velzora Campbell; sister-in-law, Annabelle Wambolt; as well as many nieces and nephews.

Besides her parents, Janet was predeceased by her husband, William; daughter, Eileen Nicholson; son, William; sons-in-law, Patrick Fitzgerald and Frederick Pope; great-grandson, Vincent Nugent; as well as seven brothers and five sisters.
Due to Covid-19 restrictions, the funeral for the late Janet Doran will be held at a later date with interment to take place Resurrection Cemetery, Sydney Forks.
Donations in memory of Janet may be made to a charity of one's choice.
Funeral arrangements are entrusted to the care and direction of Pier Community Funeral Home.
"Forever and Always in Our Hearts"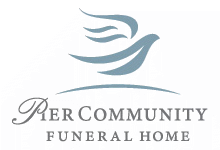 Online Condolences
Please accept my heartfelt condolences for the loss of your dear mom. My thoughts and prayers are with your family.
From:  Rena Boudreau
I wish to express my heartfelt thoughts and prayers, Charlotte and Charlene as well as all the family on your loss of your mom. As Charlotte says, heaven has another angel.
From:  Walter Hanson
Ray and family, my deepest sympathy. Cherish all your happy memories and recall them often. Thoughts and prayers to you and your family.
From:  Brenda Morin
So sorry to hear Aunt Janet has passed away, we still remember the last time we saw her at the reunion in 2016. She gave Mabel one of her red roses that she got at the supper and it lasted all the way home and they let us keep it at the Border.
From:  Frank and Mabel Saunders
Sending our thoughts and prayers ,to the Doran Family ,thinking of you at this difficult time Ray and his siblings God Bless you all.
From:  Joan & Raymond Boudreau
Sincere condolences to the children on the death of your mother.
From:  Kathryn (Mac Cormack) Cogswell
Please extend our deepest sympathies over the loss of your mother Ida.
from The Rudderhams
From:  Sharon Rudderham
So sad to hear about the death of my long time friend Janet, we grew up together on Grand Lake Rd. My condolences and best wishes to her family
From:  Hazel ( Goode) Mac Dougall
I was deeply saddened to hear of my Aunt Janet's passing. My deepest condolences to all my cousins and their families. Aunt Janet was special and so kind hearted it is hard to imagine. She was especially good to me growing up and always had a piece of homemade bread and tea at the ready. I will miss her dearly. God bless you all and rest in peace Aunt Janet.
From:  James Doran