Edwardsville
It is with great sadness, we the family, announce the passing of our mother, Mary Cavell Rudderham, age 93, on Monday, August 24, 2020 at Harbourstone Enhanced Care, Sydney.
Born on September 8, 1926 in Florence, Mary was the daughter of the late George William and Lucy (Morris) Barrie.
Mary worked at the Cape Breton Hospital and the TB Annex in Point Edward. She was known to have a big heart to all who knew her, and she enjoyed a good cup of tea and her music. She had a love for animals and spending time at the bungalow in Grand River.
Besides her parents, Mary was predeceased by her husband, Allan; children, Calvin and Kay; grandson, Tim; siblings, Irene, and Louis as well as half-brothers, Alison, George, James and Glen.
  Mary is survived by her son, Wendell (Cindy) and their children, Natasha (Colin), Tiffany (Stewart), Travis (Laura), Kendell (Danielle) and Ryan (Marley); daughter-in-law, Debbie and her children, Amanda (Herve) and Tyler; son, Bob (Eileen) and their son, Darcy; grandchildren, Cindy (Wayne), Charlie (Holly) and Ed; 14 great-grandchildren; five great-great-grandchildren; sister-in-law, Rosella; half-sisters, Gloria and Sharon and half-brother, Fred; as well as many nieces and nephews.
Funeral service to celebrate the life of Mary Rudderham will be held at Pier Community Funeral Home, 1092 Victoria Rd. (entrance on Church St.), Whitney Pier on Friday, August 28, 2020 at 1 p.m. in the All Faith Chapel with Rev. Rosemary Godin officiating. Interment will take place at Forest Haven Memorial Gardens, Sydney.
In lieu of flowers, donations in memory of Mary can be made to a charity of one's choice.
Funeral arrangements are entrusted to the care and direction of Pier Community Funeral Home.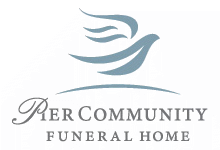 Online Condolences
Dear Wendell, Cindy and family, Dave and I send our condolences to all of the family
From:  Heather Mackenzie
To The Family So Sorry To hear of your loss you are all in my Thoughts And Prayers
From:  Debbie Macivor
Wendell and family, I am so sorry to hear of the passing of Aunt Mary. I remember lots of good times at her house when we visited. I remember how much she loved music. I love you all and I will be thinking of you and keeping you in my prayers in the days to come
My deepest condolences,
From:  Dea Dea(Deanna) McHendry
So sorry to hear of Mary's passing. She lived a long full life. She was one strong lady. I have many fond memories of her and her family coming over to Florence to visit Mom and Dad. She had such a beautiful smile .I remember her love of animals and music. Our first Siamese cat Cocoa came from her. I am sure you Wendell and family have many fond memories of your mom. She is at peace now with your Dad and Calvin. Hold on to those precious memories because they will comfort you in time. xo
From:  Dale and Wayne Mac Dougall
Sending our deepest sympathy at this time.
A.F.F.A. Doddy & Bobby Keel (Hollohan)
Truro N.S. (Whitney Pier)
From:  Doddy Keel
I'm so sorry to hear about the loss of your mother. Mary and Allan always welcomed Roy and I into they're home and treated us like family. It brings back nice memories and for that I'm grateful.
From:  Theresa Power