Louisbourg
It is with broken hearts that we announce the peaceful passing of Dorothy Tutty on Wednesday, July 8, 2020 at home, with her family by her side.
Born on August 19, 1930 and raised in Louisbourg, Dorothy was the daughter of the late Alice and Archibald Leahy.
Over the years Dorothy was employed at the local fish plants and the Fleur-de-lis Motel. She was a member of Stella Maris Parish and the CWL. Dorothy loved being around people, never missing a Crabfest. She enjoyed dancing at the Bateston Athletic Club and evenings around the fire pit next door.
Dorothy was a loving mother and grandmother who will be fondly remembered by her son, Percy (Gearlyn); daughters, Sharon (Danny) and Diane; as well as her pride and joy, her grandchildren, Scott, Stacey, John David 'JD' and Alexandra; Dorothy treasured her fur baby, Ali, who was constantly by her side. She is also survived by her sister, Diana (Clark) MacKinnon.
Besides her parents, Dorothy was predeceased by her husband, Percy Tutty; sister, Mary Leahy; brother, Archie (Margaret) Leahy and son-in-law, William Tutty.
Visitation and memorial service to celebrate the life of Dorothy Tutty will be held at Pier Community Funeral Home, 1092 Victoria Rd. (entrance on Church St.) Whitney Pier on Sunday, July 12, 2020. A gathering of family and friends will take place from 4 to 6 p.m. with the memorial service to follow at 6 p.m. in the All Faith Chapel with Fr. Evo Di Pierro officiating. Private family interment will take place at Stella Maris Cemetery in Louisbourg, at a later date.
The family would like to thank Dr. Buhariwalla, Dr. J. Dunn, the VON, Palliative Care and City Home Makers for their care of Dorothy in her time of need. To Milton and Ellen Cross, Steve and Cathy Price and Collette Parsons, you have our sincere gratitude for all you have done.
In lieu of flowers, donations in memory of Dorothy can be made to a charity of one's choice.
Funeral arrangements are entrusted to the care and direction of Pier Community Funeral Home.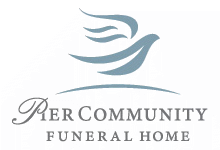 Online Condolences
May it comfort you to know that, your loved one Is safe in Gods care now, and that friends are praying for you in your time of sorrow…Sorry for your Loss.
From:  Debbie & Mike Mahon
Gearlyn, Percy & Family- My sincerest condolences on your loss. May beautiful memories help you through this difficult time. Sending hugs and prayers.
From:  Gwendolyn MacLean
To all of you, I'm sorry you have had to say goodbye to your mom, grandmother, mother-in-law, sister. I will remember her always; her laugh, her pork pies, and dancing with Percy to Charlie Pride. Although those are long ago times for me, they are still bright in my memories.
She loved you dearly and has had 63 years with you which you cherish as much as she did. This will never leave you.
My thoughts are with you, Gloria
From:  Gloria Theriault (Tutty)
Sharon,Diane and Percy.
We are very sorry for the loss of your Mom. It is not an easy time for all of you and it will take time for the pain to ease. Take care and look after one another.
Our thoughts are with you.
From:  Brent and Joanne
My prayers and thought to the family at this time. Although most of you do not know who in the world I am I was once a family friend .. many years ago. God bless .. Ruby (Williams)
From:  Ruby Berringer (Williams
Diane Sharon and Percy and all family . I am deeply saddened to hear about Dorothy. She was an amazing person, Mother and Grandmother. I have such fond and funny memories of her, staying at the house , crab fest , parties at both the Tutty's homes and long conversations . You will be missed . Sending big hugs to you all .
From:  Dawn Muise