Sydney

We regret to announce that Hazel Williams, age 79, passed away peacefully on Saturday, April 11, 2020 at the Cape Breton Regional Hospital.
Born on September 24, 1940 on Scatarie Island, Hazel was the daughter of the late William and Mary (Kennedy) Wadden.

Hazel was a long-time member of the Carmelites and very involved with the Church.
Hazel is survived by her daughter, Mary (Gary) Lahey, Catalone; three sons, Joey (Cheryl) Williams, Calgary, Daniel (Maureen) Williams, Albert Bridge and Kenny (Johanne) Williams, Winnipeg; sister, Joan (John Allen), Catalone; grandchildren, Gary, Cherie, Danielle, Kyle, Crystal, Candice, Kevin and Christopher; great-grandchildren, Garrett, Kenzie, Payton, Nolan, Amelia and Logan as well as several nieces and nephews.
Besides her parents, Hazel was predeceased by her husband, Ernie Williams; brothers, Stanley (in infancy), Tony, Reg, Stanley, Aubrey, Howard, Dave, Michael and Roddie; sisters, Sally (in infancy), Theresa, Florence, Carmel, Violet, Doreen and Marguerite.
We would like to thank the staff at the Halifax Infirmary ICU and the Cape Breton Regional Hospital ICU and Palliative Care Unit for their care of Hazel in her time of need.
Memorial service for the late Hazel Williams will be announced when circumstances permit.
Funeral arrangements are entrusted to the care and direction of Pier Community Funeral Home.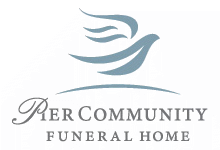 Online Condolences
My thoughts to the Williams family. Hazel was a dear friend of mine, she was a very special person. We had many moments together and she expressed her goodness in so many ways. She was a very caring Christian who I'm sure is in a very heavenly place of peace. I'll miss her so very much . If I could choose a sister it would be Hazel.
From:  Philip Khattar
We are very sorry for your loss..God Bless and may the wonderful memories help you heal…
From:  Willard and Cora Mac Kay
Mary, Joey, Daniel, Kenny, Joan, and Family
No matter how old we are, losing a mother is one of the deepest sorrows a mother can know but her goodness, her caring, and her wisdom lives on like a legacy that will always be with you all. With Deepest Sympathy – May you feel God's comforting presence during this time of sorrow. Debbie and Mike Mahon
From:  Debbie (Burke) Mahon
So sorry for your loss, Hazel was a beautiful kind lady, RIP Hazel. VPeace to all her family.
From:  Marie MacIntyre
Hazel was a lady who worked hard all her life. She had great faith and a great sense on humour. Now rest my friend in the arms of Jesus.
From:  Rodger and Arlene Mac Kenzie
So sorry for your great loss, and sorry we cannot see all of you in person at this time. Stay safe.
From:  Angus, Lorraine, Linda MacDonald and Arlene and James White.
Joey Mary Daniel and Kenny and families So very sorry to hear about the loss of your mother. I remember her as a very lovely lady. Again my Condolences
From:  Anita Reginato and Tootsie
Mary and Gary, we are so sorry for your loss. We will miss seeing her at mass. Please let us know when her service will be.
From:  Anita and Barry MacDonald
Dear Family, So sorry to hear that Hazel passed away,She was a dear, kind person.For several summers she filled in for me as Eucharistic Minister at St. Theresa's I will miss her. Sincere condolences, 
From:  Bob & Barbara Mac Lean
Daniel, Mary, Joey, Kenny and families So very sorry for your loss, we share in your sadness
From:  Dale and Gary Reginato
We are saddened to hear about the passing of Hazel. She was a valued member of our parish of St. Joseph's for many years and continued to enrich Sydney parishes over the years. She lived her faith daily and was an example of a fine, Christian lady.our sincere condolences.
From:  Robert & Raylene Young (Albert Bridge)
To Hazel's family,
So sorry to hear about the loss of your mom. We have known Hazel for a long time through St. Joseph's church. She was very dedicated to the church and was always there to greet you with a smile and a hello.
Our deepest sympathy
From:  Rick and Cathy MacDonald, Albert Bridge
Sorry for your loss!! Rest in Peace Hazel.
From:  Joan Macintosh
Hazel may you rest in the arms of God. Your work here is done. My condolences to your family and love ones. You always made me laugh. I am grateful for the short time I knew you. Please say a prayer for us we sure need it.
From:  Rodger and Arlene Mac Kenzie
To the family. I am the sister of Father Tiva. My mother and I remember your mom with fondness and wish to offer my sincere condolences on your loss.
From:  Esther Tiva
So sorry for your loss, our prayers are with you all. Lil MacIvor and family.
From:  Lil MacIvor
My sincere condolences to Hazel's family! What a beautiful person Hazel was always so kind and generous. She truly had a giving heart., she was forever giving out her treats to everyone! Homemade jams desserts berries. So grateful that she was my friend. She came to my house every week to pray in our group and socialize with us. I'm so sorry I cannot be there for her memorial. She will always be in my heart.
From:  Rodina Whitman