Whitney Pier
It is with profound sadness that we, the family, announce the death of our mother, Margaret Healey age 92, on Sunday, April 19, 2020 after a lengthy battle with Lewy Body dementia. Our dad, Earle, her devoted husband of 64 years, was by her side.
Mom was born on September 22, 1927 to Martin and Bridget Josephine (Dawson) Delaney of Ashby.
Mom was a graduate of Holy Angels High; class of 1946. In her younger years she worked at the Commerce Bank, provided music programs in Special Needs classrooms and taught summer music programs to teachers. Mom was a gifted piano player who loved entertaining at senior guest homes throughout the community. She worked for Parks and Recreation teaching beginner, intermediate and advanced ukulele. She was the director of the Cape Breton Ukulele Strummers for over 35 years until her illness prevented her from continuing. Together, this lively group performed at seniors' homes, socials, anniversaries, reunions and summer festivals. They had a special ability to make everyone feel happy and forget their worries, through music and song. Mom considered them as her second family.
In 2007 she was humbled to have been chosen as the feature musical artist at the annual Pier Scape Festival; an honour she cherished. In 2012 she was awarded the Queen Elizabeth II Diamond Jubilee Medal for her outstanding contributions to her community. Mom was a devoted Catholic and a Cursillista. She served for many years as a Eucharistic minister and Religious Education instructor at Holy Redeemer Church. She was an Associate with the Sisters of the Congregation of Notre- Dame for 30 years.
Mom enjoyed Sunday drives, playing cards, trying her luck at scratch tickets, going to bingo and after Dad's retirement, travelling with family. She loved her children, grandchildren and great-grandchildren with all her heart and cherished the wonderful times they had together.
Mom is survived by her loving husband, Earle; her children, Evelyn (John Young), Vincent, Kelley (Brian Laughlin) and Jo-Anne (Dr. Kory Tuomimen); grandchildren, Melanie Fewer (Mark Gentile), Hollie Fewer (Tyler Walsh), Robert Young, Katy Mahoney (Jamie MacNeil), Grant, Spencer, Ellie and Kent Tuominen; great-grandchildren, Braeden, Camden, Blake, Meredith and Carter. A special mention to her grandpuppy, Rassle, who was her faithful companion after our dad entered long term care. She is also survived by sisters, Agnes MacIntyre (the late Marty) and Jean MacLeod (the late Hughie); sister-in-law, Muttsy Burke (the late Frank); brothers, Joe Delaney (the late Betty), Pat Delaney (Myrna) and Jerry Delaney (Warna); along with many nieces and nephews.
Besides her parents, Mom was predeceased by sisters, Mary Tobin (the late Bill) and Theresa Smith (the late Ted); brothers, Mart Delaney (Ruth), Gerald Delaney (Marg), Ron Delaney (Marie) and Jim Delaney (Cecelia); along with in-laws, Phil and Shaw Healey, Marguerite and Fraser Burke, Jib Healey (Rhoda), Edith Healey and Sr. Evelyn Healey.
Mom's favourite saying was, "A good laugh is better than 40 pills a day". These were words she truly lived by. Her life has been a shining star for our family that will never dim. We have been so blessed to have had such a wonderful example of faith, strength and unconditional love in our lives.
At this time, we would like to extend our heartfelt thanks to Dr. Hall and the dedicated staff at Steelworker's and Lavatte's Lane at Harbourstone Enhanced Care. We thank you for the compassion, kindness and exceptional care shown to our mother.
Due to social distancing, there will be a private family viewing only. Memorial Mass to celebrate the life of Margaret Healey will be held at Holy Redeemer Church, Whitney Pier when circumstances permit. Interment will take place in Resurrection Cemetery, Sydney Forks.
Donations in Margaret's memory may be made to the Whitney Pier Boys and Girls Club, Holy Redeemer Building Fund or Doctors without Borders.
Funeral arrangements are entrusted to the care and direction of Pier Community Funeral Home.
When tomorrow starts without me, please try to understand,
That an angel came and called my name, and took me by the hand;
The angel said my place was ready, In Heaven far above,
And that I'd have to leave behind all those I dearly love.
But when I walked through Heaven's Gates, I felt so much at home,
for God looked down, smiled at me, And told me "Welcome Home."
So when tomorrow starts without me, Don't think we're far apart,
For every time you think of me, I'm right there in your heart.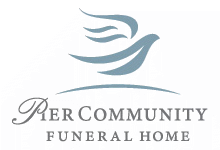 Online Condolences
Our thoughts and prayers are with you. Truly a lovely lady.
From:  Richard and Jean White
So very sorry to hear of Marg's passing. Our thoughts and prayers to her family at this most difficult time. Glen, Eleanor (O'Callaghan) and Jeni Neal.
From:  Eleanor Neal
I am sorry to hear about the loss of Margaret. For the time I have known her she was always polite and kind any time we would meet. I pray that you all find peace and hope in her memory.
From:  Joseph Howell
Marg was a good friend of my late sister Shirley Bonaparte. I met her when Shirley was sick, Marg visited her at my home with Sister Rita Clare. She brightened a lot of lives and did her best to bring happiness to others. Please accept our condolences.
From:  Evelyn Peters
So sorry for your loss Evelyn and family. Your mother was such a wonderful lady, she will be missed.My deepest condolences to you and your family at this very difficult time.
From:  Florence (Cholock) Mac Kenzie
Earle,Kelly,Brian and family, so sorry to hear of the loss of your wife and mother. Our thoughts and prayers are with you all. She was a very special lady and will be greatly missed.
From:  Jackie and Bruce Matthews
Very saddened to read of Marg's passing. what a great women. so many memories she left me with. listening to her playing the piano singing along with her in your dining room on Oakville Dr sitting on the polisher as she shined her floors for club. reciting my poems in the hall before each speech festival and drilling our spelling into our heads before our tests on Fridays. lifes work well done dear Marg
From:  Patsy Gushue Neville
My deepest condolences to you all, remembering your mother in my prayers today,
From:  Karla Boutilier Harris
Evelyn and Family, very sorry to hear of your Mother's passing. Our condolences. Love and Prayers,
From:  Linda and Phonse LeJeune
To Evelyn, Jo-Anne, and all the family, I am very sorry for your loss.
From:  Matthew Cook
So sorry to hear of Marg's passing. A very bright light has gone out.
From:  Regina and Colleen Gillis
Our prayers and thoughts are with you during this sad time. Margie was a loving and caring person through out her whole life. We send you our deepest condolences.
From:  Ruth Delaney & family
To Evelyn and Joanne and Family,
My deepest sympathy on the death of your beloved Mom. She was a great lady.
Please know that I shall hold you in prayer. These are difficult days with the many
restrictions re funerals and wakes. Your Mom went to heaven, so all is well!
Love, sending comfort and care, and many blessings,
From:  Sister Sandra (Cooke)
Eunice and I would like to offer our deepest condolences to Earle and family, on the loss of their wife/ mother. Marg was a lovely lady,and an excellent ukulele instructor.
From:  Lester Chiasson
Sincere condolences to all of the Healey and Delaney families. Although your loss in great, take comfort in knowing how many lives she touched in a positive way. Hugs to all of you during this sad time. Rest in Peace Marg.
From:  Janet Gallivan
Evelyn, John, Family, and extended Family,
You were truly blessed. What a wonderful life, and so many accomplishments. We know there is another angel watching over us now. This world's loss is God's gain in heaven. So very sorry for your loss.
From:  Patrick McNeil
Dear Earl and Family,
Margie was an amazing woman who will be sorely missed. Whenever I think of her, I smile and remember the love and joy she brought to so many. Bless you all in this difficult time.
From:  Sandra Dunn
Margie was my God mother . An extremely kind lady and she reminded me very much of my mother ( her sister) Mary. Sincerest condolences on your loss from all of the Tobin family.
Blair / Mike / Lynn and Karen .
From:  Blair Tobin
My sincere condolences and heart felt sympathy to the family of Margret She was such a beautiful lady loved being greeted with her smile everyday Love hugs and prayers sent your way. Fly high with the angels
From:  Cyndi Dithurbide
Kelly, Brian and Family
Eric and I are so sorry to hear about Margie's ( as my mom called her) passing. Her obituary certainly captured her enthusiastic, love and zest for life. My daughters and I loved the Margie Healey stories told by mom as they grew up in Ashby and walked to school to Holy Angels. Take care our thoughts our with you at this time.
From:  Sincerely, Eric and Colleen MacLeod
Marg was a special lady. She had so much class. As a ukulele instructor, she always made you feel you had talent and was very gentle with constructive criticism. We all loved her for her gentle ways and beautiful smile. My thoughts and prayers are with her family at this difficult time.
From:  Kay MacDonald.
Evelyn and John…So sorry to see of Marg's passing. She was such a lovely,talented, and spirited woman. I became very fond of her and her pleasant disposition. She will be missed by so many . She contributed much to the community as well as her family. Please pass my sympathy to Melanie, Holly and families. From:  Susan Burke.


A remarkable woman who will never be forgotten. It was a great privilege knowing Aunt Margie. Some of the most memorable moments of my life involved spontaneous Sunday afternoon visits from Margie and Earle when I lived in Westmount with my mother.
From:  Karen Tobin
Kelly and Brian, Your mother was a beautiful person who was able to share her many talents with others. She had such a long beautiful life, you will have such loving memories to share.
From:  John and Yvonne Donovan
Evelyn ,Earl and family,
So sorry for the loss of your beautiful mom and wife. She was a lovely lady. She always greeted you with a smile and held your hands like she was greeting an old friend. Her eyes lit up when she smiled.
You must be proud of all she accomplished in her lifetime. She was quite a lady! My mom and dad always spoke very highly of her . May you treasure your memories of her and may she Rest In Peace
From:  Patsy and Alan Moore