North Sydney/ Westmount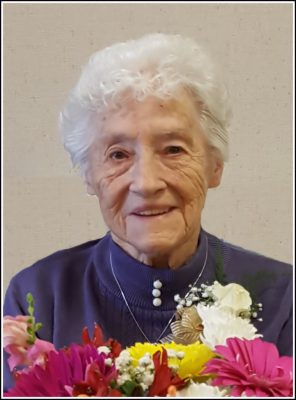 Gwendolyn Mary Richards, age 91, passed away peacefully on Sunday, March 8, 2020 at the Northside Community Guest Home, North Sydney.
Born on April 16, 1928 in Lamaline, Newfoundland, Gwen was the daughter of the late Frank and Winifred (Caines) Hooper.
Gwen was a long-time resident of Fulton Avenue, Westmount, prior to residing at The Northside Guest Home. She enjoyed spending summers at the summer home in Englishtown. Gwen was an active member of former St. Marks and St. Aidans Anglican church and was active in the ACW. Gwen loved to pick blue berries, bake, knit and crochet. While at the Guest Home she attended all functions and outings to her delight. We would like to thank the staff for their excellent care and love. She loved you all.
Besides her parents, Gwen was pre-deceased by her husband, Fred; brothers, Maxwell and William; sisters, Meta, Elizabeth 'Bess' and Ruby.
Gwen is survived by her sons, Frank, Sydney and Jim (Margaret), Saint John, New Brunswick; grandchildren, Shari, Jolene, Anissa and Carla; 7 great-grandchildren and 3 great-great-grandchildren; sisters, Grace (Steven) Flemming and Marjorie Bonnell, both of Newfoundland; as well as many nieces and nephews and a very special niece, Patsy Murray.
Visitation and funeral service to celebrate the life of Gwen Richards will be held at Pier Community Funeral Home, 1092 Victoria Rd. (entrance on Church St.) Whitney Pier on Saturday, March 14, 2020. A gathering of family and friends will take place from 1 to 2 p.m. with the funeral service to follow at 2:30 p.m. in the All Faith Chapel with Rev. Douglas Beck officiating. Light Refreshments will take place in the funeral home reception area following the service. Interment will take place at Bay View Cemetery in Englishtown, N.S. at a later date.
In lieu of flowers, donations in memory of Gwen can be made to a charity of one's choice.
Funeral arrangements are entrusted to the care and direction of Pier Community Funeral Home.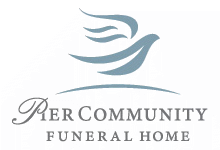 Online Condolences
To Jim And Frank and family. We are very sorry to hear of Gwen's passing. We are very sorry that we can not be with you at this time. Gwen being the last surviving member of the Richards family. Take care and God bless Ross & Carolyn.
From:  Ross & Carolyn Richards
Jim – Frank and Families
I wanted to send my condolences on your mother's passing .
From:  Brian Butler
Our beautiful sister Gwen may not always be by our sides but she is always in our hearts.
Love from her sisters Grace and Marjorie.
Condolences to the entire family at this very sad time.
From:  Sisters Grace Fleming, Marjorie Bonnell and families.