Sydney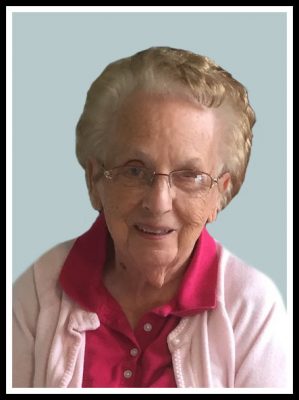 It is with great sadness, we the family, announce the passing of our mother, Dorothy Mugridge, age 90, on Wednesday, February 19, 2020 at the Cape Breton Regional Hospital, Sydney in the An Cala Palliative Care Unit, surrounded by her loving family.
Born on November 14, 1929 in Whitney Pier, Dorothy was the daughter of the late William and Mae Clarke.
Dorothy was the loving wife of the late Ernest L. Mugridge and a wonderful mother to six daughters, Judy (Norris) Moss, Theresa (Harry) Lent, Sheila (Bill) Taylor, Noreen (Nelson) MacDonald, Janet (Maynard) Chant and Susan (David) MacLeod; two sons, Ernie (Beverly) Mugridge and Donnie (Carol) Mugridge. She was a grandmother to 25 grandchildren, Charlene, Terrance, Rose Marie, Nancy, Michael, Tracy, Shawn, Leanne, Freddy, Donna, Daniel, Brent, Crystal, Michelle, Bradley, Adam, Kristopher, Kelsey, Jeff, Meagan, Leah, Caleb, Melodee, Ryan and Holly as well as 44 great-grandchildren and 1 great-great-grandchild. Dorothy is also survived by her sister, Rita (Ronnie) Morrison; brother, Fred (Pearl) Clarke; sisters-in-law, Dodie Clarke, Dorothy Chipman and Marg Mugridge as well as many nieces and nephews.
Besides her parents and husband, Dorothy was pre-deceased by her siblings, Harold, William, Walter, Douglas, Wilson, Cecil, Hilda, Gladys and her daughter-in-law, Gayle (Gwynn) Mugridge and great granddaughter, Elizabeth Dauphinee.
Dorothy was a member of Harvest Community Church (Whitney Pier). In later years she was a member of the Seniors Bowling League. She enjoyed her card night with the ladies. Dorothy was an avid walker. Although she was quiet, she was always there for anyone to offer them a listening ear and a shoulder to lean on. She was always there for her family whom she held close to her heart. Dorothy will be remembered with great love in the hearts of all who knew her.
Visitation and memorial service to celebrate the life of Dorothy Mugridge will be held at Pier Community Funeral Home, 1092 Victoria Rd. (entrance on Church St.) Whitney Pier on Saturday, February 22, 2020. A gathering of family and friends will take place from 11 a.m. to 1 p.m. with the memorial service to follow at 1 p.m. in the All Faith Chapel. Light Refreshments will take place in the funeral home reception area following the service. Interment will take place at Forrest Haven Memorial Gardens, Sydney, at a later date.
In lieu of flowers, donations in memory of Dorothy can be made to the Alzheimer Society or An Cala Palliative Care.
Funeral arrangements are entrusted to the care & direction of Pier Community Funeral Home.
"Those we love don't go away… They walk beside us every day. Unseen, unheard but always near… still loved, still missed and very dear."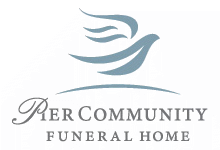 Online Condolences
Prayers and condolences to the family .Dorothy was one of the sweetest ladies I knew always so very kind and just fun to be around.She will be missed by many but now is with her Lord whom she loved dearly.
From:  Viola Cleary