Sydney
It's with a heavy heart I have to announce the sudden passing of my oldest brother, Terry on Friday, February 21, 2020 at home in Sydney.
Born on April 19, 1959 in Toronto, Terry was the son of the late Calvin and Carolyn Martell.
Terry had a big heart and always wanted to help those in need. In his younger years Terry was very involved in the YMCA and became Aquatic Director of the Northside Pool. Later he spent some time in Edmonton Alberta. He then came home to help our parents run the family restaurant "The Brigadoon" and continued to work in the food industry.
Besides his parents, Terry was predeceased by his uncle, Nelson Martell. He is survived by brothers, Kevin, Michael, and Adrian (Helen) and myself, his only sister, Anita (Ian) McVicar; niece, Taya (Chad) Alexander; nephews, Colin and Sean McVicar; uncle, Adrian (Joan) Martell; aunts, Estelle ( Stan) Reppa, Anne( Julie) MacNeil, Rita (Robert) Marshall and Bev Martell; as well as many grand nephews, nieces and cousins. He will be greatly missed by all who knew him.
In lieu of flowers donations can be made to Loaves and Fishes, Cape Breton Mental Health, or the Heart and Stroke Foundation.
A celebration of Terry's life will be held at The Pier Community Funeral Home, 1092 Victoria Rd. (entrance on Church St.) Whitney Pier in the All Faiths Chapel on Saturday, February 29, 2020 at 2 p.m. with Kevin Head officiating. Private family interment will take place at a later date.
Funeral arrangements are entrusted to the care & direction of Pier Community Funeral Home.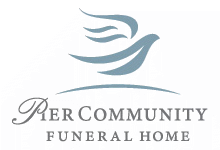 Online Condolences
Kevin Adrian and Anita .so very sorry to hear about the passing of Terry may he rest in peace. My thoughts are with you all in your time of sorrow
From:  Dianne Harvey
It saddens me greatly to learn that Terry has passed away. Terry had a wonderful heart and was always helpful and friendly. Without Terry and the other swimming Martells we would not have had such great success in the swim meets, not to mention the tremendous leadership and contribution he made to the sport. Such a shame to break up a great team. Sincerest sympathies to Kevin, Michael, Adrian, Anita and the rest of the family.
From:  John Leroy
I am so sorry to hear of Terry's passing. Terry was one of the first lifeguards at the Kiwanis Swimming Pool when I was manager back in the 70's. Terry had a great sense of humour and a kind heart. I have often thought of those early times for the pool over the past few years and when I do Terry comes to mind. Please know that I am thinking of the family at this time and my condolences go to all of you.
From:  George Archibald
I had the pleasure of meeting Terry through the YMCA when I was a child. I have always thought back on those wonderful days and Terry is one of the main reasons I have such great memories. He was a shining star. I am saddened to hear of his passing.  My deepest heartfelt condolences.  RIP Terry
From:  Erin Tracey-Belzile
So sorry to hear of your sad loss of Terry. Please accept our sincere condolences.
From:  Bill & Millie Roberts
I am saddened to read this I worked at the Y with Terry. A great guy and a lovely person My sincere condolences to Terry's family God bless
From:  Karen MacRury sweetu
Our most sincere condolences to you all.. Glen and Gina Moffatt
From:  Gina (MacKillop) Moffatt
To the family and Kevyn, it is hard to not have a goodbye, but the hellos of life and all that were touched by your brother, uncle and friend…live on .My thoughts are with you.
From:  Sandy Sanford