Louisbourg/Catalone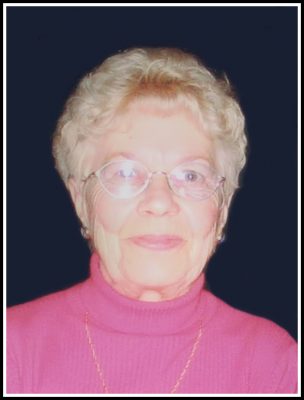 It is with profound sadness that we announce the passing of our mother, grandmother, great-grandmother and sister, Dorothy Lynk on Thursday, January 23, 2020 at the Cove Guest Home in Sydney, surrounded by her loving family.
Born on August 13, 1932 in Cheticamp, Dorothy was the daughter of the late Edward and Cecile (Camus) LeBlanc.
Dorothy is survived by her only child, Linda (Tommy) Kennedy; grandsons, Gerry (Ellen) and Robert; granddaughters, Rhonda (Aaron) and Cathy (Paul); great-grandchildren, Katelyn, Justin, Luke, Colby, Ethan, Parker and Spencer; sisters, Elizabeth MacDougall, Sydney and Edith Chiasson, Sydney; brother, Harry (Gloria) LeBlanc, Belle Cote and brother-in-law, Joe Lynk, Greenwood.
Besides her parents, Dorothy is predeceased by her loving husband of 60 years, Tom in 2012; sisters, Mary Emma, Roseanna, Annie Rose, Hilda, Victoria, Eveline and Della; brothers, Joseph, Angus, Neil, George, Wilfred and Didace.
Dorothy was born on the renowned Cabot Trail at Cap Rouge before expropriation of the land by the government. She always returned to her place of birth to enjoy her family and some good fiddle tunes. It was time well spent with her sisters, 'The Golden Girls', Roseanna, Elizabeth, Eveline, Edith and Vicki. She loved music, step dancing and was master of the spoons and was the life of the party. She always put a smile on everyone's face with her antics. Dorothy still played the mouth organ, making her own music and sharing merriment until recent months.
Dorothy loved the outdoors and enjoyed fishing and camping with her hubby in their van. She and Tom loved to entertain their friends playing cards and cooking up a storm. She loved her family dearly and was so proud of her grandchildren. She was always there to support everyone with her kind heart. Her friendship, her zest for life, her caring and kind soul will be sorely missed as we loved her so.
Special thanks to the Cape Breton County Home Makers and the staff and residents of the Cove Guest Home for their outstanding friendship and love shown to Dorothy in her time of need.
Visitation for the late Dorothy Lynk will be held on Monday, January 27, 2020 from 2-4 and 7-9 p.m. at the Pier Community Funeral Home, 1092 Victoria Road (entrance on Church Street), Whitney Pier. Memorial service will be held at the Pier Community Funeral Home All Faith Chapel, Whitney Pier on Tuesday, January 28, 2020 at 3 p.m. with Rev. Sheldon Chant officiating. Reception will be held at the Pier Community Funeral home. Internment will take place in Stella Maris Cemetery, Louisbourg.
Donations in memory of Dorothy may be made to the Hospice Palliative Care Society of Cape Breton.
Funeral arrangements are entrusted to the care and direction of Pier Community Funeral Home.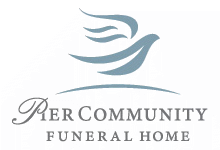 Online Condolences
Aunt Dorothy was so much fun to be around. I have a few very vivid memories when she made me laugh so hard, I nearly peed in my pants. I will always think back on those memories and smile. Linda and Family, my thoughts are with you. Sending hugs and kisses to you xoxo
From:  Anne Marie LeBlanc
So sorry to hear of our sweet Aunt Dorothy's passing. She is in heaven tonight dancing up a storm with Tommy and her many siblings love and to you Linda and you family!
From:  Adele/Al Larade
Our condolences for the passing of such a beautiful lady who always had such a beautiful smile and wonderful personality she will be missed. our love to Linda and all of Dorothy's grand and great grandchildren may she rest in peace.
From:  Harvey and Edith Kehoe
So sorry to here of your moms passing, may the good memory's ease the sadness and words from friends and family comfort you and Linda and your dad
From:  Alan Spinney
Linda, I am saddened to hear of your mom's passing. Please know that you are in my thoughts and prayers. Blessings at this difficult time.
From:  Anne Mulders
May she Rest In Peace, and dance away in heaven. Sending you all my deepest sympathies and many hugs.
From:  Marie-Claude
It is with great sorrow that we learn of the passing of one of my favorite aunts, Aunt Dorothy. It is easy to say that she is in a better place, but very hard for the family and close friends nevertheless. Our deepest condolences to Linda and Family.
From:  Wayne/Marielle LeBlanc
Linda and Tommy and family. We send our deepest condolences on the loss of a wonderful mother, grandmother and sister.it was a great shock to hear of her passing as we were away on a CSAP meeting on the weekend. She is at rest in God's arms now. No more suffering, no more pain May God give you strength to help you heal in this time of sorrow..
From: Rosetta and MarcelLeFort