South Bar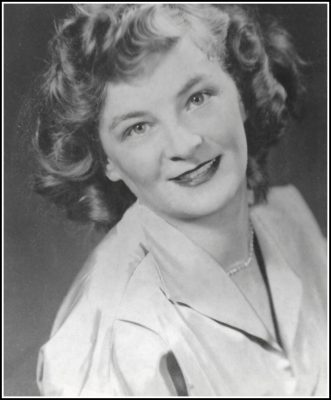 It is with great sadness that we announce the passing of Edna Ivany on Monday, January 13, 2020 at the Cape Breton Regional Hospital, Sydney.
Edna was born in East Margaree on May 3, 1929 near the start of the dirty 30's and in deep poverty, on her grandmother's humble farm.
As a teenager Edna found her way to Sydney and employment as domestic help in the Jewish community making lifelong friends and always continued to support their fund-raising functions. Then she met the love of her life, Lou, who she married and settled in South Bar for the rest of her life. She loved playing guitar, all kinds of pets, flea markets, daily trips to her favorite stores and summer trips back to Margaree. She was very proud of her Acadian heritage and had an impeccable sense of style and fashion. Her French was never lost, and she so enjoyed conversing with any who could partake. Always a great supporter of her sons, her home was always open to countless musicians who honed their skills in her living room with Ed pushing the beat behind the drums and assisting Todd in his venture into the mobile food industry and continuing education at CBU.
Edna will be sadly missed by her sons, Eddy (Kim) and Todd; grandchildren, Clayton, Meghan, Carter and Shawntia Isadore; as well as great-grandchildren, Taryn and Grace Anne.
Edna was predeceased by her mother, Catherine (LeBlanc) MacDonald and brother, Edison MacDonald in 2015.
As per Edna's wishes, cremation has taken place with a memorial service to take place at a later date.
In lieu of flowers, donations in memory of Edna Ivany may be made to the Alzheimer Society or the SPCA, Cape Breton Chapter.
Funeral arrangements are entrusted to the care and direction of the Pier Community Funeral Home.

Online Condolences
Condolences to Ed & family, & Todd. Edna was part of my life when I was the first wife of Edward. Edna was a lovely lady with a very kind heart always making sure you ate and always wanting to give you something when you came to visit, my son Clayton Ivany oldest grandson of Edna,followed by her two great-grandchildren Taren Ivany 22 & Grace Ivany 16 will remember her in fond memory. RIP Edna
From:  Debra Rudderham-Mitchell
I always remember your Mom as a beautiful woman, kind,and laughing.Sorry for your loss Eddy.
From:  Margie Campbell
Eddy I was so saddened to read of your moms passing. She was such an active lady and age did not slow her down. I will miss seeing her sitting in the living room window on my drive home from work. Thinking of your and Todd. Hugs
From:  Marilyn Quinn
Deepest condolences on Edna's passing. She was one of our greatest shoppers. Missing our Purse Monster as she called herself–she would always be so excited when she found a new treasure.
Rest in Peace Edna.
From:  Donna & Staff–Donna's Consignment
I am so sorry for your loss. She wS a very lovely lady. I remember her when I was young. She gave me a little red piano.
May she rest in peace
From:  Nancy Fennell
Dear Eddy and Todd:
So sorry to hear of your mother's passing. She was an amazing lady and will be missed by all who knew her. Take comfort in knowing how much she loved you both. My thoughts and love are sent your way!
From:  Elaine Northrop
Sincere condolences from Doris and Joan Timmons. Thinking of you at this difficult time.
From:  Doris and Joan Timmons
I send my deepest sympathy to you Eddy and your family on the loss of your mother. You may remember me, Colleen, sister of John Gillis. I know you and John chummed around together when you were young. I remember Edna from when we lived in South Bar in the 1950s. She was a nice lady and a beauty! I met her years later in the Pier and she told me how she was good friends with my mother in South Bar. She was so friendly and kind. I know you will miss her.
Take care, Colleen
From:  Colleen Gillis
I'm so sorry to see that your Mom has passed away. She was a beautiful, classy lady. I hadn't seen her for many years, but when I saw her at a flea market 25 years or so ago, she was so friendly and sweet. She stood apart from the crowd, a stylish lady for sure.
From:  Carmella LeBlanc Veres