Sydney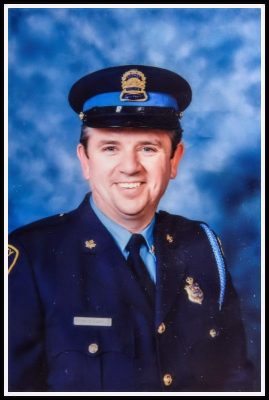 It is with heavy hearts we announce the passing of Cst. Clarence Clarke on Saturday, January 4, 2020 at the Cape Breton Regional Hospital, Sydney, with Connie by his side.
Born in Sydney, Clarence was the son of the late George and Bette (Leaver) Clarke.
Clarence graduated from R.R.H.S. '68 and worked for N.S. Power before becoming a constable with the C.B.R.P.S. He loved policing and worked out of Central, North Sydney and Louisbourg divisions before retirement.
Clarence coached Sydney and County Minor Hockey, Little League, soft ball and served as the County's President.
In retirement, Dad enjoyed driving his Ford Ranger, sharing stories and a few laughs with the Rangers club at Tim's. He was a die hard Leafs fan. He will be missed by all who knew him.
Clarence is survived by his partner, Connie Piercy; sons, Jason (Cara), Jeff (Mayo), Blair (Tess) and their mother, Norma; daughter, Terri (Joseph); sisters, Shirley (Wayne), Charlotte, Kim (Wayne) and Tammy (Shawn); grandchildren, James, Maria, and Anna; Connie's sons, Ritchie, Cyril (Jenna) and their daughters, Jillian and Jesse.
Bedsides his parents, Clarence was predeceased by his brother-in-law, Buddy.
Visitation for the late Clarence Clarke will be held on Thursday, January 9, 2020 from 7-9 p.m. at the Pier Community Funeral Home, 1092 Victoria Road (entrance on Church Street), Whitney Pier. Memorial service to celebrate the life of Clarence will be held in the Pier Community Funeral Home, All Faith Chapel on Friday, January 10, 2020 at 4 p.m. with Rev. Sheldon Chant officiating. Following the service, a reception will be held in the funeral home. A private burial will take place in Hardwood Hill Cemetery, Sydney at a later date.
Donations in memory of Clarence may be made to the Canadian Diabetic Association.
Funeral arrangements are entrusted to the care and direction of Pier Community Funeral Home.

Online Condolences
So sorry to hear of Clarence's passing. Our thoughts and prayers are with the families.
Love
From:  Lynda Ball and Don Clarke
Saddened by the news of Clarence's passing.His presence will be missed in the community.Condolences to his family.
From:  Bob MacVay
My deepest condolences.
My heart breaks for him
And his whole family
Prayers going your way.
From:  Mrs Ron Melski AKA Liz
So sorry for your loss
From:  Margaret Napoleon
Our condolences to the family , R I P buddy.
From:  John Shannon
Please accept our deepest sympathy! We have many fond memories of Clarence!!
RIP Tony & Georgina Bennett
From:  Georgina Bennett
Jason, Jeff and Blair
My deepest condolences on the loss of your Father
Hugs to all
From:  Sharon MacPherson
Connie, I'm so sorry to hear of the loss of your love, Clarence. May you find the strength to make it through this difficult time. Sending love and prayers to you and your family. May he Rest In Peace. Xo
From:  Lynne (Steele) MacCuish
Sorry to hear about Clarence's Passing. It was a surprise to me, very fine man. I worked at NS Power also. I'm sure family has lots of fine memories to ease your pain .
From:  Les MacLean Sydney Mines NS
My deepest sympathy with the loss Clarence.I will remember him always as a friend and great person..May the fond memories of him give all the family peace in this time of sorrow.
From:  Roy Peters