Westmount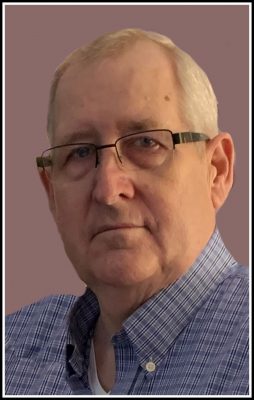 It is with profound sadness, that we announce the passing of Ernie at the age of 66 on January 4, 2020 in An Cala at the Cape Breton Regional Hospital, Sydney, after a long courageous battle with cancer.
Ernie was born on January 15, 1953 in New Waterford to the late Charles and Gladys (Duguid) Radtke.
Ernie is survived by his soul mate and best friend of almost 48 years,

Donna (Carrigan); son, Don Roy, Kingston, Ont., and daughter, Jennifer (Dwayne) Radtke-Jardine, Sydney. He is also survived by his grandchildren, Travis, Brandon, Nathan, Heather Radtke, Noah and Emma Jardine; brothers, Charles (Carrie) and Sheldon (Linda), both in B.C.; sisters, Brenda MacIntyre, Sydney, and Rev. Joan (Michael) Griffin, Halifax; sister-in laws, Sharon (Jim) MacLeod, Sydney, Debbie (Dennis) Darroch, New Waterford, and Cathy MacKinnon, New Waterford; brother-in laws, Wayne (Donna) Carrigan, New Waterford, Donald (Connie) Carrigan, North Sydney, Larry (Paula) Carrigan, Kitchener, Ont, and Gabriel Hogan, New Waterford; special aunt, Marie Coish, New Waterford; along with many nieces, nephews and cousins.
Besides his parents, Ernie was predeceased by his 16 year old son, Glen Roy, who passed from brain cancer in 1992; sister, Sandra Grace Hogan in 2012, and his mother and father-in- law, Angus and Theresa Carrigan.
After graduating from Breton Education Centre, Ernie headed off to St Mary's University in Halifax to do his science degree, life interrupted and his education wouldn't resume until 1974 when he entered the nursing program at St Martha's Hospital in Antigonish, NS. In 1976, Ernie graduated from the nursing program top of his class in what began a long career as a registered nurse in the Operating Room. During his nursing career, Ernie was a Union Activist, serving as local president and board member of the Nova Scotia Nurses Union. In 1988, Ernie received his Bachelor of Arts degree and in 1992 his Bachelor of Business Administration from UCCB. Ernie also completed his Canadian Institute of Management Diploma. Ernie was generous with his time and talents, whether it was helping to do someone's income taxes, or a homemade work project. Ernie never took short cuts and felt if you were going to do something that you did it right the first time. Ernie was appointed to officer with the rank of Lieutenant in the Canadian Armed Forces Reserves.
Ernie's favorite time of year was Christmas and it showed, he would decorate the house with thousands of lights and ornaments.
Ernie loved to watch sports, especially baseball. He never missed a Blue Jays game and was able to attend several of them in Toronto. He was a Philatelist and Numismatist and collected both for many years. His final gift was to be able to be an organ donor.
A special thank you to Dr. Carol Critchley for her excellence in caring and devotion to her patients. A thank you to the wonderful Doctors and Nurses of palliative care, Cape Breton Cancer Centre and VON for their exceptional care. Thank you to Dr. John Gainer for his friendship, visits and talks over the years. Thank you to Cape Breton County Homemakers especially, Raymond and Nathan. Thank you to Sharon MacLeod for all her support and love during this journey and to Jennifer and Wayne Pertus for the friendship and for all the day trips.
As per Ernie's request cremation has taken place. Visitation for the late Ernest 'Ernie' Roy Radtke will be held on Thursday, January 9, 2020 from 2-4 and 6-8 p.m. at the Pier Community Funeral Home, 1092 Victoria Road (entrance on Church Street), Whitney Pier. Memorial service to celebrate the life of Ernie will be held in the Pier Community Funeral Home, All Faith Chapel on Friday, January 10, 2020 at 11 a.m. with Rev. Duncan Roach and Rev. Joan Radtke-Griffin officiating. Following the celebration there will be a luncheon in the funeral home reception area. A private burial service will take place at a later date.
In lieu of flowers, donations in memory of Ernie may be made to the Children's Wish Foundation or the SPCA, Cape Breton Chapter.
Funeral arrangements are entrusted to the care and direction of Pier Community Funeral Home.

Online Condolences
I extend my deepest sympathy to you dear Donna, Don and Jennifer. I am so very sorry to hear about Ernie. I am in shock actually. Such a lovely and kind person who was truly a joy to know. I think of the many times he came to the home Donna and was always so nice to the residents and to me as well. My heart breaks for you all and I ask our God to comfort each of you and give you strength in your time of need. My thoughts and prayers are with you all.
From:  Donna Tynski
Our most deepest and sincere condolences
From:  John & Wanda LeDrew
So very sorry to learn of Ernies passing……RIP Ernie
From:  Judy Brunette
Donna I am really sorry to hear about your husband Ernie's passing. Although it has been many years since I have seen him I remember him as a kind and thoughtful man. take care.
From:  Kristal Ryan Creamer
Donna and family .We were so sorry to hear of Ernie's passing .I have so many wonderful memories of working with Ernie in the O.R. He was always so kind and caring and fair to everybody .With deepest sympathy from Judy (Matheson) and Gerry Lethbridge
From:  Judy Lethbridge
So sorry for your loss Donna and family. His suffering is over. May he Rest In Peace.
From:  Alex and Jean Burchell
So sorry for your loss Donna. Thinking of you and your family.
From:  Kathy Mac Innis
A great friend throughout the years,our thoughts and prayers go out to the family.
From:  Buddy and Jeanette Zagwolski,Brampton,Ontario
Donna and family .We were so sorry to hear of Ernie's passing .I have so many wonderful memories of working with Ernie in the O.R. He was always so kind and caring and fair to everybody .With deepest sympathy
From:  Judy (Matheson) and Gerry Lethbridge
My condolences to the families of the late Ernie Radtke. I was very saddened by his passing. I was a ward clerk at the Sydney City Hospital when I got to know him and became a good friend who was very kind to me. May God Bless you all and may Ernie R.I.P.
From:  Mary Borden Hurel
So very to hear of Ernie's passing. He was a sweet man.
From:  Brenda Stephenson
A deep sadness fills me with the passing of my Uncle. Ernie was always extremely kind to me growing up and treated me as if I was one of his own. Although I will miss him, I am thankful his suffering is over and will forever remember him in my own way. I know Glen will be waiting for you, and that makes me smile. My heart goes out to my Aunt Donna, cousins Jenifer and Don Roy and all others who were lucky to love and have known him. I love you my Uncle
From:  Jason Mackinnon, Vancouver Island
My deepest condolences to Donna, Jenn and family. My thoughts and prayers are with you during this difficult time.
From:  Teagan Smith
My sincere sympathy to Ernie's family on the loss of a truly wonderful man.
From:  Shirley Antle-Kelly
Rev Joan and Family ; Sending sincere Condolences to you, Michael and your family with the passing of your brother.
From:  Marion Worthing
So Sorry to hear this — Ernie was a kind, soft-spoken, thoughtful gentleman. Always friendly, possessed a great wit and had a great laugh. He will be missed.
From:  Patricia MacSween
So sorry to read late of Ernie's passing. God rest his sweet soul and comfort all his loved ones that mourn with loving memories of a very fine fella!
From:  Mary C.(Lasovski) MacPherson
Donna and Jennifer
We are so sorry to hear of Ernie's passing. Our prayers and thoughts are with your family.
From:  Carolyn and Dave Mudge Calgary