Sydney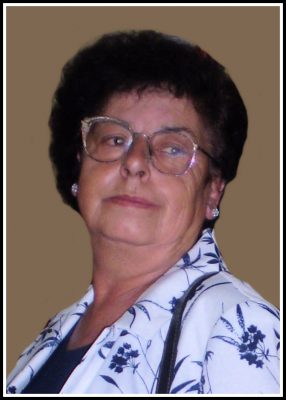 The Family of the late Heather Tomie, age 78, regret to announce that she has passed away on Sunday, December 29, 2019 at the Cape Breton Regional Hospital, Sydney.
Heather was born and raised in Whitney Pier. She graduated from Cape Breton Business College and worked for many years at Modern City Dairy and later Scotsburn Dairy.
Heather was predeceased by her father, Fred Tomie and her mother, Victoria Tomie (nee Joseph).
Heather is survived by her sons, Peter Pierre, Summerside, PEI, and Craig (Cheryl) Pierre, Salisbury, NB; granddaughters, Rochelle, Katalin and Leah; siblings, Fred (Madeleine) Tomie, Lillian (the late Tony) Gale, Brenda Tomie, Victor (Carol) Tomie and Cathy (Byron) Penman.
The Family would like to thank the staff on Unit 4B and An Cala Palliative Care at the Cape Breton Regional Hospital for their compassion and caring given to us and our mother during her time of need.
Visitation for the late Heather Tomie will be held on Thursday, January 2, 2020 from 2-5 p.m. at the Pier Community Funeral Home, 1092 Victoria Road (entrance on Church Street), Whitney Pier. Memorial Mass will be celebrated at Holy Redeemer Church, Whitney Pier on Friday, January 3, 2020 at 10 a.m. with Fr. Paul Murphy officiating. Light refreshments will take place in the funeral home reception area, following the Mass. Private family internment will take place at a later date.
In lieu of flowers, donations in memory of Heather may be made to the Canadian Cancer Society or to the Hospice Palliative Care Society of Cape Breton County.
Funeral arrangements are entrusted to the care and direction of Pier Community Funeral Home.

Online Condolences
So sorry to hear of Heathers passsing . May she rest in peace.
From:  Anne Marsh
We are so deeply sorry to hear of Heather's passing.Such a shock!!! Prayers to you all,and may she rest in peace. Love,Cousin Joanie and Bevan
From:  Joan C MacIntosh
To my cousins – I am so sorry to hear of Heather's passing. My thoughts and prayers are with all of you at this time. Love,
From:  Donna Tomie (Toronto)
My deepest condolences on our shared loss of mother and sister. My thoughts and prayers are with you as you struggle through this period of loss.
From:  Frederick,Madelyn Tomie and family
Craig and Peter, my heart breaks for you.I am praying very hard for strength for all of you.Aunt Brenda
From:  Brenda Tomie
My condolences to Heathers family. Spent a lot of time with Heather and theTomie Family growing up. A lot of great memories. So sorry for her loss.
From:  Joe Jackemeck
My deepest condolences on the loss of Heather. She will be greatly missed by all who knew her. You are all in my thoughts and prayers and I know Heather is looking down on all of you in your time of loss and grief. God Bless.
From:  Bill Flynn
My deepest condolences to the Pierre and Tomie families. I remember Heather as a smiling, fun loving person who was a fine dancer. My prayers are with all of you at this difficult time.
From:  John Hawrylak
Deb and I would like to pass along our condolences to the Tomie family on their loss. Our prayers are with you through this tough time.
From:  George Tomie
Please accept our deepest sympathy on your loss!! Tony & Georgina Bennett!
From:  Tony Bennett
To my Tomie cousins, thought and prayers with heart felt sorrow during this time for all of you. Gods calling has once again touched our family.
Chris and Family
From:  Christopher Wrenn
Sarah and I are saddened at the passing of Heather. We are first cousins. Her father Fred and my mother Freda Genter were brother and sister. Our condolences to Craig and Peter and all the Pierre and Tomie family.
From:  David Genter
My deepest condolences on our shared loss of mother and sister. My thoughts and prayers are with you as you struggle through this period of loss.
From:  Frederick,Madelyn Tomie and family