Bateston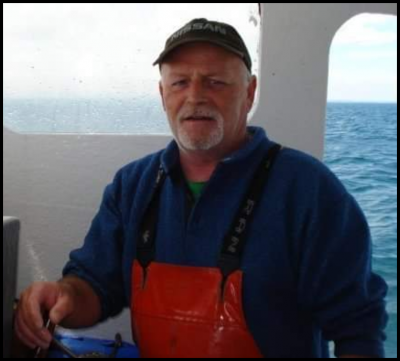 It is with the heaviest of broken hearts that we, the family announce the passing of Captain Stephen Patrick O'Neil at the age of 57 on Saturday, December 14, 2019 at home. He was surrounded by his loving wife, children and grandchildren to celebrate an early Christmas when God called him home. Stevie waited until the last gift was open.
Born and raised in beautiful Bateston, Stevie spent most of his life on the ocean. He was a lobster fisherman for over 40 years and loved being outdoors.
Over the years, Stevie enjoyed playing baseball, hockey, hunting and a great game of tarbish. He loved sitting by a lake to cast his fishing rod or stopping by his local store for a coffee and a chat with the boys. In previous years, his love for hockey led him to coaching his eldest son's team. He was so proud to be part of his son's favorite sport. When he wasn't coaching, you could find him in many arenas, year after year, cheering for him; his favorite player. During Stevie's illness, Krystian took over his father's lobster fishing responsibilities and that made his dad even more proud of him.
Stevie was also very proud of his youngest son's achievements and loved it when he cooked for him and joined him for a game of darts or to listen to some Rolling Stones. He admired his confidence and was so proud that his boy Julian was so true to himself.
Stevie adored his only daughter and loved visiting her "Up the Road", to talk about the day and to sit in his favorite chair. He loved their annual "daddy daughter day" and couldn't wait for their time together. As years went by, Stevie watched his Kenzie become an incredible mom. She sure made him proud!!
Every morning you could find Stevie walking next door to read his brother's paper and have a coffee with him. His favorite part of the morning.
Stevie had a great love for music; whether it was karaoke or a shed party, you could hear him singing along or showing off his famous dance move. He loved socializing; whether on the wharf talking to friends or simply talking to a stranger at the grocery store. He treated everyone the same; with a conversation and a smile.
During the last months of his illness, Stevie enjoyed seeing his fellow fishermen/women and members of his community. The support and comfort they gave him will never be forgotten.
Stevie leaves behind the love of his life of 30 years, Melinda (Campbell). He adored her and would always say "Babe, what would I do without you?" and she would say, "But my darlin Stevie, what will I do without you now?". He also leaves behind three of his greatest accomplishments; the sunshine in his heart, his sons, Krystian, Julian and daughter, Kendra (Jeremy). Even near the end, he worried about them and loved them more then words could ever define; for a Dad's Love is Immeasurable. He also leaves behind two of the most beautiful grandchildren in the world. Every time he seen them; his arms were as full as his heart. He cherished his grandson, Liam and granddaughter, Shayla. His love and pride for them will never die; "Bubu is gunna miss his little ones". Stevie's brothers and sisters meant everything to him, their support and unconditional love brought him comfort everyday. He leaves to mourn sisters, Arlene, Cathy and Linda (Claude); brothers, Gary (Belinda) and Kelly (Karen). He also leaves behind many in-laws that became his family the moment he met them; mother-in-law, Patricia and sisters-in-law, Juanita (Eddy) and Courtney (Jason); brothers-in-law, Robert (Heather) and Tony (Soula). Stevie also says goodbye to many nieces and nephews that meant the world to him, Courtney (Nick), Leandra (John), Alishia, Janna (Connor), Katelyn (Ian), Claudia, Logan (Emma), Luke, Lochlan, Dylan (Chelsey), Hayley, Josh, Owen, Avery, Carter, Anthony, John and niece and goddaughter, Chelsea (Stephen). He also leaves behind several aunts, uncles, cousins and friends; all that hold a special place in his heart. Stevie especially loved when his family from away would come to Bateston for a fire on the beach and to talk about old times. Nothing meant more to him then being with the ones he loved so dearly.
Stevie was predeceased by parents, Colin and Elizabeth (MacLean) O'Neil; maternal grandparents, Neil Stephen and Annie Mae MacLean; paternal grandparents, Patrick and Catherine (MacDougall) O'Neil; aunts, Annette, Frances and his uncle, Robert. He is also predeceased by his beautiful brother, Ronnie.
Visitation and funeral Mass for the late Stevie O'Neil will be held in Immaculate Conception Church, Main-a-Dieu on Friday, December 20, 2019. A gathering of family and friends will be from 1-3 p.m. with the Mass to be celebrated at 3 p.m. with Fr. Evo Di Pierro officiating. Interment will take place in the parish cemetery. A celebration of Stevie's life will continue at the Bateston Athletic Club immediately following the service.
Donations in memory of Stevie may be made to the Cancer Care Fund or Hospice Palliative Society of Cape Breton.
"Darlin' I've loved you forever and forever I will love you. Wait for me on the other side of the stars."
Funeral arrangements are entrusted to the care and direction of Pier Community Funeral Home.

Online Condolences
To Melinda and family
I am so sorry for your great loss at this time…May God bless you and give you strength…
From:  Linda Wade
My deepest condolences on the loss of my cousin, Stevie. May your hearts be filled with the wonderful memories of joyful times you spent together as you celebrate a life well lived. We are saddened to hear the news about Stevie. Please know that you are in the thoughts and prayers of my entire family.
From:  Glenn O'Neil
So sorry to hear of Stevie's passing. My deepest sympathy to his family. You are in my prayers
From:  Della Fudge Chisholm
All my condolences to your family ,its been a
long time old friend remember the good times! Tonight we will raise a glass in your honour .Old time friend and fellow classmate,long live your memories,until we meet again CLASS OF 81.
From:  JOHN AND JAMIE MARJETTI