Whitney Pier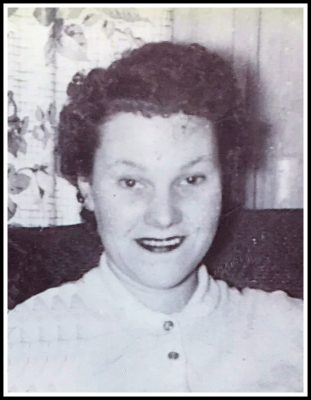 With heavy hearts, we, the family announce the passing of Jeanette Magliaro, age 91, of Kitchener Street, Whitney Pier, at the Cape Breton Regional Hospital, Sydney on Sunday, December 1, 2019.
Born on July 10, 1928 in Cheticamp, Jeanette was the daughter of the late Margaret (Aucoin) and Joseph Poirier. She is the last surviving member of her immediate family.
Jeanette is survived by her son, Charlie (Linda), Sydney; grandson, Brian (Rachel), South Korea; granddaughter, Gianna 'Pumpkin'; son-in-law, John Usher; sister-in-law, Beatrice Poirier; brothers-in-law, Rudy and Fred Magliaro; as well as many nieces and nephews.
Jeanette enjoyed the simple things in life. She loved to walk, pick blueberries, read, knit mittens for kids, crotchet, play cards and darts at the Pier Pensioners Club. She always looked forward for her visits with good friend, Larry Gniewek, who helped her every day and friend, Wanda. Despite her many losses, Jeanette lived her life with a fierce strength that was equal to none.
Besides her parents, Jeanette was predeceased by her husband, Tony; son, Brian in infancy; daughter, Marie Usher, beloved granddaughter, Cherie Usher and ten siblings.
The family would like to thank Dr. Gracie for his care and compassion for the last 27 years. We also the thanks to the staff of 4C and the palliative care staff for the comfort to Jeanette and family at this very difficult time; as well as to Dr. MacLachlan for her care while in hospital. We will always remember the kindness showed to us.
Visitation and memorial service to celebrate the life of Jeanette Magliaro will be held at Pier Community Funeral Home, 1092 Victoria Rd. (entrance on Church Street) on Thursday, December 5, 2019. A gathering of family and friends will take place from 1-2 p.m. with service to follow at 2 p.m. in the All Faith Chapel with Fr. Paul Murphy officiating. Light refreshments will be served in the funeral home reception area following the memorial service. A private internment will take place in new Calvary Cemetery, Whitney Pier.
Donations in memory of Jeanette may be made to the Hospice Palliative Care Society of Cape Breton.
Funeral arrangements are entrusted to the care and direction of Pier Community Funeral Home.

Online Condolences
J