Sydney Mines / Sydney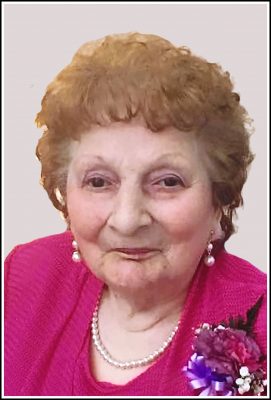 It is with deep sadness that we announce the peaceful passing of our loving mother, Rita Snow at the Miner's Memorial Manor, Sydney Mines on Sunday, November 3, 2019 at the age of 86. Mom passed away in the loving arms of her daughter, Darlene and niece, Susan Mirao.
Mom enjoyed bingo, cards, knitting but most of all, she loved music and dancing to her favourite country music. Mom always enjoyed spending time with her grandson, Billy who was the light of her life. Mom worked as a personal care worker throughout the years. Mom knew how to make people laugh with her feisty and charming personality. Mom's kindness and thoughtfulness was felt by all who knew her.
Rita is survived by her only loving daughter, Darlene Wright-Campbell (Frank); grandson, William Wright (Ainslie) who she adored; great-grandchildren, Sherry and William; sisters, Theresa Williams and Angelina Dennittis; as well as several nieces and nephews.
Rita was predeceased by her parents, Biagio and Margaret (Bonnar) Dennittis; husband, Steven Snow; father of her daughter, Roy MacDonald; brothers, Michael, Jimmy and sisters, Mary Penny and Josephine Campbell.
From the bottom of our hearts we want to thank Dr. Douglas Kohlsmith and the staff of Miner's Memorial Manor where mom resided the last six years. This warm and loving home provided the ultimate care for mom. Mom was known by the staff as Rita Lou, Senorita, Ma, Nan and Sister. Mom would light up when she heard them. We will be forever grateful to the beautiful staff whom we love and consider to be our extended family, who we bonded with so closely.
Memorial graveside service to celebrate the life of Rita Snow will be held on Saturday, November 9, 2019 at 12 noon in Resurrection Cemetery, Sydney Forks, with Fr. Paul Murphy officiating.
Donations in memory of Rita may be made to the Miner's Memorial Manor or charity of one's choice.
Funeral arrangements are under the care and direction of Pier Community Funeral Home.
Mom no matter what I do, my heart will always be full of you.
Your loving daughter, Darlene

Online Condolences
Darlene and family: I am saddened to read of your dear mom passing, Sincere condolences to you all. I know she will be fondly remembered as you adjust to a new normal without her.
From:  Frances Hanson
Hi Darlene and Family..
I'm not sure if you remember me,my name is Ginny Moore and My Mom(Eileen Moore) was a resident of the Miner's Manor for 12 years.You and I would chat when we were there visiting our Mom's..Your Mom was such a sweet and beautiful person,I loved when she would sit with my Mom and I and tell stories of her family farm growing up..She could be so comical,I just got such a great kick out of her.My Mom passed away going on 3 years now and I miss her terribly but I was so lucky to have her for so long,she was almost 94 when she passed.We have to let them go but we have so many wonderful memories and they will always be with us till we meet again..Take Care Darlene..You were a very Good Daughter,and your Mom was very fortunate to have you to care for her..
Sincerely,
From:  Ginny Moore..