Sydney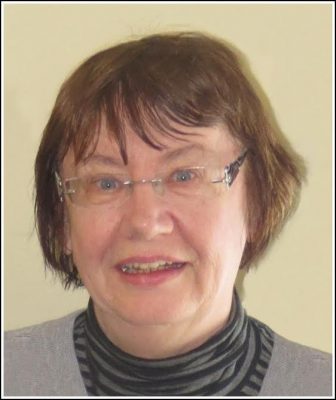 It is with much sadness that we, the family of Mary Josephine 'Molly' (Merner) Maroun Announce her passing on Tuesday, November 19, 2019 at the CND (Congregation of Notre Dame) Wing at the MacGillivray Guest Home in Sydney.
Molly was born August 30, 1948 to the late Thomas and Margaret (MacDonald) Merner in Sydney.
Molly is survived by her brothers, Dennis (Suzanne) Merner and Thomas (Karen) Merner; two nieces and a nephew; four grandnieces and a grandnephew; as well as her husband, Joseph Maroun.
Besides her parents, Molly was predeceased by her sister, Margaret Patricia (Merner) Draper and a nephew, Thomas James (T.J) Merner.
Molly attended Holy Redeemer and Don Bosco schools. Molly graduated with a Bachelor of Arts from St F X and went on to Dalhousie University to complete a Bachelor of Education Degree. She had a 32-year career teaching primarily at St. Anthony Daniel Elementary School. Molly truly enjoyed her teaching and students, and this was evidenced by her encounters with former students who remembered her fondly. Molly played many sports in her younger years. In her later years Molly enjoyed golfing with her niece Christina and brother Tom.
The family want to express their gratitude to the staff of the CND Wing for the excellent care, compassion, and prayers, Molly received there. The family also wish to express many thanks to Molly's many friends who provided ongoing support during Molly's final months especially friends since childhood, Mrs. AnnMarie McCarthy and Mrs. Imelda Grant.
Visitation and memorial service to celebrate the life of Molly Maroun will be held at Pier Community Funeral Home, 1092 Victoria Rd. (entrance on Church Street) on Saturday, November 23, 2019. A gathering of family and friends will take place from noon – 1 p.m. with service to follow at 1 p.m. in the All Faith Chapel with Fr. Paul Murphy officiating. Light refreshments will be served in the funeral home reception area following the memorial service. A private family internment will take place at a later time at Resurrection Cemetery.
Donations in memory of Molly may be made to the Hospice / Palliative Care Society of Cape Breton County.
Funeral arrangements are entrusted to the care and direction of the Pier Community Funeral Home.

Online Condolences
Molly was such a wonderful person. She always had a smile for everyone.We went on a teacher's trip to Barbados together and had so much fun. I am saddened to hear of her passing.My condolences to her family.RIP Molly.I will always keep you in my thoughts and prayers.
From:  Betty Humeniuk
Dear Tom and family, I was very sorry to hear of Molly's passing, I will always remember her fondly,Sincerly,Deby Woodburn and family!
From:  Deborah Woodburn
I was sorry to read that Molly had passed away. I went to Don Bosco and Holy Redeemer Convent with Molly. My condolences to her family and friends. I have good memories of our time as classmates.
From:  Anna Marie Dickson MacPhee
I was one of the nurses who cared for Molly at the CND healthcare facility,such a beautiful lady,a pleasure to take care of,so loving,understanding and grateful.I just wish I had known her in her healthy years.I have never heard so many wonderful things about a human being before,the very best a student could have,such compassion,a brilliant lady,so humble and giving,I could go on and on.May you rest forever in peace Molly you have suffered Much,but you will suffer no more.
From:  Betty McNeil
I too am a childhood friend of Molly, we spent many years full of love and laughter. I am living in Ablerta but everytime I came home we got together. My sister was one of her nurses and we sent messages back and forth. I am so very sad to learn of her passing. I love you Molley and hope you are now resting in peace with Patsy.
From:  Florence Neville
My sincere condolences to the Maroun family with the passing of my dear friend Molly who I knew for over 50 years. I will always remember her laugh and our fun times at square dances in Big Pond and East Bay. May she Rest In Peace
From:  Ann Doreen Gillis McCrea