Sydney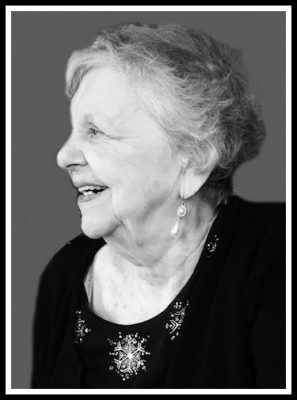 It is with a heavy heart that we announce the passing of our mother, Lorraine 'Mary' Manley, nee Chiasson on Sunday, November 3, 2019 at Harbourstone Enhanced Care, Sydney. She was 86 years old.
Born on June 12, 1933 in Cheticamp, Lorraine was the daughter of the late David and Catherine Chiasson.
Lorraine had been a resident of Harbourstone Enhanced Care, Sydney, for the past five years where she suffered from Alzheimer's disease. Despite her illness, she remained vibrant and active, enjoying visits from family and friends, music, regular outings and her occasional glass of wine. Lorraine was always a fashionista, remaining stylish and elegant until the end.
Besides her parents, Lorraine is predeceased by her husband, Joseph Manley; brother, John and sister, Theresa. She is survived by her son, David (Lois); daughter, Jody (Paolo) and sister, Eileen. She always enjoyed her grandchildren, Jeffrey (Melissa) and Jonathan (Michelle), as well as two beautiful great-grandchildren, Ethan and Jenna.
The family wishes to express their sincere thank you to the diligent staff of Spanish Bay, Kimberly Hall who offered Lorraine excellent care and companionship over the years.
A visitation will be held Sunday, November 24, 2019 from 3-5 p.m. at the Pier Community Funeral Home, 1092 Victoria Rd. (entrance on Church Street), Whitney Pier. In addition, a graveside ceremony will take place on Monday, November 25, 2019 at 11 a.m. in Resurrection Cemetery, Sydney Forks.
Donations in memory of Lorraine may be made to the Alzheimer's Society of Canada.
Funeral arrangements are entrusted to the care and direction of the Pier Community Funeral Home.

Online Condolences
David & Jody…we were saddened to hear of the death of your Mom. She was so friendly and definitely one of the 'cool Moms' when we were growing up on Frederick Street. Our thoughts and prayers are with you and may wonderful memories carry you through the days ahead…in sympathy…
From:  Valerie & Erica Bobyk
Sending our deepest sympathy at this time. I have many nice memories of Lorraine & the group we worked with at Zellers in the Sydney Shopping Center.
Doddy & Bobby Keel (Hollohan)
Truro N.S. (Whitney Pier)
From:  Doddy Keel
Jody, David, Eileen and Family,
We are very sorry to hear about Lorraine's passing. We have a lot of great memories of our visits with her when we use to visit the Myra. We frequently reminisce about those visits. She will be missed. Our thoughts are with you. Take care of yourselves, John, Kathy and Reese
From:  John Chiasson
David, Lois and family….so very sorry to read that Lorraine has passed. Please know you are all in our thoughts and prayers…she will be missed.
Sincerely, Wanda and Bryan
From:  Wanda MacDonnell