Whitney Pier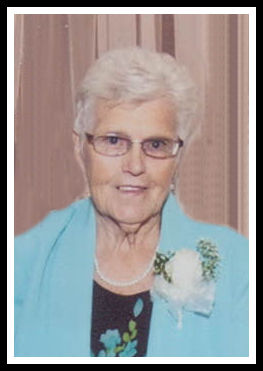 It is with great sadness that our beloved mother, Florence was promoted to glory, Sunday, November 10, 2019 at the age of 89. She passed peacefully surrounded by family at Harbourstone Enhanced Care in Sydney.
Born on December 1, 1929 in Whitney Pier, Mom was the ninth of 12 siblings born to the late Margaret (Ritchie) and Eldred Hefford.
Florence was warm and kind-hearted and was loved by all who knew her. She gladly welcomed anyone into her home. She enjoyed cooking and baking for family or anyone who would happen to pay a visit. Florence was always on the go. She loved to keep busy. She was an avid reader, bowler, crafter and a valued member of the Pier Historical Society as well as Club 55. At home, she enjoyed tending to her garden and was always up for a good game of Scat with family and friends. Over the years, she kept busy with several jobs including El Rancho Steakhouse, Dairy Queen and Needs Convenience. She worked at Zellers in the Sydney Shopping Centre for 10 years as a valued waitress where she formed many lasting friendships.
Florence was a lifelong member of The Salvation Army church where she tended to Christmas Cheer Kettles, taught Sunday school, and was a very active member of the women's Home League. She enjoyed many summers attending The Salvation Army Scotian Glen camps. Florence always enjoyed some good music, especially when listening to her family gathered together singing and playing. Over the years, she enjoyed many family vacations to various parts of Newfoundland, visiting with family and friends.
Mom was the last surviving member of her immediate family. Besides her parents, Florence was predeceased by her first husband, Chester Keel; second husband, Rev. Ted Burton; a child in infancy, David and siblings James, Gordan, Gladys, Lonie, Annie, Eldred, Johnny, Selby, Jean, Joy and George.
Florence is survived by four sons, Larry (Bev), Ronnie (Betty), Bobby (Doddy) and Howard (Shelley); eight grandchildren, Amanda (Evan), Robert (Melissa), Chris (Amy Lee), Brandon (Cheryl), Joshua, Nicholas (Dominique), Erica (Jeremy) and Matthew; six great-grandchildren, Molly, Ellie, Hadley Taylor, Matthew and Zelda; as well as several nieces and nephews.
Florence will be remembered for her wonderful sense of humor. She always enjoyed a good laugh. She was the best wife, mother and Nanny anyone could have. She loved her family deeply and, in her eyes, her boys could do no wrong. Although we are glad she is now at peace, she will be forever missed.
Visitation for the late Florence Keel-Burton will be held on Thursday, November 14, 2019 from 6-9 p.m. at the Pier Community Funeral Home, 1092 Victoria Rd. (entrance on Church Street), Whitney Pier. Funeral service to celebrate her life will be on Friday, November 15, 2019 in the Pier Community Funeral Home, All Faith Chapel at 11 a.m. with Major Corey Vincent officiating. Following the service, a luncheon will be held in the funeral home reception area. Interment will take place in Forest Haven Memorial Gardens, Sydney.
Appreciation is extended to the staff at My Cape Breton Home, North Sydney and Harbourstone Enhanced Care, Sydney for their support and care for Mom in her time of need.
In lieu of flowers, donations in memory of Florence, can be made to The Salvation Army, Alzheimer Society or a charity of your choice.
Funeral arrangements are entrusted to the care and direction of the Pier Community Funeral Home.

Online Condolences
Bobby,Doddy, boys and family, so sorry to hear of Mrs. Keels passing, our thoughts and prayers are with you all.
From:  Jackie and Bruce Matthews.
Bob, I was very saddened to hear of the passing of your mom. She was obviously a very active and giving lady in the community over the years and certainly a caring, loving and integral member of your family that will be dearly missed. Please accept my sincere condolences to you and your family on your loss. Take care,
From:  Troy Webb
My heartfelt condolences to the family. I grew up with the boys and have fond memories of Florence. I know she showed a great deal of kindness to my mother (Rita Critch) in so many ways. Bringing meals and driving her places. She was indeed a woman with a heart of gold. My thoughts and prayers are with the family in this sad time
From:  Sue Smith (Critch)
My deepest and sincerest condolences to the family .
From:  Sadie Walsh
We were saddened to hear of Florence's Passing. Sending our Heartfelt Condolences to Florence's Family and Friends during this very difficult time,
From:  Mona Yakimchuck, Wally Talbot jr,