Whitney Pier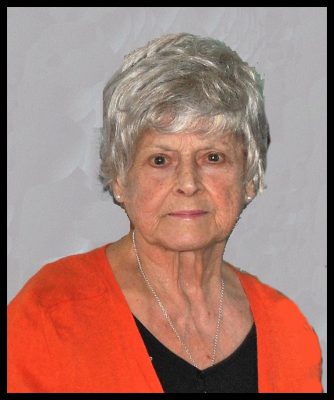 "Mother is one who can take the place of all others but whose place no one else can take." – Cardinal Mermillod
It is with great sadness that we, the family announce the passing of our dear wife, mother, sister, grandmother and great-grandmother, aunt and best friend, Ella Kolchetski on Friday, October 4, 2019 in the Cape Breton Regional Hospital, Sydney, surrounded by those who love her.
Born in Sydney and raised in Whitney Pier, Ella was the daughter of the late Joseph and Charlotte (Bachanski) Porga.
Ella was a compassionate woman. Of her many traits, Ella is best known for being caring, loving, kind and most of all, always wanting to feed you.
Ella is survived by her husband, Michael Kolchetski,; daughter, Karen (Harold) and their children, Jordan (Justine), Keigan and Rayne; daughter, Michelle (Richard) and their children, Kory and Samantha; great-granddaughter, Braislyn; sister, Anne Mesics; sisters-in-law, Bernadette and Sally; as well as several nieces, nephews and numerous foster grandchildren.
Besides her parents, Ella was predeceased by her sister, Margie and brothers, Frankie, Rudy, and Billy at infancy.
Visitation and memorial service to celebrate the life of Ella Porga Kolchetski will be held at Pier Community Funeral Home, 1092 Victoria Road (entrance on Church Street) on Tuesday, October 8, 2019. A gathering of family and friends will take place from 6–8 p.m. with the memorial service to follow at 8 p.m. in the All Faith Chapel with Fr. Paul Murphy officiating. Light refreshments will be served in the reception area following the service.
The family would like to thank the family doctor, Dr. Ajuwon and the second-floor nurses of New Waterford Hospital. We would also like to give thanks to Dr. Hewlett, Dr. Young, Dr. Thana and the supporting staff at the dialysis clinic. We are grateful to the Emergency department at the Cape Breton Regional Hospital for their kindness and compassion given to us and Ella during her time of need.
In lieu of flowers, donations in memory of Ella may be made to the The Kidney Foundation of Canada.
Funeral arrangements are entrusted to the care and direction of Pier Community Funeral Home.

Online Condolences
To the Kolchetski Family: Please accept our sympathy on Ella's death. We have wonderful memories of Ella, she was such a special person and always a lot of fun. Our thoughts and prayers are with you. In sympathy, Valerie and Erica Bobyk.
From:  Valerie Bobyk
Uncle Mike and family. I am so sorry to hear about Auntie Ella. She was a special lady, and she will be missed by many. My love to all. Sharon Rose, Geraldine and family
From:  Sharon Campbell
So very sorry to hear of the passing of our dear Ella. Condolences to you Mike , Karen and the rest of the family. R.I.P. DEAR Ella.
From:  Marg and Jim McIntyre
Darling Ella, I will cherish the memories I have of your growing up for the time I had.
I will never forget the perogies you made when Aunt Eva and I visited Sydney, Rest in peace my dear Niece.
From:  Olga Bachanski Simko
May she Rest In Peace.Ella was a true friend always had a great smile and a big hello.We were young friends and always had lots of laughs. We loved our card game gathering .So very sad to hear of her passing.I will remember her always.Rest in God's gentle arms dear friend.
Beverly Mozvik
Not enough can be said about what a great lady Aunt Ella is.
With a smile I remember how it was great when there were homemade treats…but often it was said…"those were made by aunt Ella" which meant they were the best of the homemade treats.
From: Dan
I have many fond memories of Ella. Mike, Kim and Michelle, please accept my condolences at this most difficult time.
From:  Veronica (Rykunyk) Mackay
Our heartfelt condolences to all the family.
Ella was a wonderful kind lady, she will be missed by many.
May your memories stay close to your hearts
From:  Cheryl Briggs