Grandlake Road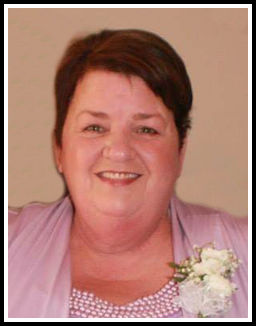 We the family of Cindy Dawn (Brewer) Campbell regret to announce her passing on Sunday, October 27, 2019 at the Cape Breton Regional Hospital, Sydney. Family and friends surrounded her after a long, but courageous battle with her health.
Born on December 2, 1958 in Toronto, Dawn was the daughter of the late James 'Bill' and Dorothy Louise Brewer of Grand Lake Road, Sydney.
Dawn is survived by her sons, Donald James (Stephanie) Campbell of Sydney, and Neil (Natasha) Campbell of Grand Prairie, Alberta; her precious grandchildren, Dakota Lahey, Alyssa Lahey, Caiden and Jake Campbell; sisters, Doreen (Barry) Harris, Jane (John) MacGuigan, Mary (Ricky) Pastuck and Sarah Kameka; brothers, Jimmy (Marie) Brewer, Earl (Bev) Brewer and Robert (Monica) Brewer.
In her earlier days Dawn enjoyed a good game of darts and loved camping out on the Mira, following in her parents tradition. Dawn also enjoyed having teatime with her sisters, Mary and Sarah and of course their chats each day. Mom and Dad are waiting to welcome you with open arms!
Visitation and memorial service to celebrate the life of Dawn Campbell will be held at Pier Community Funeral Home, 1092 Victoria Rd. (entrance on Church Street), Whitney Pier on Thursday, October 31, 2019. A gathering of family and friends will take place from noon to 1 p.m. with the memorial service to follow at 1 p.m. in the All Faith Chapel with Rev. Sheldon Chant officiating. Private family interment will be held at a later date.
Donations in memory of Dawn may be made to a Charity of one's choice.
Funeral arrangements are entrusted to the care and direction of Pier Community Funeral Home.

Online Condolences
So sad for your lost guys Lots of love and Prayers going out to the family .We had a lot of laughs together.She will be missed.Stay strong Neil and Donald. Heaven is waiting for another awesome angel.She will be greatly missed.
From:  Glenda mac Queen
Neil, Donald & Family
Please know that you and your family are in our thoughts and prayers
during this very sad time.
Our most heartfelt condolences.
Rick, Joy, Ness, Melissa &Treen Vincent
From:  Rick & Joy Vincent – St John's NL
This is awful news. I remember her as a kid. The Brewers were terrific neighbours and I often think of them. I am thinking and praying for her soul and for all of you.
God Bless,
From:  Todd MacInnis