South Bar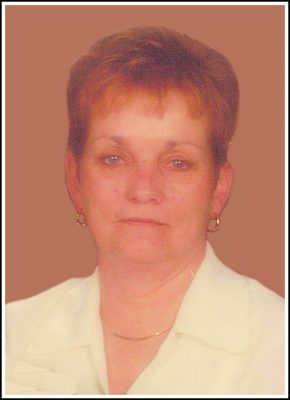 It is with deep sadness that we announce the passing of Doreen Theresa Bona on Wednesday, October 30, 2019 at the Cape Breton Regional Hospital, Sydney with her loving family by her side.
Born on March 3, 1947 in Lower L'Ardoise, Deanie was the daughter of the late Patrick and Eva (Martell) Bona and raised by the late Jimmy and Lucy (Digou) Gillis.
Deanie is survived by daughters, Jackie (Howie) Young and Sheri (Bryan) Ford; special daughter, Vicky Murphy; son, Terry (Rita) Murphy; seven grandchildren; eight great-grandchildren including her two special boys , Noah and Ben; sisters, Mary Ann (Russ) White, Jackie (Wayne) Pinhorn, Helen MacLennan, Mabel (Doug) AuCoin and Emily Keough; the Bona family – sisters, Alice, Della and Claire; brothers, Ronald, Ivan, Wallace; as well as several nieces and nephews.
Besides her parents, Deanie was predeceased by brother, Eddie Gillis and seven deceased Bona siblings.
Deanie loved playing tarbish and visiting all her friends where she resided at the Enhanced Housing Apartments at the MacGillivray Guest Home and will be dearly missed by them all. Thanks to MacGillivray Guest Home where she resided. Special thanks to the Doctors and nurses of both ICU and An Cala Palliative 4E of the Cape Breton Regional Hospital who went above and beyond with the care they provided to Deanie. Also thank you to the Hospice Palliative Care Society.
Cremation has taken place. Visitation and memorial service to celebrate the life of Deanie will be held at the Pier Community Home, 1092 Victoria Rd. (Entrance on Church St.) Whitney Pier on Sunday, November 3, 2019. A gathering of family and friends will take place from noon to 1 p.m. with the memorial service to follow at 1 p.m. in the All Faith Chapel with Fr. Paul Murphy officiating. Following the service, a luncheon will be held in the funeral home reception area. Interment will take place in St. Alphonsus Cemetery, Victoria Mines.
Funeral arrangements are entrusted to the care and direction of Pier Community Funeral Home.

Online Condolences
So sorry to hear of Deanie's passing. Our thoughts are with the Bona, Gillis and extended families.
From:  Andy and Sheila Campbell
Hi Sherry so sorry to hear of your Moms passing .My thoughts are with your family at this time.
From:  Barbara Chiasson
I am so sorry to hear of Doreen's passing. Such a lovely person who I got to meet years ago when she was a sitter for the elderly. I was surprised to see her years later but so glad that I did. Always had a kind word to say to everyone and such a great supporter of my singing. I am going to miss seeing her. I extend my deepest sympathy to all of her family during this time. May God strengthen you all
From:  Donna Tynski
Please accept my condolences for your loss. My thoughts are with you during this difficult time.
From:  Tammy Martin