Sydney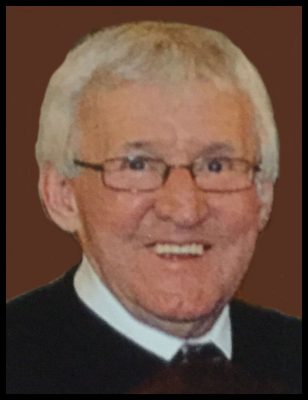 With profound sadness, we announce that after a brief illness, our wonderful husband, father, grandfather, brother, uncle and friend passed away on Friday, September 13, 2019 while surrounded by his loving family in the Cape Breton Regional Hospital's ICU.
Born in Sydney, March 1, 1945, Lincoln was the son of the late Wilfred 'Billy' and Sarah 'Sadie' MacPhee.
Lincoln was a family man who dedicated his life to his wife, four children and nine grandchildren. Lincoln started working at a young age and spent most of his working career with Joneljim where he diligently maintained the properties and truly enjoyed caring for the tenants. When not working, Lincoln loved spending time in Ben Eoin with Carol and cherished having his kids and grandchildren with him.
Lincoln is survived by Carol (Moore), his loving wife of 53 years; children, Darlene (Gary Jennings), Greg (Roseann Currie), Trevor and Scott; nine treasured grandchildren, Max, Maggie, Michael and Mark Jennings, Owen and Emma MacPhee, Anna and Caroline MacPhee, and Mya MacPhee. Also left to mourn are his siblings, Ann MacDonald, Hughena MacIntyre, Wilma Pyke (Tom), Raymond (Janet); sister-in-law, Linda MacPhee and brother-in-law, Paul Dickson. He will be missed greatly by his in-laws, Clara McCarron, Diane Moore, Terry (Mary) Moore, Colleen (Mike MacPherson), Brian (Catherine) Moore, Keith Moore and Frank Balmas as well as many nieces and nephews in both the MacPhee and Moore families.
In addition to his parents, Lincoln was predeceased by his siblings, Donnie, Kay (Dickson) and brother-in- law, Angus MacDonald. Lincoln was also preceded by members of the Moore family, Michael 'Mick' and Cecilia, Kenny, Trish Balmas, Gregory and Michelle and brother-in-law Terry McCarron.
The family would like to thank the medical staff of the Cape Breton Regional Hospital who were very caring and thoughtful throughout the last nine weeks.
Visitation will be held at the Pier Community Funeral Home, 1092 Victoria Rd. (entrance on Church St.) today (Monday) September 16, 2019, from 2-4 and 7-9 pm. Memorial Mass will be celebrated on Tuesday, September 17, 2019 at 10 am at Holy Redeemer Church with Father Paul Murphy officiating.
If so desired, donations may be made to the Whitney Pier Boys and Girls Club.
Funeral arrangements are entr
usted to the care and direction of Pier Community Funeral Home.

Online Condolences
To all of the MacPhee and Moore family, I wish to convey my sincere condolences. My thoughts and prayers are with you at this very sad time. Linc was a special guy and I know he will be sorely missed.
From:  LINDA L MacLeod
We were very sorry to hear of Lincoln's passing. Condolences to all.
Stan, Judy and Karen Voutier
From:  Karen Voutier
Heartfelt Sympathy is extended to the entire family, relatives and friends on the passing of your brother Ann.May God keep you all in his care. RIP Lincoln .
From:  Terry & Mary Mc Namara
Sorry for your loss, I am thinking of you Greg
From:  Allan Colbourne
Deepest sympathy Carol and family on the loss of Lincoln. He was a wonderful person and will surely be missed by all who knew him. You are in our thoughts and prayers. Mike and Mary and Gladie.
From:  Mary Ryan
My Deepest condolences to Lincoln's family and friends. I met Lincoln many years ago, always a gentleman, happy and eager to help.
My he rest in peace
From:  David Pratt
We are so sorry to hear of your loss. Linky always had smile every time you meet him. He will be surely missed. You and your family are in our prayers…
From:  Rodger and Arlene MacKenzie
Very sad to read the passing of Lincoln. My condolence to his family and to his siblings. Grew up with the Mac Phee family. So very sorry for your loss
From:  Barbara Meara ( Stephenson)
Darlene and family, so sorry to hear about the loss of your father. Our thoughts are with you. Jed, Valerie, Denise and the guys at Jed's Auto Repair
From:  Denise
Carol & Family – So sorry to hear of Lincoln passing. Thoughts and prayers to you and the family.
From:  Shelley & Gary Baker (Neighbors across the street)
So sorry for your loss.Link was a kind great person.He will be missed.Sorry I missed the wake and will miss the funeral.
From:  Steffie Sawka
Sorry to hear about the death of Lincoln. May he rest in peace. God Bless. John and Katie MacIsaac
From:  John Mac Isaac
Darlene & Gary Just wanted to extend my condolences to you both and to your extended family on the death of Lincoln. I did not know him personally but from what I can gather from those who did know him, he was a very fine gentleman! I wish you all well in the days and weeks ahead. Take care!
From:  Tom Murphy
Corinne and I are so sorry to hear of Lincoln's passing. He was always a gentleman over the years ,just a pleasure to work with. I hope your family is well in spite of your great loss.
From:  DAVID YURCHESYN
Please accept my deepest condolences on your Loss. I know and share in your sorrow
From:  Myrna Brown
So sorry for your loss Darlene and family.
From:  Helen Graham