Little Lorraine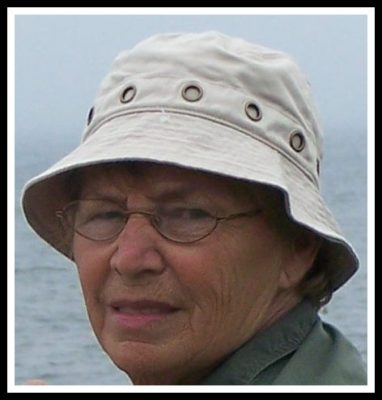 She always said it was going to be her way, and it was. The family wishes to announce the peaceful passing of our loving, independent, compassionate and firecracker of a mother, Kathleen on September 13, 2019 at the of age 82, at home in the village of Little Lorraine.
Born on April 3, 1937, Kathleen was the daughter of the late James and Catherine (Lahey) Ley.
In her early years, Mom taught in a one room schoolhouse in Big Lorraine, the daily commute was a ten-mile return walk. After raising six children, Mom returned to the workforce for the Fortress Louisbourg Volunteer Association and later moved to Parks Canada where she worked with many, in Mom's words, great people.
With joyous laughter, a naughty grin and a glint in her eye, Mom welcomed everyone into her home. Because of her, our home, has always been the "do drop in". Naturally, this led to Mom's foray into the tourism industry when she opened The Foghorn B&B in 2000. It quickly became clear that Mom was in her element. A great hostess, with a profound storytelling ability and always willing to lend her car to people who stayed at her house, Mom's guests became lifelong friends.
"I took a course in that once" was frequently heard at our home. Mom was constantly learning new things and was always enrolled in courses and even had the certificates to prove it. Lifelong learning and education were important to Mom and this is something she has instilled in her children.
Kathleen is survived by her loving children, Josephine (Jerry) Kennedy, Frankie (Shelley) Burke, Charlene (Donnie) Leightizer, Natasha (Terry) Morash and Lori (David) Burke. Also survived by grandchildren, Nicole, Ryan, Kara, Brendan, Annie Leigh, Leeanne and Stephanie; great-grandchildren, Zach, Kate, Laughklan, Ireland, Kaylee, Tatum, Vaida, Jason, Alex, Morgan, Elliot, Charlotte and her 'fur baby', Polar. Kathleen is survived by sisters, Mary Price, Laura (Nathan) Kennedy and brothers, Tom (Lucille) Ley and Pat (Sandra) Ley.
Besides her parents, Mom was predeceased by her gentle and loving husband, Joseph Burke, her son, James Burke and his wife, Anne, and her brother, Charles Ley. She was also predeceased by sisters-in-law, Lorraine White, Barbara Burke, Marilyn Burke, Alberta Ley and brothers-in-law, Roy Perry, Jim Price, Cecil Locke, Dave White, Johnny Burke, and Billy "Boo Boo" Burke.
Kay will be greatly missed, she rocked.
Visitation for the late Kathleen Burke to take place at Immaculate Conception Parish Church, Main-a-Dieu on Tuesday, September 17, 2019 from 2-4 p.m. and 7-9 p.m. Funeral Mass will be celebrated on Wednesday, September 18 at 11 a.m. with Father Bill Burke officiating.
We could not have honoured Mom's wish to be at home without the support and caring of the Palliative Care and VON services and for this we are forever grateful. Thank you.
In lieu of flowers, donations in memory of Kathleen may be made to the Palliative Care Society of Cape Breton.
Funeral arrangements are entrusted to the care and direction of Pier Community Funeral Home.
Don't look so sad
I know it's over
But life goes on
And this old world
Will keep on turning
Let's just be glad
We had this time
To spend together
: Kris Kristofferson, For the Good Times

Online Condolences
C