Sydney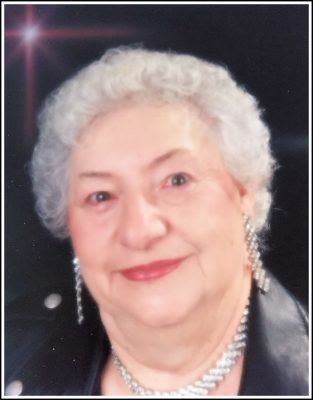 Idella Mary Mildred Duyon, age 97, passed away peacefully on Thursday, September 26, 2019 at the Cape Breton Regional Hospital, Sydney.
Born on January 18, 1922 in Petit de Grat, Idella was the eldest child of the late Willard and Mary Jane (Landry) Boudreau.
Idella was predeceased by siblings, Lawrence, D'Entremont (Marian), Estelle (Lawrence), Lilly Maude, Anselm, Patrick (Theresa) and Eleanor (Lenus); husband, Edward 'Ned' Duyon; son, John DeYoung; as well as longtime friend, Arthur Samson.
Mourning the loss of Idella are daughter, Jean (Robbie) MacNeil; daughter-in-law, Jeanette DeYoung; brother, Arthur (Jessica) Boudreau; brother-in-law, George Romard; grandchildren, Allan (Bev), Greg (Brenda), Laura (Les), Shawn (Lisa), Johnathon and Jon-Paul; great-grandchildren, Connor, Aaron, Carter, Logan and Rian; as well as many nieces, nephews and cousins.
Idella was a stay at home Mom who was skilled in baking, sewing, crocheting, embroidery and knitting. After her children completed high school she accepted employment at the former City Hospital as a dietary cook, retiring in 1984. Idella loved dancing and socializing with family and friends.
Many thanks to the devoted and compassionate staff at the Carefield Manor and Harbourstone Enhanced Care where Idella spent the last five and a half years. Thanks also to Dr. Paul Murphy and Dr. Young, and to the staff of the ER and 4B at the Cape Breton Regional Hospital where she spent her last four days.
Cremation has taken place. A memorial mass, to celebrate the life of Idella Duyon, will be held at St. Marguerite Bourgeoys Church, 40 Cabot Street, Sydney on Friday, October 18, 2019 at 11 a.m. with Fr. Bill Burke officiating. Following the mass, a lunch will be served in the church foyer. Interment will take place in Resurrection Cemetery, Sydney Forks.
Funeral arrangements are entrusted to the care and direction of Pier Community Funeral Home.

Online Condolences
S