Little Lorraine/Dartmouth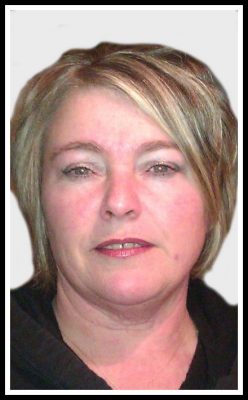 Without a complaint our darling sister passed as she lived. It is with heavy hearts that we announce the passing of our beautiful compassionate sister, Charlene, at home in the village of Little Lorraine with family, friends and her fur baby Missy by her side on Monday, September 16, 2019 at the age of 56.
Born on July 19, 1963, Charlene was the daughter of the late Kathleen (Ley) and Joseph Burke.
Charlene's entire working career was in service of others. Early in her career, she had an adult home care business and later she moved into the nursing home and hospital setting taking care of those who needed her tender care. Charlene's patients were treated as family and this was made evident when she became a patient herself. Her good friend, Dianne Blair whom she met through the health care field, lovingly cared for Charlene at the end of life. We are extremely grateful.
Family always came first with Charlene, and as sisters we always knew she loved us with all that she had. We have lost a compassionate, warm hearted and straight talking, tell it like it is friend.
Charlene's love of animals could not be matched, and her fur babies were treated royally.
Charlene is survived by her partner, Donnie MacIntyre; siblings, Josephine (Jerry) Kennedy, Frankie (Shelley) Burke, Natasha (Terry) Morash, Lori (David) Burke; step-children, Amanda Robichaud and Branden Leightizer; nieces and nephews, Nicole, Ryan, Kara, Annie Leigh, Brendan, Leeanne, and Stephanie as well as several great-grand-nieces and nephews.
Besides her parents, Charlene was predeceased by her husband, Mike Leightizer; brother Jamie Burke and his wife, Anne; grandparents, William E. and Mary Anne Burke and James and Catherine Ley.
Visitation for the late Charlene Burke Leightizer will take place at Immaculate Conception Church in Main-a-Dieu on Thursday, September 19, 2019 from 2-4 and 7-9 p.m. with Funeral Mass celebrated on Friday, September 20, 2019 at 11 a.m. with Father Bill Burke officiating.
We would like to thank VON and Palliative Care for their gentle caring of Charlene and our family.
In lieu of flowers, donations may be made to Palliative Care Society of Cape Breton and the SPCA.
Funeral arrangements are entrusted to the care and direction of Pier Community Funeral Home.
"I don't need my name in the marquee lights
I got my song and I got you with me tonight
We've been so busy keepin' up with the Jones'
Four car garage and we're still building on
Maybe it's time we go back to the basics of love
Ain't nobody feelin' no pain"
:Waylon Jennings, Luckenbach Texas

Online Condolences
My heartfelt thoughts, prayers and sympathies go out to all of Charlene's family….she was the best….may she R.I.P
From:  Beverly Burke
Heartfelt sympathies to Donnie and Charlenes family .
From:  Patricia Carter Berringer
I'm so sorry to hear about Charlene….she was my best friend for many years…we lost touch. I'll miss you always char
From:  Deana Gilbert