Sydney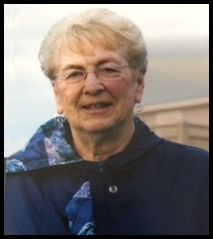 It is with profound sadness that we announce the passing of Rita Patricia Richards (nee Mahoney) on Saturday, August 24, 2019 at the MacGillivray Guest Home, Sydney.
Rita, a former native of St. John's, and Gander, NL was born in The Birch Hills, Conception Bay, NL on September 23, 1924. Rita was a resident of Sydney for the past nine years.
Leaving to mourn are her two daughters, Diane Green (Tom) of Cambridge, NS, Christine MacKinnon (Joe) of Sydney, and son, Howie Richards of St. John's, NL. Rita is also survived by her grandsons, Peter Green, Daniel MacKinnon, Liam Richards and great-grandchildren, Patrick Humby and Aislynn MacKinnon.
Rita was predeceased by husbands, Peter Hearn and Howard Richards and by her parents, John and Mary Ellen (Butler) Mahoney. She was the last surviving member of her eight brothers and sisters.
Visitation and memorial service to celebrate the life of Rita Richards will be held today (Monday, August 26, 2019) at Pier Community Funeral Home, 1092 Victoria Rd. (entrance on Church Street), Whitney Pier. A gathering of family and friends will take place from 6 to 7 p.m. with the memorial service to follow at 7 p.m. in the All Faith Chapel with Deacon Greg Murphy officiating. Private family interment will take place at a later date.
We, her family, would like to express our sincere thanks to the staff of the MacGillivray Guest Home for their kindness to Rita and to us over the past few days and especially, for the excellent care given to Rita during these last four years.
Donations in Rita's honour may be made to the MacGillivray Guest Home.
Funeral arrangements are entrusted to the care and direction of Pier Community Funeral Home.

Online Condolences
Our hearts are heavy as we think of the passing of the kindest,and most gracious sister-in-law and aunt in the world. We have tried, without success, to get one of our family members present for Monday. Another day or so, we could have done it! However, please know that you are in our thoughts and prayers and on our hearts as we look back, over the years, and remember, once again, such heart-warming memories of Rita especially the times we have spent together at Gander and Loon Bay. Nothing was ever too much for her to do to make us feel comfortable and welcome in her home. We will never forget her! I believe that death itself is somewhat like a covered bridge leading from light to light through a brief darkness. Your Mom has, already, crossed that bridge and is now experiencing a glorious dawn. Our prayers are, for each of you, that the grace of an all-wise God and the sufficiency of that grace, will heal your hearts and give you precious memories to hold in your hearts forever.
With much love & prayers,
Barbara, Eileen, Sharon, Howie & Families
From:  Barbara Moore
Christine, Joe and family. I truly enjoyed meeting and getting to Rita. Hearing her stories from Newfoundland and her life.learning about Peter sr. I remember her excitement when she learned that he would be recognized on the national memorial. She was a lady of true class and design. Please accept my condolences.
From:  Tommy simpson
Howard: It's with sadness to hear of your mom's passing. Our thoughts and prayers are with you and your family in the days ahead. Hold on to the precious memories as I know they're many. Bruce and Darlene
From:  Bruce & Darlene Hancock
Diane,Christine and Howie, I send you my deepest sympathy on your mother's passing. I have many beautiful memories of her to cherish. She treated me like a daughter . Over the years that I worked for her we enjoyed many meals together . She made the best tea buns ever . I always admired how she looked after herself , always so well dressed. When she moved to Nova Scotia we still kept in contact , it was so nice to hear her voice and talk with her . On one of her visits back to Gander I had the privilege of her staying with us for a couple of nights. We had a beautiful couple of days together . May you all find comfort in the precious memories you have of your dear mom . With love and deepest Sympathy
From:  Rose Goodyear
I am sorry for your families loss. Rita was such a bright, wonderful, beautiful lady! I work at MacGillvray guest home and am so happy I had the pleasure to meet Rita and get to know her. She will be missed greatly and will never be forgotten! Thoughts and prayers are with the family at this difficult time!
From:  Natasha