Sydney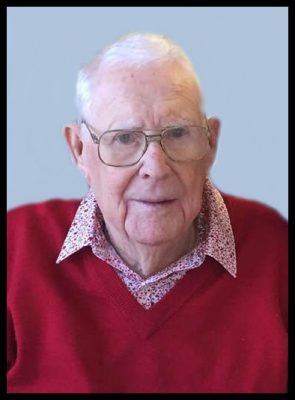 Meahan Joseph MacDonald age 91 of Sydney, passed away on Friday, August 2, 2019 at the Northside Community Guest Home, North Sydney.
Born in Glace Bay, Meahan was the son of the late Joseph and Eva (Musgrave, Gouthro) MacDonald.
Meahan was a founding member of the Saint Anthony Daniel Parish Men's Club and a long-time parishioner of St. Anthony Daniel parish. He was a member of the Royal Canadian Legion Branch 128, Whitney Pier and a member of The Cape Breton Fiddlers Association.
Dad loved flying. In his younger years, he, and two of his friends, purchased a Tiger Moth and flew just for fun! He became an air traffic controller and worked at the Sydney Airport for 30 years. After his retirement, he worked for Brinks Canada as a Driver and Guard for seven years. Dad had a passion for music, he played several instruments including guitar, fiddle, banjo, dobro and even some piano. He carried his love of music through his life and passed this gift on to his children and grandchildren. His many friends enjoyed musical evenings at his home on Haig Street and later on Woodside Drive. After the loss of his first wife, Irene in 1987, Meahan had a second chance for love when he married Nancy Nicol in 1994. For many years they enjoyed traveling and entertaining friends and family at their home.
Surviving are his wife, Nancy (Nicol) MacDonald; daughters, Marie (Scott) Banfield, Dartmouth, Carol Ann (Redmond) MacDougall, Coxheath, Lorraine (Morley) Hodder, Fall River, Louise (Michael) Lumsden, Sydney, and son, Arthur (Maureen) MacDonald, Sydney River. Also, Meahan is survived by one brother, Jerome (Dorothy) MacDonald, Sarnia, ON; 10 grandchildren; four great-grandchildren; as well as many nieces, nephews and cousins.
Besides his parents, Meahan was predeceased by his first wife, and mother of his children, Irene (LeMoine) MacDonald; brothers, Gilbert (Bert), Michael 'Black Mike', Fred and sisters, Jennie, Georgina, Margaret 'Peggy' and Frances.
A mass of Christian burial for the late Meahan Joseph MacDonald will be held at Lady of Fatima Church, Sydney River on Wednesday, August 7, 2019 at 11 a.m. with Rev. Bill Burke officiating. Interment will take place at Resurrection Cemetery, Sydney Forks. Following the committal, a reception will be held at the Pier Community Funeral Home.
Family flowers only, donations in memory of Meahan may be made to a charity of one's choice.
The family would like to thank the staff at the Northside Community Guest home and Dr. J. Ritter for the excellent care Dad received during his time of need.
Funeral arrangements are entrusted to the care and direction of Pier Community Funeral Home.

Online Condolences
I am so sad to hear of Meahan's passing. He and Irene were wonderful fixtures of my childhood, and Dad and Meahan were always in one another's garage, taking something apart or putting it together, and having more than a few laughs. They were wonderful family, and Meahan was a wonderful man. If the measure of a man is how many people will regret his passing, Meahan is a rich man indeed. I send my love to everyone. The world was a better place because Meahan was here, and that is an incredible legacy. I suspect that he and Dad will find something to fix or break and then fix now that they are united again. With much love, Jim Musgrave
From:  Jim Musgrave
MacDonald Family: Sorry to hear of Meahan 's passing our thoughts and prayers are with you at this difficult time.
From:  Stan and Estelle Reppa
Victor and I just heard about your husband passed away. So sorry we are not able to attend the funeral, six of our visitors Nan and David with their son, and Bill and Jennifer with Robin just left .Elizabeth is arriving with my granddaughter arrive tomorrow. We also missed our brother in law's funeral today in Brockton Mass. at our age we see lots of funerals. It is hard, you are in our prayers.
From:  RoseMarie Mahar
A life well lived is a thing of beauty. My thoughts and prayers to the family
From:  Wilma Duggan
Nancy, Caro lAnn and family
Please accept our sincere condolences on the passing of Meahan, a fine musician and a true gentleman.
From:  Mike & Janice MacNeil
Marie
Please accept my condolences on the death of your father
My thoughts and prayers are with you
From:  Caroll Ann MacDonald
Dear Marie, So sorry to hear of the death of your father. I would like to offer my condolences to yourself and family. at this sad time.
From:  Janet Charest