St. Margarets' Village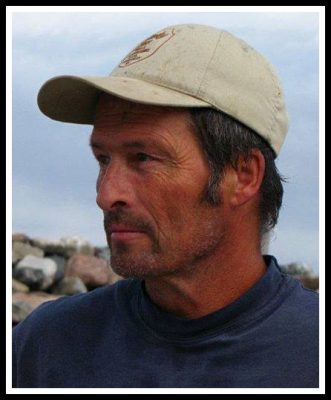 We the family and friends regret to announce the sudden and untimely passing of Clyde Bernard McLellan, at home on Thursday, July 25, 2019.
Clyde born on Feb. 10, 1959 in Neil's Harbour, he was formerly of Meat Cove and the second eldest son of Allan 'Iha' and Marion (Young) McLellan.
Clyde was well known from his own community to Wittenburg, Stewiacke and beyond. He will be remembered for his never-ending stories that always had five smaller stories in them. Clyde loved his community dearly and made many trips with the St. Margaret's Church Rebuilding Committee around Nova Scotia as they were finalizing the rebuilding of our Parish Church in 1999. His only daughter, Cherilyn Alexis was the first baby to be baptized in the new Church. Clyde was also involved with the Cheticamp Search and Rescue, the BSLVFD and the Area 19 Snow Crab Association to name a few.
Clyde lived to fish and hunt, becoming one of the first licensed Moose Guides in his area along with his Moose Guiding buddies, Robert Burke, Darren and Phil Harrison and Ray Boudreau. He will be remembered for never giving up until the last second of the season! He also spent a good deal of the deer season at the cabin in Stewiacke with his best bud and father-in-law, Hughie J. MacDonald. They were known as 'The Capers' in that area.
When he wasn't hunting, he would be fishing, either lobster, snow crab or mackerel jigging with Hughie. He started his fishing career with Hughie in 1982 and never missed a day until Hughie's sudden passing in 2016. He never got over losing 'The Captain'. Now the Captain and his First Mate are together once again.
All around, Clyde loved all of his family dearly. He was very proud of all three of his children, his two boys, and his baby girl. But he was also a very proud grandfather and loved each of his grandchildren deeply. He enjoyed his summers the most when he received visits from his only granddaughter, his princess, Cynthia Ann, age 3, along with his grandsons. One of Clyde's happiest moments was when he reunited with his two grandsons in 2017.
Clyde was predeceased by his parents, Allan 'Iha' (1998) and Marion (Young) (2002); his oldest brother James (1965); a stillborn brother and also by his in-laws (who he considered a second set of parents), Hughie J. (2016) and Alexis (2017) MacDonald. He was also predeceased by his beloved fur-baby, Miss Ziva on July 15, 2019.
He will be forever loved and deeply missed by his wife of 36 years (July 23, 1983), Charlotte (MacDonald); his two sons, Waylon (Candace) and his sons, Parker and Lil Hughie; and Clydie (Rose) and sons, Malachi (Whitty), Edwin, Carlos, Adrian, Little Clydie and daughter Cynthia Ann; and his only daughter, his 'Baby Girl', Cherilyn Alexis who was his Pride and Joy.
Also survived by his siblings, Darlene (Andy) Doucette, Ingonish, Kenneth (Sadie), Westmount, John (Rose), Capstick and Catherine (Kay), Sudbury, ON and by numerous nieces, nephews, aunts, uncles and cousins.
A gathering of family and friends to celebrate the late Clyde McLellan will be held at St. Margaret's of Scotland Church, Fr. James MacLean Room, in St. Margaret's Village on Sunday, August 4, 2019 from 2 -9 p.m. and again on Monday, August 5 from 10 a.m.-1 p.m. Funeral Mass will be followed at 2 p.m. on Monday with Fr. Duncan MacIsaac officiating. Burial will take place in the parish cemetery, St. Margaret's Village. Following the committal, a reception catered by the C.W.L will be held in the Fr. James Room, St. Margaret's Village.
Donations in memory of Clyde may be made to St. Margaret's CWL or Canadian Heart & Stroke Foundation.
Funeral arrangements are entrusted to the care and direction of Pier Community Funeral Home.
"See ya later 'Skip' "
'ITYIWS'

Online Condolences
Charlotte and family,
I am so sorry to hear about Clyde's sudden passing. I haven't seen you recently but I do run into Clydie and his family every now and then. It's always so nice to see the students that I taught in Bay St. Lawrence school. You are all in my thoughts and prayers as you go through this very difficult time.
From:  Joan Clarke