Sydney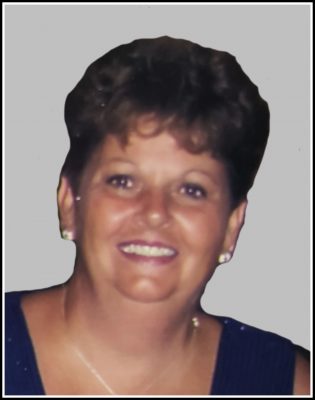 On Tuesday, July 2, 2019 our lives changed forever with the peaceful passing of Mary Gilyan at the Cape Breton Regional Hospital, Sydney, with her loving family by her side.
Born in Sydney on October 8, 1958, Mary was the daughter of Andrew and Mary Gilyan, who gave her unconditional love, strength and support.
Mary was always known for her hearty laugh and infectious smile that would light up a room. Her sense of humor was always the "Talk" as she loved to live life to the fullest.
Mary had two loves: first and foremost was her family. Besides her parents, Mary is survived by her spouse of 26 years, Roger Rochon; three sons, Paul and Christopher Theriault and Terrance Rochon; grandson, Christian Theriault; siblings, Andy, Ildiko (Paul) Ferguson and Robbie (Tammy); sister-in-law, Anne Rochon; brother-in-law Russell (Patti) Rochon; nieces and nephews, Andrew, Shari and Tyler Gilyan, Christina and Kelsie Ferguson, Kyle (Carlee) Rochon and Nathan Rochon; as well as closest and dearest friends, Sharon Bona and Elaine MacSween and fur child "Dooley".
Mary was predeceased by her grandson, Mackenzie.
Her second love was her passion of gardening. Mary took great joy in having family and friends in her backyard and just enjoying the moment. Mary leaves behind a lifetime of fond memories, laughs and much love that will stay with us forever.
Mary lived with chronic pain for twelve years but today she is pain free and at peace. Special thanks to the medical staff at both the Halifax Infirmary and Cape Breton Regional Hospital 3B unit and Palliative Care. Your professionalism and compassion are second to none.
In lieu of flowers, donations in Mary's memory can be made to the SPCA.
Cremation has taken place. There will be no visitation and as requested, there will be a private family service at a later date.
Funeral arrangements are ent
rusted to the care and direction of Pier Community Funeral Home.

Online Condolences
My sincere condolences to the Gilyan and Rocheron families. Mary was an angel on earth and now an angel in Heaven. My thoughts and prayers are with you all at this heartbreaking time.
From:  Sherry Luther Scott
So sorry for your great loss.Deepest Sympathy to the family May she soar with all our Angels.
From:  Barry & Starla Costello
Mary, Andrew and family so very sorry to hear of Mary's passing. She will be forever remembered by all who knew her. Fly high Mary, you were one in a million.
From:  Catherine Munroe (Hayes)
Roger; So sorry to hear of Mary's passing, she was a ray of sunshine.
From: Graham Bardswich
Sincere condolences to the Gilyan family, Mary was a beautiful, kind person. She will be greatly missed by all and never forgotten. We were very lucky to have Mary as our neighbour for a few years and during that time we had the opportunity to meet her wonderful family which she loved dearly. Our thoughts and prayers are with the Gilyan family during this very difficult time. Rest in Peace my sweet friend.
From: Lee & John Dicks
My condolences. My deepest sympathies go out to you and your family. May God give you the peace that you seek. May my condolences bring you comfort and may my prayers ease the pain of this loss.
From: Debbie Ferris
My sincere condolences on the passing of my childhood friend. May precious memories give you comfort in the coming days.
From: Marilyn Richardson
Roger and Family, I was so upset to hear of Mary's passing. I just found out today Aug. 10th and although I know it is late coming if there is anything I can do please let me know. Sharon and I are thinking of you and you and family are in our prayers. She was one of the good ones and will indeed be missed.
From:  Ron and Sharon MacKillop