Sydney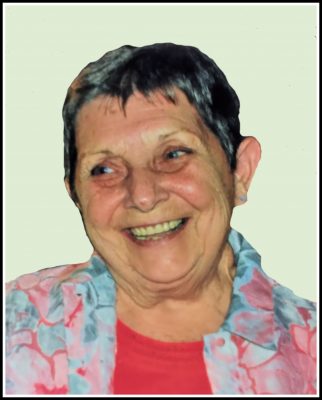 It is with a heavy heart and a profound sadness we announce the peaceful passing of Mary Madeline (Bigney) Bolton on Wednesday, July 24, 2019 at the Halifax Infirmary. Beloved wife, mother, nanny, G.G. (Great Grandmother), sister and friend.
Born in Pictou County on September 18, 1936, Mary was the daughter of the late Agnes and Jacob Bigney. She lived in several communities in her early life and eventually she settled in the Ashby area of Sydney until her unexpected passing.
Left to mourn her passing are her husband, David; children, Sandy (Connie), AB, Charles (Pearl), BC, Darrell (Kay), NL, Shauna (Colin), Greenwood and Judy, Sydney; 13 grandchildren; 18 great-grandchildren; sister, Allie (Butch), NB; brother, Earl, NB; sister, Linda (Lee), Margaree; brother, Roy (Vi), Sydney, and her very dear friend, Marion, Sydney.
Besides her parents, Mary was predeceased by her brother, Douglas; her first husband, Barney and a very special woman in her life, Nanny Vi.
Mary truly loved her family and her close friends. She also cherished her grandchildren and her great-grandchildren. Mary had several passions in life including a profound love for cats, tarabish, baking (especially bread and sweets) and the works of Maude Lewis.
Mary was well known in her neighbourhood as the "Cat Lady" for regularly feeding, care for and at times adopting stray cats. She was also loved and appreciated by her "card friends" as she was always an excellent host and card games at Mary's were made complete by her freshly baked treats.
Mary will be dearly missed by her family, her friends, her "card friends" and especially those tarabish players who knew her "tell" (the twinkle in her eye and her little corner mouth grin) when she caught a "twenty with the bells."
Mary's family would like to thank the various health care providers who supported her over her life including Dr. Gracie, the healthcare staff at CBRH and the healthcare staff in the CCU (unit 6.4) at the Halifax Infirmary who provided compassionate and professional care in her final hours.
Visitation for the late Mary Bolton will be held on Monday, July 29, 2019 from 2-4 and 7-9 p.m. at the Pier Community Funeral Home, 1092 Victoria Rd. (entrance on Church Street). A celebration of Mary's life will be on Tuesday, July 30, 2019 at the funeral home in the All Faith Chapel at 11 a.m. with Father Paul Murphy officiating. A light lunch will be served in the funeral home reception area following the service.
Private family interment will take place at a later date.
In lieu of flowers, donations in memory of Mary may be made to the Feral and Abandoned Cat Society or the Cape Breton Regional Hospital Foundation.
Funeral arrangements are entrusted to the care and direction of Pier Community Funeral Home.

Online Condolences
Shauna ,Colin and family, I am so sorry for your loss. My thoughts and prayers are with you and all your family. God Bless.
From:  Shirley Penney